Atillah Baker, Assessment Worker Supervisor, Long Term Care Access Department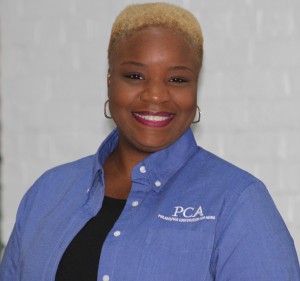 In just nine years, I have been promoted twice and also received my master's degree with the assistance of PCA's tuition reimbursement program. Continuing my education at my own expense would have been far more difficult and taken much longer. PCA has allowed me to achieve my career goals faster than I ever imagined.
The work atmosphere is very positive and supportive. Management really cares about you and wants to see you succeed. I've always felt I could come to my supervisors and colleagues about anything. Everyone listens patiently and gives good advice. We work together as a team to support each other and give new employees the tools they need to do their jobs well. The opportunity to receive merit bonuses through annual performance evaluations is a great motivator. It reassures me that my hard work is appreciated.
PCA's health insurance and benefits package is a lifesaver for my family. As a wife and mother of two children, affordable health coverage is a blessing. It really came in handy last year, when I was hospitalized. Another great benefit is PCA's Wellness Program, which provides weight loss incentives; as well as at-work opportunities to participate in yoga, aerobic exercise classes and line dancing. In addition, I was able to attend Weight Watchers at Work and see a Registered Dietician to aid me in my weight loss journey, which has allowed me to lose more than 30 pounds.
I discovered PCA on the suggestion of friends who had positive encounters with PCA employees who spoke about how much they loved their jobs, and how PCA is a great company that is committed to promoting from within and supporting the growth of its employees. Now, I'm the one recommending PCA to others. It's a great place to work!