There are many opportunities for employees to work collectively on projects of interest, recognizing that this is an excellent way to garner new ideas, tackle problems and promote self-development.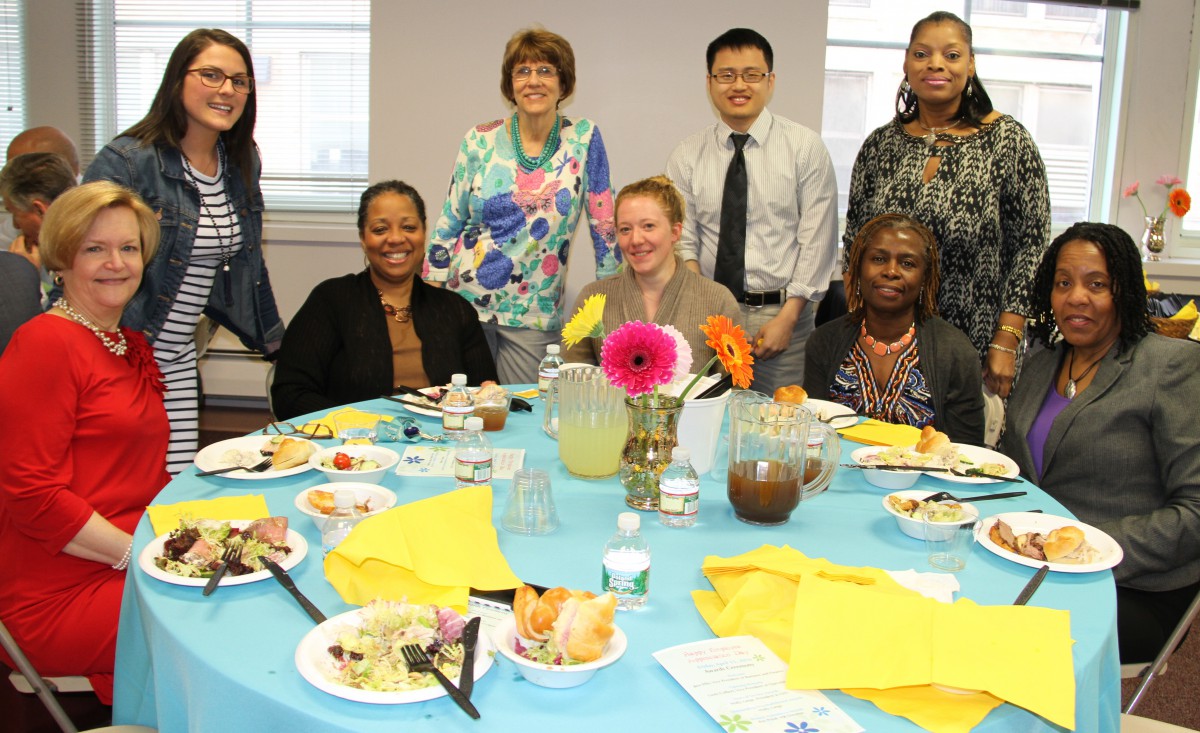 These  employee-directed teams and committees  are open for all to join:
Employee Recognition Team — PCA's Employee Recognition Team develops programs, events, and processes that recognize outstanding service. The annual Employee Recognition Day awards luncheon (pictured above)  is organized by the team and spotlights employee accomplishments throughout the year.
Ethics Committee — The Ethics Committee examines ethical issues in long term care. The committee's goals are to educate staff and the aging network about the ethical implications of their work, provide a forum for discussion of specific situations, and examine the ethical context of PCA's client-related policy decisions.
Green Team — The Green Team works to bring environmentally-focused programs and education to PCA and its employees, and to spread awareness about recycling issues and other eco-friendly practices.
Internal Communications Team — The Internal Communications Team promotes a positive flow of information and communication among PCA departments.
Personnel Committee — The Personnel Committee serves as an advisory body that recommends, develops, and revises personnel policies and procedures that best meet the needs of all PCA employees.
Recreation Committee — The Recreation Committee combines business and pleasure through many activities. With representation from every department, the committee organizes an annual holiday party for staff, the costs of which are defrayed by fundraising efforts throughout the year.
Safety and Security Committee — Through the Safety and Security Committee, PCA employees may voice their concerns about safety and security in the workplace. The committee comprised of a representative from each department, ensures that existing emergency procedures are followed and that PCA is made aware of staff that might require assistance in the case of an emergency exit.
Suggestion Review Team — Under the auspices of the Personnel Team, this committee reviews suggestions from the employees that improve the overall operations of the agency. Eligible suggestions are sent to the appropriate department for review and if approved by the department receive a $50 gift card. When the suggestion is implemented the employee receives another $50 gift card.
Wellness Committee — The Wellness Committee includes representatives from every department at PCA, and is dedicated to establishing a broad range of activities and events including yoga and aerobics classes, and meditation, to encourage and support employees in developing healthy lifestyles. Rewards and prizes are given to employees for participation in wellness activities.
PCA hopes to ensure that employment with PCA is rewarding and challenging. To this end, PCA strives to create a healthy, productive, and positive work environment. PCA's facilities are alcohol-, drug-, and smoke-free and the agency participates in a recycling program and wellness efforts.