There is help available for older workers facing the challenges of finding or changing jobs, and deciding how long to work.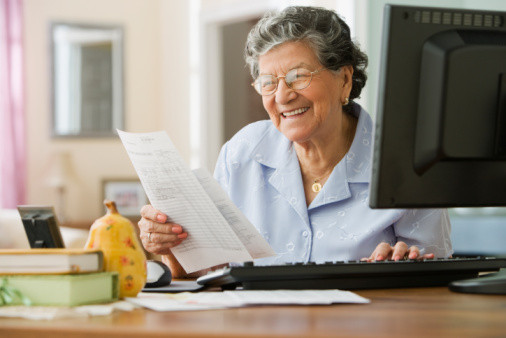 Eligibility for Social Security benefits begins at 62; but many people want, or need, to work longer.  Some choose to launch a business, or start a completely new career. Others, who may have lost employment due to downsizing, job elimination or a poor economy, can find job-hunting extremely challenging.
Protection for older workers
The Age Discrimination Employment Act (ADEA) of 1967 defines an "older" worker as one who is age 40 or older. It was passed, in part, because there was a trend for companies to fire older workers, who made higher salaries by virtue of their experience and years of service, and replace them with younger workers who could be paid less.  Additionally, once unemployed, these workers often had a harder time finding a new job.
The U.S. Equal Employment Opportunity Commission (EEOC) enforces the ADEA and other laws and regulations that prohibit discrimination against job applicants or employees on the basis of race, color, religion, sex (including pregnancy), national origin, age (40 or older), disability or genetic information. The laws apply to hiring, firing, promotions, harassment, training, wages, and benefits. If you feel you have been discriminated against, you can file a complaint directly with the EEOC.
Resources for older workers
Despite legal protections from discrimination, it can be challenging for older workers to find employment. The rapid changes in technology and skills required to keep up can be a significant barrier. Even applying for most jobs today requires computer access.
Assistance for older job-seekers is available through a variety of programs. The populations served by these programs vary, depending on the program's mission. Some are age-specific, providing services to individuals age 40 and older; or to individuals age 55 and older. Others dedicate themselves to specific groups regardless of age, including individuals with a disability, veterans, the homeless, and immigrants.
PCA funds two employment programs for older Philadelphians:
Mayor's Commission on Services to the Aging
The Title V Senior Employment Program operates through a grant from Philadelphia Corporation for Aging. The program provides employment and job search training to seniors 55 and older, and places applicants in subsidized employment twenty hours per week in non-profit and public agencies to acquire valuable skills and work experience. The hours of operation are Monday to Friday, 8:30 AM to 5:00 PM.
100 S Broad Street
4th Floor
Philadelphia, PA 191102
215-686-8450
Career Strategies for 55+ at CareerLink
This program is funded by a grant from Philadelphia Corporation for Aging and is administered by JEVS Human Services. It is no cost to Philadelphia residents 55 or older. The program is designed to help mature workers who are seeking employment. It consists of a workshop series; access to the Computer Resource Center; access to job leads; instruction on using the Internet in a job search; resume assistance, interview preparation and employment seminars. There is no income eligibility requirement. The hours of operation are Monday to Friday, 9:00 AM to 4:30 PM.
PA CareerLink Suburban Station
1617 JKF Boulevard, Suite 200
Philadelphia, PA 19103
267-647-7137
For more information and resources regarding employment for older adults, see the NCOA's Employment Resources for Older Adults >>
Resources for starting a business
A network of Pennsylvania Small Business Development Centers (SBDC) provides confidential consulting at no cost, and low cost training in key areas, to help entrepreneurs and small business owners. Resources include information about starting a business, marketing, planning and loans. Details and locations of SBDCs throughout the state are available on the website.