'Your favorite grandson' helps seniors with computer technology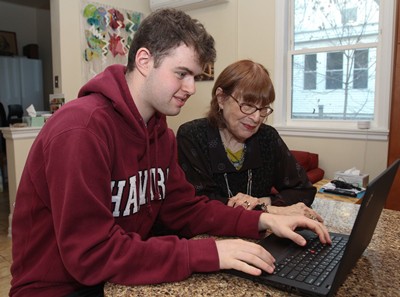 By Linda L. Riley
Lev Saunders is working on becoming everyone's favorite grandson – the one they can call on when they need help with computers, printers, cell phones or other electronic gadgets.
Now a senior at Cheltenham High School, he said that when looking for a summer job after his sophomore year, the only thing he could find was dishwashing at the local pizza place. His mother suggested he turn his talent for technology into a money-making enterprise.
His mother said,  "You're always helping me and your grandmother with our computers. Why not make money for it?"
"I've really loved computers my whole life," Saunders said. "I tried to install games on my father's old desktop when I was in kindergarten." He got his first laptop in seventh grade. By ninth grade, he'd built his own computer. In high school, he has taken classes in computer programming and computer science. Now he has moved on to independent studies in computers in high school.
Saunders found his first customers through word-of-mouth in the neighborhood, then created a Facebook page for his new business, "Your Favorite Grandson." The first ad he posted, which offered "tech support for seniors" and listed some of his key services, ended with a tagline designed to endear him to prospective clients: "Cheltenham High School 11th grader With lots of experience explaining things to my grandmother ;)"
Saunders' curly brown hair, direct gaze and easy laugh give him a warm and reassuring presence as he explains some of the problems he has helped seniors solve. "It can be as basic as teaching them how to use a keyboard, or it can be changing the RAM and hard drive in someone's laptop," he said. "I've noticed that people have a lot of trouble understanding file structures, file management – I get a lot of email questions. I try to show them how to manage it themselves instead of just fixing it myself."
One project was helping a local sculptor upload and submit photographs of her work to a gallery for an upcoming show. Another woman needed help transitioning from Verizon to Comcast when the building where she lived changed its wireless provider. Other jobs have included setting up Facebook pages, changing profile pictures, connecting Bluetooth in cars, helping clients understand how to use a new phone and installing a new router.
Often, his Facebook posts cite real cases, like this one:
"I set my own grandmother, Rita Rosen Poley, up with streaming services two weeks ago and she loves it! She was especially thrilled when she realized that she could easily stream Turner Classic Movies. Your Favorite Grandson can help set you up with digital and streaming services. Why should your grandchildren have all the fun?"
"One of the key differences between my generation and my clients' is that [members of my generation] learn from a young age how to access all the data and information we need," he said. "I can look it up and figure it out for myself."
Saunders charges $25 an hour and said that most problems can be solved in that amount of time. For more complex projects, additional hours are $20.
The young entrepreneur's plans for the future include studying computer engineering in college. At the time of his Milestones interview, he was finalizing his college applications and said he'd written his application essay about the experiences he has had with his business. He's toying with some ideas for continuing and possibly expanding the business once he's in college. For now, prospective clients in Eastern Montgomery County can reach him at facebook.com/yourfavoritegrandson or 215-479-0537.
Caption:  'Your Favorite Grandson' founder Lev Saunders is shown providing computer training to his grandmother, Rita Poley.
Photo by Linda L. Riley