Writing a family love letter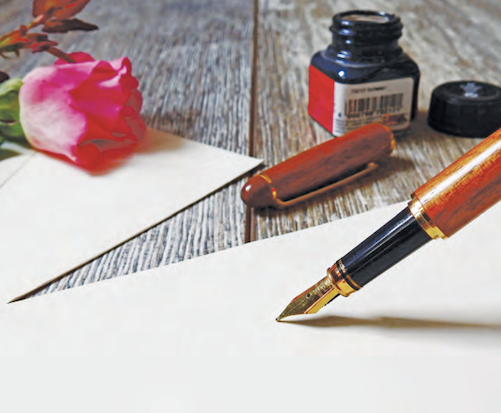 By Barbara Sherf
There is a website for just about everything. One particular site sparked me to offer a class to seniors on writing a love letter to their families (and friends) that talks about their legacy through the stories, hopes and desires for their family and sharing their legacy lessons.
According to the familyloveletter.com site, "the family love letter is an indispensable planning tool allowing you to enhance the legal planning and legacy documents you may have prepared bringing clarity, reducing stress, and minimizing the conflicts, which often follow an incapacity or death."
In writing my own family love letter, I found it easiest to do a simple "brain dump" and then organize the letter into different categories. Space won't permit me to post my entire love letter here, but I am providing the opening and closing sentences, some of the topics covered and a few actual entries to get you started:
Dear Family and Friends, Thank you for helping me to live well, laugh often and love much! I also embrace another saying: cherish every memory, love every moment and embrace every possibility.
Stories make you rich
People want to hear stories. It's what connects us. I've written a book of stories, hundreds of articles, taught storytelling and participated in professional storytelling competitions.
Making mistakes
I've learned to look somebody in the eye if possible, or pick up the phone and apologize when you need to apologize. We are all human and mistakes happen. I've learned that people will forgive you if you offer a sincere apology. Doing the hard work After writing the book about my dad's stories and then seeing him develop dementia, I learned how important it was to help other families capture their life stories. It is perhaps the most valuable work I have done. In writing this and some of my stories and teaching memoir classes, I have found it to be the most difficult, but most rewarding writing one can do. It's like peeling away at an onion and getting to the core of what really matters most.
Relationships
I've learned that people do come into and out of your life for reasons. I've learned to surround myself with a good group of girlfriends, who have listened and supported me as I hope I have for them. I've learned to stand by old friends who may have drifted, but also to develop new friendships along the way. Good neighbors are hard to find. I've learned to invest time with my neighbors.
Pets
Get one (or more) and if you can do a rescue, even better. To date, we've had three rescued golden retrievers who made us laugh and walk and brought us unconditional love every day.
Stuff
I have learned that I am enough. I have enough.
Sharing
I've learned to give my talents and money to good causes, but I have also learned how to say "no" when giving of myself was harming me or taking away from some of my goals.
Caregiving
I learned to be a caregiver without complaint, but that to be a good caregiver you must take good care of yourself. I would jump in again without hesitation to help care for a loved one. No regrets.
Listening
I've learned that if you want to be heard, speak up…if you want to be seen, stand up, and if you want to be appreciated, zip the lip, shut up … and listen.
Closure
I've learned the importance of putting my affairs in order as much as possible while still on the planet and the importance of peeling away at my onion.
I am no saint, but I've learned to forgive myself and try to be a better person. I've learned to dance in the rain and the power of gratitude. For all of you and for all of these life lessons, I am truly grateful.
This much I know is true.
As a note to the reader, I am such a planner that I have my obituary written and instead of making New Year's resolutions I update it every January. Perhaps I will share some tips on writing your own obit in a future story or column. Stay tuned and good luck with this important legacy planning tool.
—
Author and speaker Barbara Sherf captures the stories of businesses and individuals.