When elder financial abuse occurs within the family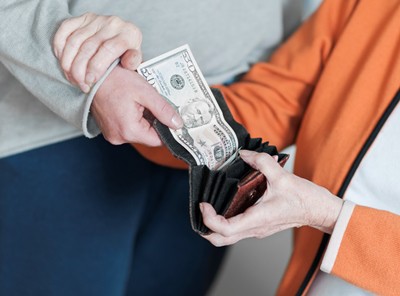 By Marcia Z. Siegal
Financial exploitation is the fastest-rising form of elder abuse – costing seniors more than $36 billion each year – and more than half of those who victimize seniors financially are family members, the National Center on Elder Abuse (NCEA) reports.
More than 1,300 cases of elder financial exploitation were reported to Philadelphia Corporation for Aging's (PCA's) Older Adult Protective Services (OAPS) last year. The reports included incidents of cash being stolen from a bedbound older adult, a senior's checkbook being stolen and fraudulent checks written out for more than $10,000, and another senior's antiques being fraudulently sold online, said Rhonda Hill, OAPS' financial exploitation specialist.
NCEA defines elder financial exploitation as the illegal taking, misuse or concealment of funds, property or assets of a vulnerable elder. Abuse commonly occurs via deception and false pretenses, coercion, harassment, duress and threats.
Close to home
Nearly 60 percent of the perpetrators of financial exploitation against seniors are family members, according to NCEA. Cognitive decline and dementia, whose prevalence increases with age, makes older adults especially vulnerable to financial abuse. So, too, does elders' increasing dependency on others as they become frail, which makes them a target for abuse by the family members who they rely upon. "It's easier for them to gain the senior's trust, and they often live in the home with the elder," said Jennifer Spoeri, OAPS director. Particularly in the case of adult children, abusers often are dependent on their victims for financial assistance, housing and other forms of support. Often, the abusers need this support because of problems such as mental illness or alcohol or drug abuse, according to the NCEA.
Other times, family members victimize elders simply from greed and the opportunity presented by ready access to the person's funds. Abusers will often find ways to justify the exploitation. "They say, 'It's coming to me as an inheritance anyway,' or they'll rationalize that they deserve the money because they're caring for the elder," Spoeri said. OAPS' Hill recalls a recent case in which a family member got himself designated as his mother's financial power of attorney and, once in control of her funds, proceeded to use them for her own benefit. "The mother may have been aware of this, but it was only when her other children discovered her bills were not being paid that the situation was reported to PCA's Protective Services," Hill said.
According to the National Adult Protective Services Association (NAPSA), senior financial exploitation by family members and caregivers includes such actions as:
Obtaining a financial power of attorney for a senior relative and using it as a license to steal the person's money
Taking advantage of joint bank accounts by withdrawing money for personal use
Using ATM cards and checks without the victim's consent to withdraw money from his or her accounts
Refusing to obtain needed care, including medical services, for the victim in order to keep the person's assets available for the abuser
Threatening to abandon, hit or otherwise harm the victim unless he or she gives the perpetrator what he or she wants
Senior financial exploitation is especially devastating because older adults who lose their life savings usually have little or no opportunity to regain what they have lost, said Hill. When family members are the perpetrators, that betrayal is all the more traumatic, she said. Elder financial abuse deprives victims of financial resources for their personal needs. It can result in the loss of the ability to live independently, decline in health and increased mortality, broken trust and fractured families.
Warning signs
Signs that an older person is being financially exploited can include a disheveled and unkempt appearance, doing without necessities despite adequate financial resources, a sudden display of new wealth by an elder's family member, an abrupt change in the older person's will, major withdrawals from the older person's account(s) and/or new transfers of the older person's property.
An older person who is the victim of financial exploitation may become isolated from other relatives and friends. Often the victim is reluctant to report the problem or take action because he or she doesn't want to get the perpetrating family member in trouble with the police, Spoeri said. She noted that reports of suspected financial elder abuse can be made by the senior or others on behalf of the older person.
Protect yourself
You can take steps to protect yourself against financial abuse by family members and/or caregivers.
Don't give a relative with a substance abuse or gambling problem and/or who mismanages money access to your financial accounts or property.
If someone close to you is pressuring you for information on or access to your finances, report it to another family member or friend.
Monitor your bank accounts.
Secure valuables such as jewelry and private financial documents such as checks, financial statements and credit cards. Consider a locked file cabinet.
Use direct deposit for your checks as much as possible. (This avoids sending someone to the bank for you who may be able to deposit the checks and get cash back without your knowledge.)
Do not sign any document without first carefully reviewing it and seeking independent advice.
Stay active in the community, always have your own phone, and stay connected with other family members and friends. Do not allow one relative to isolate you from others.
Have a lawyer draw up a power of attorney (POA) to be sure only someone you explicitly trust can deal with your finances as needed.
Develop a financial and care plan for how you want your money spent as you age, including if you become incapacitated.
Create checks and balances that give a team of different family members, professionals and/or friends specific responsibilities and oversight regarding your future care plan and related expenditures.
These tips are compiled from PCA's OAPS; the National Council on Aging; and the consumer booklet "Money Smarts for Older Adults," created by the Consumer Finance Protection Bureau and the Federal Deposit Insurance Corporation (FDIC). (To obtain a copy of the booklet or for more information, go to fdic.gov/moneysmart.)
Report abuse
The tips in this article present good prevention strategies in the case of financial exploitation by family members and others. However, you or someone you love may still become a victim of elder financial abuse perpetrated by trusted loved ones, friends, paid caregivers or strangers. To report any form of elder abuse – financial, physical, verbal, sexual or self-neglect, call the PCA Helpline 24/7 at 215-765-9040.
Photo: iStock