Volunteerism takes flight: Senior uses time to care for butterflies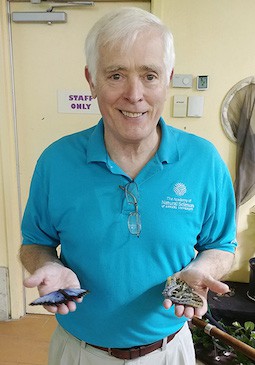 By Constance Garcia-Barrio
Nature has painted butterflies with a cunning brush, notes Chris Johnson, 70, a volunteer in the butterfly exhibition at the Academy of Natural Sciences of Drexel University, 19th Street and the Benjamin Franklin Parkway. "This one has what looks like an owl eye on each wing," Johnson says, referring to the winged insect in his hand. "Thanks to its deceptive wing pattern, the owl butterfly scares off potential predators, like small birds."
As he speaks, standing in the large open space within the academy that houses the live animal exhibit, more than 100 butterflies flutter around him like fugitive color from an artist's easel. "I'll tell you one thing: I've learned a lot about butterflies and insects since I started volunteering here seven years ago," Johnson says. He then points to a monarch butterfly that has landed on a tree nearby, a "master mimic" whose coloring scares off birds, frogs and other animals that eat butterflies.
The viceroys' orange and black coloring dupes lizards and other critters into believing that they're really monarch butterflies, poisonous to some animals due to the milkweed they consume.
A retired chemical engineer who lives in Swarthmore, Johnson took a roundabout route to his work with the butterfly exhibit. His son, who's now an adult, volunteered at the academy to fulfill his public service requirement in high school. Through his son's experience, Johnson thought about volunteer- ing at the academy himself. In 2008, he started work there as a guide, or docent, in the exhibits, which change every three to six months. "After an exhibit on life in the deep sea closed, I asked, 'Where do you need help now?,'" he says.
The staff snapped up Johnson for the butterfly area, a permanent exhibit, in 2011. Johnson now volunteers at the academy two days each week and has logged almost 4,000 hours in this exhibit alone, where the kinds of butterflies change constantly. "Butterflies and other moths have a life span of about two weeks, and we receive shipments from Costa Rica, Malaysia and other parts of the world each week," he says. The butterflies arrive in the pupa stage and are transferred to a contain- er with controlled temperature and humidity until they emerge, according to Johnson. The pupa stage, he explains, is a nonfeeding stage between the larva – or infancy – and adult, during which the insect undergoes a complete transformation into a butterfly from inside a protective exoskeleton, called a chrysalis.
Johnson's duties include cleaning the exhibit, which maintains a temperature of 80 degrees; setting out food, including bananas and oranges; pruning the many ornate plants that decorate the butterfly habitat; taking a daily count of the butterflies; and greeting guests, including as many as 16 groups of students each day.
He gives instructions to a group of wide- eyed 4-year-olds on their recent trip to the academy: "Move slowly. The butterflies land on the plants, walls, ceiling and floor. You don't want to step on them. Please don't touch them. If one lands on you, it means you'll have good luck all day. When a butterfly doesn't fly off of you on its own, tell one of us and we'll take care of it."
Sometimes it is hard to tell who felt the most excitement: Johnson or the kids. "When they light up, it's priceless," he says with a glowing smile. "Once, a group of pre-schoolers who were learning French sang 'Happy Birthday' in French to a butterfly newly emerged from the chrysalis. It was great."
Johnson not only enjoys the children's delight, but he also likes the camaraderie he shares with other volunteers. "We belong to the pseudo-retired club because we still stay active," says Johnson. "You don't need perfect health to volunteer. One gentleman sets his hours according to his dialysis schedule."
Besides the friendships and activity involved with volunteering, Johnson enjoys the learn- ing. As the country's oldest museum of natural sciences, founded in 1812, the academy provides educational opportunities to both visitors and staff. Like all volunteers, Johnson attends seminars on upcoming exhibits and has even made a newsworthy discovery. "One morning in 2014, I came in and discovered a gynandromorph, an extremely rare half-male, half-female butterfly," Johnson says. "KYW interviewed me, and the story ran in newspapers in Africa, China and Poland, where my name appeared as Johnsonski." A plaque in the academy's archives also includes Johnson's name – spelled the usual way.
***
Native Philadelphian Constance Garcia-Barrio writes about many topics, including black history.