Unhappy holidays: Feeling teary, not merry?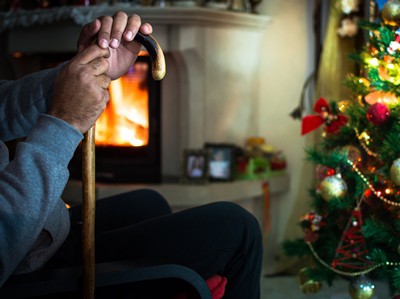 By Constance Garcia-Barrio
For many of us – whether we celebrate Christmas, Hanukkah, or Kwanzaa — the December holidays don't come with a Hallmark halo, but rather a gauntlet of potential problems. The passing years may have left us divorced or widowed, like me, or with family members living at a distance. We may also wrestle with thorny relationships and grief. However, we can take steps to navigate the season's rough spots, go beyond a mask of merriment and find true peace.
Avoiding conflict
Some folks may find themselves at odds with relatives. "This year may be especially tough for families, given the state of our country and the world and differing opinions about issues," said Sarah Epstein a marriage and family therapist with Philadelphia's Council for Relationships. "If you know that a certain person with whom you often disagree will attend a gathering, try calling him or her in advance," Epstein suggested. "You might say, 'I really want to see you, and I know that we sometimes butt heads. Could we make a pact, just for Christmas, not to talk about XYZ?'"
If you're hosting a get-together, you might set a similar ground rule to defuse possible arguments. For instance, you could declare politics as out of bounds for the evening, Epstein said.
Deciding not to argue may work, too. If you know that a certain person pushes your buttons, you may steel yourself to avoid responding to him or her, Epstein advised. "As the person approaches, tell yourself, 'Here's the button-pusher. Here she comes!' Then you don't engage. You might say, 'Maybe we can talk about this issue over coffee another day.'"
And there's no need to suffer through a gathering that's gone sour. "If a holiday celebration is going sideways, I leave," said Michelle Spencer, Psy.D., a psychologist in the Older Adult Protective Services department at Philadelphia Corporation for Aging (PCA). "Give yourself permission to leave when it doesn't feel good."
Dealing with grief
As the years march on, many of us deal with deeper issues than navigating challenging family dynamics. The peacemakers, as well as the difficult folks, may have died, so the holidays can mean sharp grief. Several of my loved ones have passed away, including my parents, husband and some friends. To help get you through the holidays without your loved ones present, you can turn to the traditions of your childhood to feel closeness with departed family members, Spencer suggested. "My grandmother liked oranges," she said. "I'll eat an orange to feel closer to her, less isolated."
I find it helps to lean into the memories. For me, that has meant visiting the cemetery where lots of my family members are buried, saying a prayer, and leaving a rose or Christmas wreath at the gravesite. If it's too cold, I stay home, pull out photo albums, and sometimes write a letter to the deceased. I used to have 10-megaton fights with my mom, who died 15 years ago. But time has softened things, and I don't mind telling her so. I write a letter of remembrance and leave it beside my mom's photo for several days. My heart feels lighter afterward.
Reaching out
At the holidays, we can reach beyond the family circle for connection. Musician Lynn Mather, 74, of Mount Airy, visits shelters – sometimes alone, sometimes with friends – and sings during holiday dinners there. "Over the last 15 or 20 years, I sometimes find myself unoccupied, and my family isn't around," she said. "People enjoying Christmas dinner at St. Vincent's in Germantown or St. John's Hospice downtown seem to like hearing familiar carols, and it does my heart good to sing them."
Mather surrounds herself with friends in other ways. A few days before Christmas, she invites friends to her home for a songfest and storytelling. "Everyone brings light refreshments to share, and we have a great time," she said.
Idella Hinton, 70, of Germantown, sometimes finds that it's just her and her husband at home on Christmas. "I listen to music and bake," she said, "so that folks can enjoy homemade treats when they do come." Hinton, who is regaining her mobility after a stroke, also makes the most of outings during the year so that she's ready for the holidays. "I make up little packages of presents – scarves, gloves, hats, lotion and whatnot – and give them to people who may need them at Christmas," she said. "If you focus on somebody else, you're going to feel better."
Sometimes, to avoid loneliness, it helps to recall organizations in your network, and then plug into them by offering your help, suggested Sheryl Ross, Psy.D., a clinical psychologist in the Einstein Health Network who provides outpatient therapy for seniors. "Consider participating in craft fairs at senior centers," Ross said. "Even if you don't make crafts, you can volunteer to wrap gifts. You could also send holiday cards to troops overseas. In addition, your church or synagogue may need another pair of hands to help with holiday activities."
Exercise may also prove a boon for the holidays. "Walking for 20 minutes or more not only benefits your body," Ross said. "It can also help lift depression."
Check in with yourself before the holiday rush and recall how you felt during the previous year's holidays, Ross suggested. "If you felt down and you think that may happen again, short-term therapy could help," she said. "Make appointments to see you through your most sensitive time."
Finding joy
Finally, a few other suggestions, some of them quirky, have worked for me. Let Hanukkah, Kwanzaa or Christmas be the deadline for something you'd like to accomplish. On Nov. 8, 2017, I had a knee replacement, and I promised myself that I would walk a mile by Christmas. My quiet Christmas last year became a day of triumph. Some years, if I feel sad, I attend a story hour at the local library or bookstore. I hear good stories and take in the toddlers' buoyant energy.
Give yourself the love and freedom to discover and do what works for you, during the holidays and all year long.
(Photo: iStock)