Transitioning gender to become her true self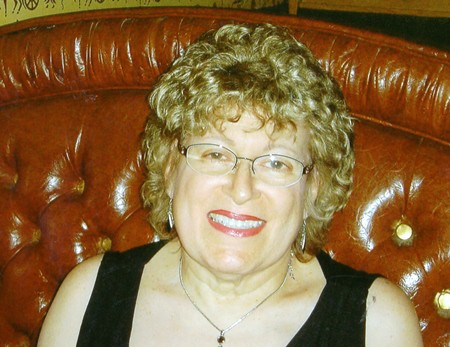 By Constance Garcia-Barrio
After years of "gender unhappiness," Lee Ann Etscovitz took a huge step in a long, painful journey. At the age of 65, she underwent male-to-female sexual reassignment surgery in May 2001. "I had to live as much as possible as the female I felt myself to be," says Etscovitz, a Hatboro resident.
At 82, Etscovitz now walks with the aid of a cane, but she breathes an air of contentment and exhibits a lively wit. Her appearance, voice and manner show no trace of her former male self.
"By the time I was 4, I sensed I was different from other children, but I didn't understand it," says Etscovitz.  By adolescence, she felt uncomfortable as a male when around other boys but at ease with girls. Scared and embarrassed to tell anyone about her gender confusion, Lee Ann (who was called Lionel as a male) began living a secret life. "At age 13, when I was home alone, I cross-dressed, primarily in my mother's lingerie," she says. For the next 42 years, she continued to cross-dress secretly.
At the same time, Etscovitz was attracted to women. "I always had a girlfriend," she says. She continued to live outwardly as a male and married for the first time in 1961. That union lasted 15 years and produced two sons and a daughter. With a doctorate in educational philosophy and human relations, she also began a teaching career in higher education. Between her family life and professional position, she appeared to be living a "normal" life as a male.
"But it was a charade," she says. "I was preoccupied with gender and sexual fantasies that interfered with my domestic and professional responsibilities."
She went through a period of internal turmoil, divorcing in 1976 and changing careers – to car salesperson – five years later. "I simply did not like the academic life anymore," she says. "Besides, I knew a lot about cars because my father had been a car dealer. Even though I did not have any actual sales experience, the dealership where I began to work liked the way I presented myself and the way I spoke."
While attempting to sell her own car, she met her second wife, Sonja, a Holocaust survivor. "In response to my newspaper ad, Sonja came to my apartment to buy my car," Estcovitz says. "However, just as she arrived I was selling my car by phone. So she didn't get the car, but she got the owner." They began dating almost at once, and married two and a half years later in 1982. They're still together 36 years later. At the time of their marriage, Sonja knew nothing of Etscovitz's gender unhappiness.
A turning point came in 1988 when Sonja, at 54, had a stroke. "Her stroke made me realize that I wouldn't live forever," Etscovitz says. "I couldn't bear the thought of dying without being my true self." Sonja made a miraculous recovery. In 1989, less than a year later, Etscovitz confessed her gender confusion to her wife.
Sonja's reaction was loving and accepting: "When I married you, I said to the rabbi 'I do.' Now all I can say is, 'Oy vey!'"
"I must admit, it was a difficult moment in our marriage," Etscovitz says. "Sonja never expected anything like a gender change in her husband. She wondered what her friends and relatives would say. I certainly placed her in a difficult situation, but in the end love won out."
Etscovitz's gender transition lasted 11 years, from 1990 to 2001. "I had counseling, hormone therapy, electrolysis and finally sexual reassignment surgery," she says.
"People sometimes wonder if Sonja is my sister or my friend," says Etscovitz. "Some people assume we're a gay couple. Sonja dislikes being called a lesbian because she's not gay. We simply state that we're a married same-sex couple."
Etscovitz is grateful for Sonja's ongoing love, but she has also experienced more than her share of rejection. "At one point, I had to find a new family doctor," she says. "Even after 25 years of having me as a patient, the doctor would no longer treat me."
Family and other relationships also changed for Etscovitz, who has three children. "My sons don't accept me," she says. "One of them has two children I've never met. He also legally dropped his last name, Etscovitz. Some relatives and friends also have nothing to do with me. Even a school rejected me when I applied for a teaching position because the parents were afraid I would be a bad influence on their children. Fortunately, I have a wonderful relationship with my daughter, who has two girls."
"What all this rejection has taught me is that as a transgender person, I must show compassion to others as they struggle with my gender change," Etscovitz says. "The transgender person needs to use gentle persistence, not harsh insistence. It's both an emotional and relational issue for people."
Etscovitz looks to the future with hope for those who are LGBTQ. More colleges and secondary schools than ever have LGBTQ groups and courses. Organizations such as PFLAG – formerly known as Parents and Friends of Lesbians and Gays – also offers support and education. Movies and books, including Etscovitz's memoir, "An Inner Roadmap of Gender Transformation," published in 2014, provide a deeper understanding of the transsexual experience.
"I am truly glad that I can now live as the woman I was meant to be," Etscovitz says. "I am free at last."
Trans Wellness Conference
People from the LGBT community, as well as their supporters and allies, can participate in next month's Philadelphia Trans Wellness Conference, Aug. 2 to 4 at the Pennsylvania Convention Center. The free conference gives participants access to more than 250 workshops relevant to the transgender community. Some workshops, like "The Social Safety Network for Transgender Elders" and "Getting Better with Age: Healthy Aging for Transgender Elders," focus on seniors. The conference is a program of Mazzoni Center, a health care provider that serves the LGBTQ community. For more information, go to mazzonicenter.org.
CAPTION: Lee Ann Etscovitz is pictured post-transition at her 70th birthday party. (Photo courtesy of Lee Ann Etscovitz)