Transitioning from a nursing home back to the community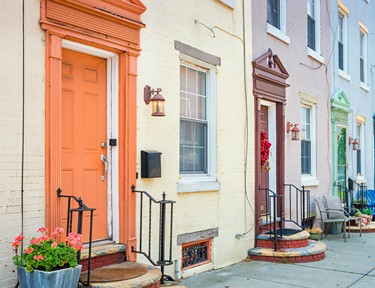 A space heater is turned on in Lillian Coaxum's bedroom, even though the day is relatively balmy. While others might find the room overly warm, Coaxum likes it toasty. In the kitchen, her home care aide is cooking one of Coaxum's favorite meals. Coaxum eats at a time of her choosing, wakes up when she wants to and socializes with whom she wants. Though frail, she moved out of a nursing home and into her own apartment nearly two years ago to enjoy more independence. "I feel so content," says Coaxum, 77, who resettled into her current apartment in the city's Wynnefield section with the help of Philadelphia Corporation for Aging's (PCA's) Nursing Home Transition (NHT) program.
The program helps residents of long-term care facilities return to living in the community. An NHT transition coordinator from PCA works closely with the individual, as well as with facility discharge planning staff and community agencies, to plan for and support the resident's return to the community. That support may include assistance in finding and establishing housing, making a current home accessible through home modifications, connecting the person to services such as adult day or home health care, and providing training for independent living. After the transition is made, individuals may be eligible for a variety of home- and community-based services.
Prior to moving to Kearsley Home Apartments in 2017, Coaxum had been a resident of Fairview Care Center of Bethlehem Pike in Chestnut Hill. She'd moved from her North Philadelphia apartment to Fairview because she had been unable to handle basic activities of daily living, such as bathing and dressing. However, after five years, "I felt it was time to move out," said Coaxum, who relayed her wishes to facility staff.
Upon determining that she would be a suitable candidate for community living with appropriate support and that Coaxum had no housing to return to, Fairview staff referred Coaxum to PCA's NHT program to help with discharge planning. A team consisting of a Fairview discharge planner, a social worker, occupational and physical therapists, and a nurse worked with Coaxum and her NHT transition coordinator, Khadijah Knox, to create a transition plan. Knox helped Coaxum identify and visit apartments and apply for residence. Coaxum settled on Kearsley Home Apartments because the building is five minutes from her church, Community Bible Tabernacle, which has been a mainstay in her life.
When Knox asked Coaxum what she needed in order to move, she said, "Everything!" A beautiful wood bureau from Coaxum's former North Philadelphia apartment, the only piece of furniture she had brought with her to Fairview, came with her to Kearsley. So, too, did an array of family photos and other mementos.
By the time Coaxum moved in March 2017, NHT staff had already purchased all the things she needed and set up the apartment in advance. "Everything was ready when I walked in the door," said Coaxum. "There was a bed and another bedroom bureau, sheets and blankets, pillows and pillowcases, a kitchen table and chairs, pots and pans, and dishes and silverware. The bed was all made up. The kitchen cabinets and refrigerator were stocked with food."
In addition to providing household necessities, the NHT team put services in place to assure Coaxum's physical well-being. Knox arranged for a personal care aide 12 hours a day, seven days a week, to help the NHT participant with the basic activities of daily living, such as bathing and dressing, as well as meal preparation, shopping, laundry and light housekeeping. Through the program, Coaxum also received a personal alert system with a button to push in case she experienced a health or other emergency.
With her transition to community living complete, Coaxum now participates in a PCA long-term care program for older adults who are frail enough to receive care in a nursing home but choose to remain at home, in the community. A service coordinator from this program keeps in contact with her through visits and phone calls to monitor the delivery of long-term care services, check on Coaxum's satisfaction with those services, and determine whether to adjust her care plan.
Coaxum cherishes her apartment home. "I'm grateful to PCA," she said. "And I thank God for his goodness."
***
For more information about Philadelphia Corporation for Aging's (PCA's) Nursing Home Transition (NHT) program, which serves nursing home residents age 60-plus, call the PCA Helpline at 215-765-9040; or go to pcaCares.org, click on "Get Assistance," then "Find a Service Provider," then type "PCA Nursing Home Transition in the key word search function. Individuals under 60 who are interested in transitioning from a nursing home should call Liberty Resources at 215-634-2000.
(Photo: iStock)