Tired of the same old argument? Book offers advice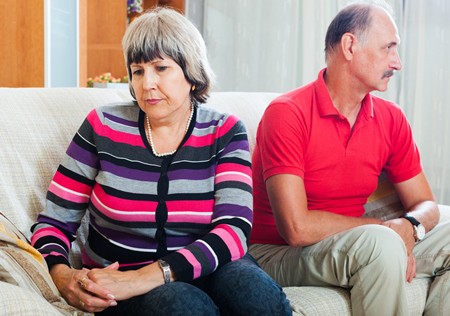 By Barbara Sherf      
Inspired by his marriage to his wife, Elise,  Max Rivers has made a successful career out of helping couples with marriage problems. Max, 67 and Elise, 52, have been together for 15 years. At the beginning of their relationship, they both studied mediation in Massachusetts. Because of the impact that learning mediation had on their own relationship, they saw the potential for using the practice in all aspects of life, especially marriage.
The couple moved to Mount Airy in 2003 and opened Two Rivers Mediation, later renaming the company TheMarriageMediator.net when Elise turned her attention full-time to her acupuncture business, Community Acupuncture of Mount Airy (CAMA). At that time, Rivers took over the business alone. He works with clients in-person and through Skype (a software application that lets people see and talk to each other over the internet).
Rivers shared his perspective on relationships during a Milestones interview in the couples' Mount Airy home and office. "Who you are changes over the course of a lifetime," he said. "The needs of the person you fell in love with in your 20s and 30s are not going to be the same in their 50s, 60s and 70s."
Rivers recently published a 286-page book, "Loving Conflict: A New Alternative to Couples Counseling," that teaches couples who are "tired of having the same old argument" how to mediate their own relationships.
The book explains the mindset that locks couples into conflict and what to do about it. It also shows them how to create the relationship they want by using skills of "embodied non-violent communication" based on Rivers' idea that couples move through three stages: infatuation, conflict and maturity.
Preventing divorce
According to divorce-statistics.info and other sources, 50 percent of marriages end in divorce, and second marriages have an even higher failure rate – up to 75 percent.
Rivers feels that not having the skills to clearly communicate what we need is one of the major contributors to the high divorce rate. This belief is why he focuses on teaching skills like non-violent communication (NVC) instead of doing counseling or therapy.
Communicating effectively
Rivers based his practice on the NVC principle that all communication is an attempt to get one's needs met, and judgments are just badly formed requests.
Not being able to identify your needs, not knowing how to negotiate strategies with your partner so you both get your needs met, and expressing your needs as angry judgments of your partner are among the challenges Rivers' training can help couples resolve.
Rivers said that teaching couples to self-mediate gives them the kinds of skills they need to resolve not only their presenting issues but also their differences over a lifetime. And many couples report that the skills they learn to help their relationship are also applicable to their parenting, work and friendships.
Baby boomers – people born between 1946 and 1964 – make up much of Rivers' clientele. This cohort is living longer, and as a result, members of a couple often find that after being successful in their separate roles, they don't know how to reconnect when their situation changes later in life. Self-mediation "can give them the tools to bring back the intimacy and enter into the next phase of life: a mature relationship where you get pleasure out of meeting your partner's needs and getting your own needs met."
Rivers believes anytime there is ongoing conflict in a relationship that is a signal that the relationship needs attention. "Conflict isn't necessarily a bad thing; it's often the relationship trying to get to a deeper level of intimacy," he said.
For additional information, to read testimonials, view videos, or to make an in-person or Skype appointment, go to TheMarriageMediatior.net.
CAPTION: Communicating effectively can help couples avoid the same old arguments. (iStock)