This alto octogenarian is a one-woman orchestra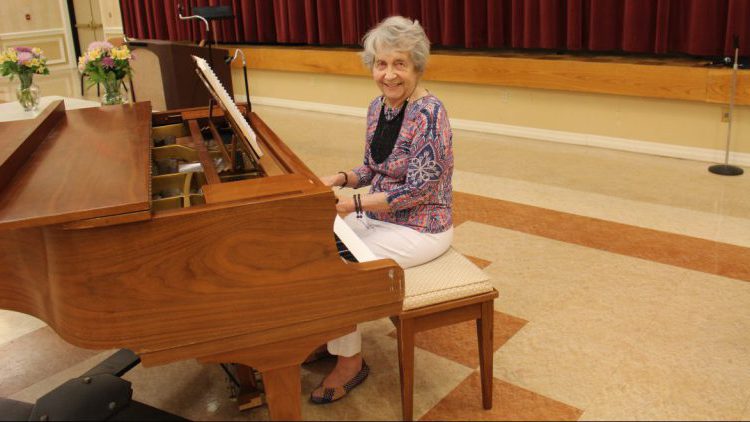 Joan Johnson is not only a musician. She is practically a one-woman orchestra, who plays the piano, guitar, obo and harp.
Residing in a retirement community in the lower Northeast section of Philadelphia with her husband, Stephen, a retired minister, she says she really misses the big instruments. "But as you can see, there's just no room in this small apartment for the harp, let alone the grand piano, we had to leave behind in North Carolina last fall."
Joan, an octogenarian, started her musical journey with the keyboard when she was 5, taking to it like a duck takes to water. Later, in high school, when the band leader had an extra obo in need of a player, it was Joan who stepped up. "I like a challenge," she said.
Marriage and raising three children were her next life challenge. For some relaxation
from the stresses of motherhood, she took up the guitar. Meanwhile, all of her children were studying the piano.
Moving quite frequently due to her husband's ministry, Joan taught music in public schools while also conducting church and children's choirs. In addition to being a talented instrumentalist, Johnson is also a vocalist. She sings alto.
In one poor mill town with a low level of educated adults, "Joan saw it as a challenge and started a choir," said her husband Stephen. "By the time we left, that choir had become so good it became the core group in a much larger church choir."
Arriving at Stephen's next assignment, there were no openings for a music teacher. But there was a need for a tutor. Joan stepped into the breech and realized she needed some courses in remedial reading. One such course after another led to a master's degree.
With that degree in tow, "I was then able to obtain a position as the director of an adult literacy program in a community college, supervising 15 part-time instructors," she said.
Getting a GED (General Education Development) certificate is quite an accomplishment for adults who missed so much education for one reason or another earlier in their lives. "The students and their families were so proud," Johnson said. "We decided to have a commencement ceremony topped off with cap and gown."
Stephen was quite impressed with his wife. "There was a lot of hugging; cheering; and, yes, even some crying. And I was so proud of Joan for all that she accomplished."
If you can see there is any thread in Joan Johnson's life, it's that she loves a challenge. So in her '50s, she took on a new challenge with a new instrument waiting to be conquered — the majestic harp.
When one watches a harp player on television, the camera mainly focuses on the hands plucking the strings. Occasionally, you get to see the legs moving long pedals, seemingly incidental to the playing. But it is not incidental at all.
"Those pedals are the like the black keys on the piano; and very, very hard to master," Johnson said. But master it she did, thereby enabling her to play professionally at weddings and other events.
While all her children studied piano, only one is now a musician. He plays professionally in New York.
"The piano?" she was asked.
She smiled, "The guitar."
---
Lawrence Geller is an actor, writer, activist and creator of the Anne Frank Theatre Project.