These home safety tips help prevent falls, other accidents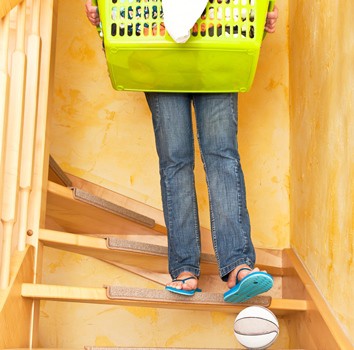 By Alicia M. Colombo
Lois Rosage, a licensed and registered occupational therapist for 33 years, works to evaluate the safety of seniors' homes through Philadelphia Corporation for Aging's (PCA's) Senior Housing Assistance Repair Program. "I go into a home and look at all the areas that can make seniors independent and safe in their home," Rosage said. She offers this advice: "Be mindful of your surroundings. Keep walkways clear and use adequate lighting."
Following are common problem areas in a home, and how to address them.
Clear the clutter
It's important to have all stairways, doorways and walkways open and free of clutter. "Items can be in boxes, but there has to be enough room to pass freely without bumping into anything," Rosage said. Other tripping hazards can include badly worn carpeting, extension cords that run across the floor and cluttered stair landings.
Clutter creates other hazards besides falls. Countertops packed full of items close to the stove are a fire hazard, and blocked doors present another problem. "People tend to block their back doors with cleaning buckets, trash cans and other items," Rosage said. "If there is a fire, the exit will be blocked and you might not be able to get out in time."
Beware of bathroom dangers
Wet and slippery surfaces create a danger in bathrooms. "I can't talk about bathroom safety enough," Rosage said. "Falls occur while stepping in and out of the tub more often than elsewhere in the home.
To reduce the risk of falling in the bathroom, she recommends non-skid strips inside the tub and a good-quality, non-slip bath mat outside of the tub. A combination of a tub chair and hand-held shower may also be recommended for anyone who cannot stand and reach to bathe. All seniors should have grab bars installed at the entrance of the tub and on the long wall inside the tub. It is important to also have a vertical grab bar for support as you step in and out of the tub.
It is recommended that grab bars be installed by a professional to assure they are sturdy enough to hold a person's weight. "My experience with suction cup grab bars is that they are not safe," Rosage said. "Never rely on a towel bar for support. It's not made for that."
Getting up from the toilet is challenging for many seniors, so they often each for something for support. "Seniors will often grab onto the sink to pull themselves up from the toilet, and it will over time become loosened from the wall," Rosage said.
A raised toilet seat, which can be purchased inexpensively from retailers such as Walmart or Amazon, is recommended to assist with toileting for anyone with decreased strength, endurance and balance. A grab bar should also be placed near the toilet.
Support on the stairways
Stairways are the second biggest danger zone in the home due to fall hazards caused by items left on steps, railings in disrepair, and a lack of sufficient support due to wear or improper installation. "Clearing items off interior stairs is something that seniors can take care of themselves," Rosage said.
"Older people should have a railing installed on each side of every stairway inside their home," Rosage said. Railings should be supportive and properly maintained.
Steps on the exterior of one's home should be free of cracks, chips and uneven surfaces. "The best alternative to replacing cement is to make sure there's a good iron railing to give [you] support," Rosage said. "Even good steps can get slippery and icy, so a railing is something everyone could and should do."
* * *
For information about home repairs and modifications for Philadelphia seniors, call the PCA Helpline at 215-765-9040 or visit pcaCares.org.
PCA provides housing repairs for seniors
Philadelphia Corporation for Aging (PCA) provides a variety of housing services for older Philadelphians to help them continue to live in their homes safely and comfortably. These services include minor home repairs and modifications for low-income homeowners provided through PCA's Senior Housing Assistance Repair Program (SHARP). The program can provide a housing service coordinator and inspector to provide a complete walk-through of the home to assess the need for any modifications or repairs. In some cases, SHARP may also involve an occupational therapist who assesses the senior's ability to walk or move around the home and determine what type of assistive devices may help, such as grab bars or possibly interior or exterior railings for the stairs.
To receive services, the senior must be 60 or older, live in Philadelphia and own the home. The home must be structurally sound, with all utilities functioning, including the central heating system. Seniors who meet these requirements and whose gross household income is at or below 200 percent of the federal poverty level, or $2,023 per month for one person, can receive SHARP services at no cost. Services can be provide on a cost-share basis for seniors with higher incomes.
To apply for SHARP, call the PCA Helpline at 215-765-9040 or go to pcaCares.org and click "Request Assistance." Please note that SHARP is not an emergency service; applicants are seen on a first-come, first-served basis.
CAPTION: Clutter left on steps can pose a fall risk. (Photo: iStock)