'The Mayor of PCA' honored for lifetime achievement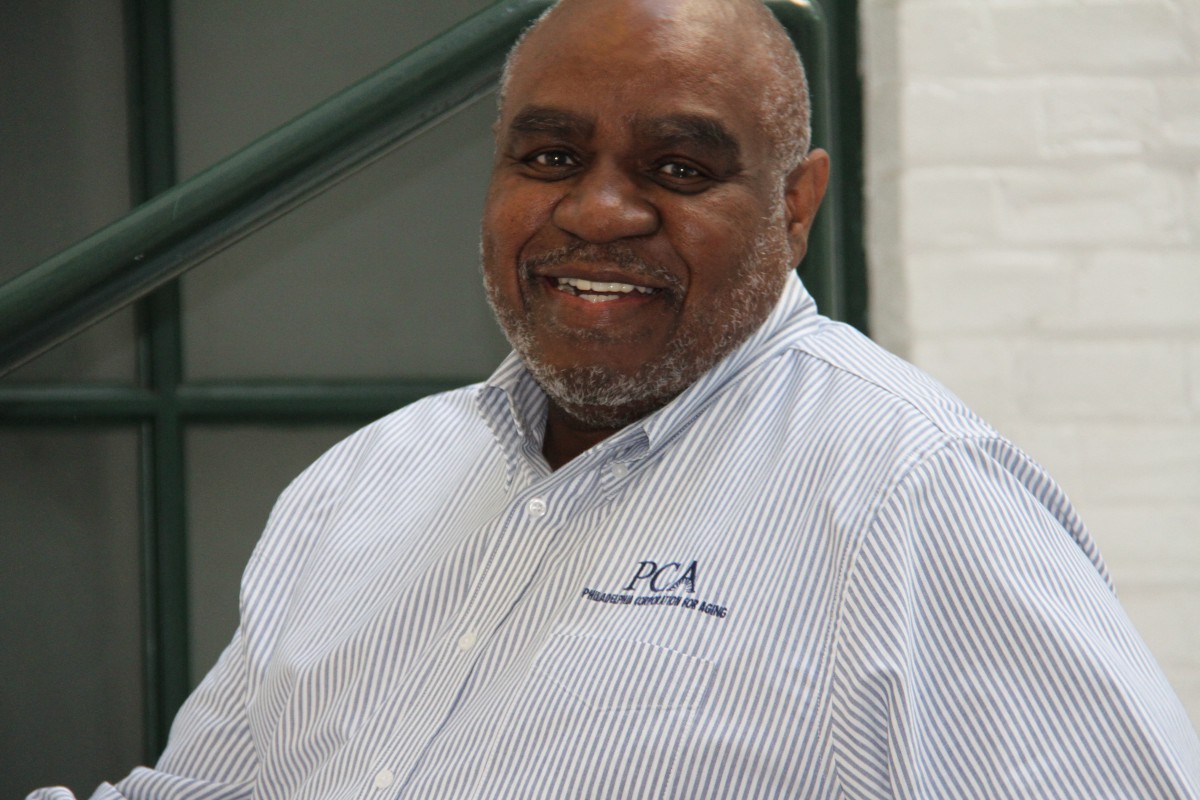 By Shannon Reyes
Among the near 500 employees of Philadelphia Corporation for Aging (PCA), it's difficult to find one who is unfamiliar with its vice president of operations, Louis Colbert. It is even more difficult to find someone who doesn't smile at the mere mention of his name. During his tenure, Colbert has garnered the affectionate nickname, "the Mayor of PCA," due to his uncanny ability to connect with people and his infectious laugh. It is also most likely what has caused him to be immensely successful as an aging community advocate for close to 40 years.
Colbert's dedication and service to seniors garnered him attention from the American Society on Aging (ASA), which will honor him later this month with its 2020 ASA Award at its 2020 Aging in America Conference in Atlanta, Georgia. The award recognizes an individual who has made an outstanding and ongoing contribution to aging-related service, research, administration or advocacy on the national level and creates visibility for the field of aging and ASA.
"It was a tremendous honor," Colbert said. "When you think about all the professionals out here in the field and out of all of them, you get selected for this ASA award. I was very humbled by it."
Colbert's celebrated career in aging began when he entered the field in 1976. At the time, he had just begun to work with older adult populations as a social work field placement from Temple University at the Area Agency on Aging (AAA) for Delaware County (COSA). After graduating from Temple, he was hired by COSA, dedicating six years there. Colbert found the next step in his path, by way of PCA as assistant director of program management. In his first eight years at PCA, Colbert became a familiar name around the agency. In 1991, Colbert re-joined COSA, serving as deputy director and later director, for a total of 22 years. He returned to PCA in 2013 as vice president of operations.
"I like working at the AAAs, because you're able to interact with people; you're able to identify programs; you're able to identify gaps in services; and you're able to advocate," Colbert said.
Throughout his life's work, Colbert has been a long-time champion of caregivers, especially advocating for caregiving men and caregivers of color. He attributes that passion to his parents.
"We lived in a duplex in Media. There were two widowed ladies next door. My father shoveled their snow and my mother always fixed two extra plates of dinner for them every night," Colbert said. "Caregiving and service has always been a part of me because of my parents."
Colbert had helped to care for his grandmother as a child and later assumed caregiving responsibilities for both his father and mother. In her later years, Colbert's mother began to decline and was very fortunate to have remained in her home until her passing, thanks to Delaware County's LIFE program and the dedication of Colbert, his siblings and extended family. His daily schedule entailed leaving from work at 4 p.m. every day to take care of her.
"It was through those experiences I began to appreciate the differences in caregiving; in women, in men and in communities of color," Colbert said.
He admits that it took almost a year after caring for his mother to truly recognize himself as a "caregiver," something he finds very common among African American communities. Since caring for older parents and adults is deeply integrated in African American communities, it is often viewed as something "that you just do," according to Colbert.
With a first-hand perspective, he helped to further dialogue about caregiving for older adults on both a local and national level. Facilitating the Alzheimer's Caregiver Support Group at his local church, Pinn Memorial Baptist Church in Wynnefield, for 15 years. Colbert was instrumental in the filming of that group for a documentary by AARP, "African American Male Caregivers." He has also been featured in dozens of articles and delivered many presentations about male caregivers functioning in communities of color.
"I also felt that it was important in my career to bring a minority perspective to whatever arena I was in," Colbert said. "I think the whole ability to represent communities of color no matter where I am, at the state level or with providers, is crucial and very important because sometimes that voice is not well represented."
In addition to being an advocate, Colbert is also committed to mentoring up-and-coming generations of professionals in the field of aging. As an adjunct professor at Lincoln University, Colbert is able to impart his experience on new generations of students in the field of gerontology.
"In my younger career, I had the benefit of having some fantastic mentors," Colbert said. "They were just dynamic in terms of allowing you to be expansive in your thinking to addressing problems and not placing blame. They also understood that change happens; it may not happen as soon as you think, but it does happen. And I come from a mindset that it is our responsibility to give back."
Just at COSA alone, Colbert was supervisor for more than 30 students including the current serving director, deputy director and director of planning.
The ASA Award also acknowledges Colbert's distinguished leadership with the organization. For 15 years, Colbert was on the ASA board and was chair of the ASA board of directors from 2013-2015. During that time, Colbert initiated the ASA National Diversity Summit, which helps to shed light on older adults with diverse identities, and worked extensively on the New Ventures in Leadership Program.
***
For more information on ASA and the conference, visit asaging.org.
Shannon Reyes is public relations specialist at Philadelphia Corporation for Aging.                                                                                                                         ###