The many benefits of dance fitness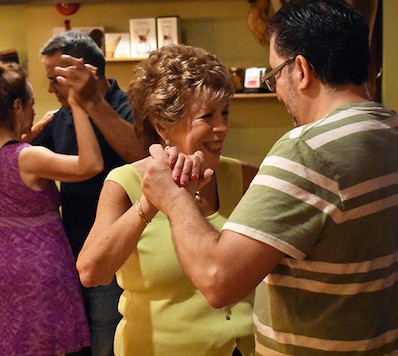 By Mary Anna Rodabaugh 
Put on your dancing shoes (or sneakers) and enjoy all the physical, social and emotional benefits dance fitness has to offer. For seniors wanting to spice up their fitness routine, dance is fun and appropriate for any activity level. Here are a couple very different styles of dance that you could try.
Zestful Zumba
"I love movement," Shelia Kenn says, as she effortlessly twirls 360 degrees on one foot. "You're moving for yourself, just go for it."
Zumba, a popular form of total-body cardio dance fitness, combines high energy and motivating music with easy to follow combinations. Kenn, a South Philadelphia senior, lives a very active life and participates in a variety of dance and fitness classes. On Saturday mornings, you can find her dancing, hopping, kicking and twirling during Zumba at Optimal Gym on Bainbridge Street.
Like many Zumba instructors, Mariana Hunter offers lower and higher intensity modifications for all moves so participants can have fun while working out without worrying about keeping up with the group. Hunter says there are many evidence-based health benefits for seniors who participate in dance fitness. As we age, we start to lose muscle mass and bone density.
Dance classes can help improve balance, increase bone strength, and reduce the risk of developing osteoporosis and fractures. Studies show that seniors with chronic conditions, such as arthritis, heart disease or diabetes, benefit from regular physical activity. For seniors trying to lose weight, one hour of mid- to high-intensity Zumba can burn between 300 and 900 calories, according to the Journal of Sports Science & Medicine.
Dance fitness provides seniors not only with physical health benefits but some social benefits as well. Seniors have the opportunity to build friendships with class regulars and their instructors.
"I feel my seniors come back each week because I'm not just an instructor to them," Hunter says. "I always ask them how they're doing and note their favorite songs so I can choreograph and use those songs in class."
Traditional tango
If the fast-paced high energy atmosphere of Zumba doesn't sound like a good fit, traditional dance lessons make for a low-key alternative.
Kristina McFadden of Philly Tango has been teaching group and private Argentine tango lessons for 10 years. She hosts beginner and intermediate lessons on Tuesday evenings at Chhaya Café on Passyunk Avenue. The weekly classes attract students of all ages, including a small group of seniors who have become regulars.
"When I leave class I feel exhilarated," says Louisa Vizcaino, a ballroom dancer with 10 years experience. "It's hard to go to sleep at night." She has been coming to Philly Tango for the past two years and appreciates the lack of age discrimination in the tango classes.
This social dance provides plenty of health benefits. The fundamental steps of tango encourage balance and mobility as dancers must shift their weight from one foot to the other. With one arm wrapped around your partner's waist or back and the other arm raised at shoulder height, the very posture of the dance promotes muscle strengthening and toning.
Tango also serves as a vital tool to preserve the brain's neuroplasticity, or the way the brain processes experiences and learns new information.
"It's a beautiful trick of the brain. When it thinks we are dancing, we're able to move differently," McFadden says. "It is pretty amazing how dance can keep our brain from de- generating."
McFadden notes that cultivating an aware- ness and execution of the micro movements in our bodies, as well as reading a dance partner's cues, keeps us mentally and physically flexible. Learning something new at any age creates new neural pathways, keeping our brains active.
The social benefits for seniors are just as powerful as the physical ones. Joining a community that shows up week after week creates a sense of purpose and belonging. At Philly Tango, participants switch partners after each song, making everyone feel included and at ease. McFadden's tango regulars take pride in helping nervous first-time participants navigate the steps and turns with each exercise.
"I used to think it was the complexity of the dance that brought my students back each week, but really, people want to feel wanted," McFadden says. "They want to build lasting bonds with people and feel like this journey is more than the steps they learn."
Vizcaino would agree and says she's made many friendships at the dance studio. While some of her senior students have a background in ballroom or Latin dancing, tango has become a lifetime investment. McFadden enjoys witnessing her students' reactions as they master a new move or perform a sequence flawlessly.
"Through dance, we learn so much about ourselves," McFadden says.
***
Inexpensive dance classes are offered throughout the city at local gyms, senior centers and dance studios.