'The Gold Necklace' describes Philadelphia nonagenarian's slave ancestors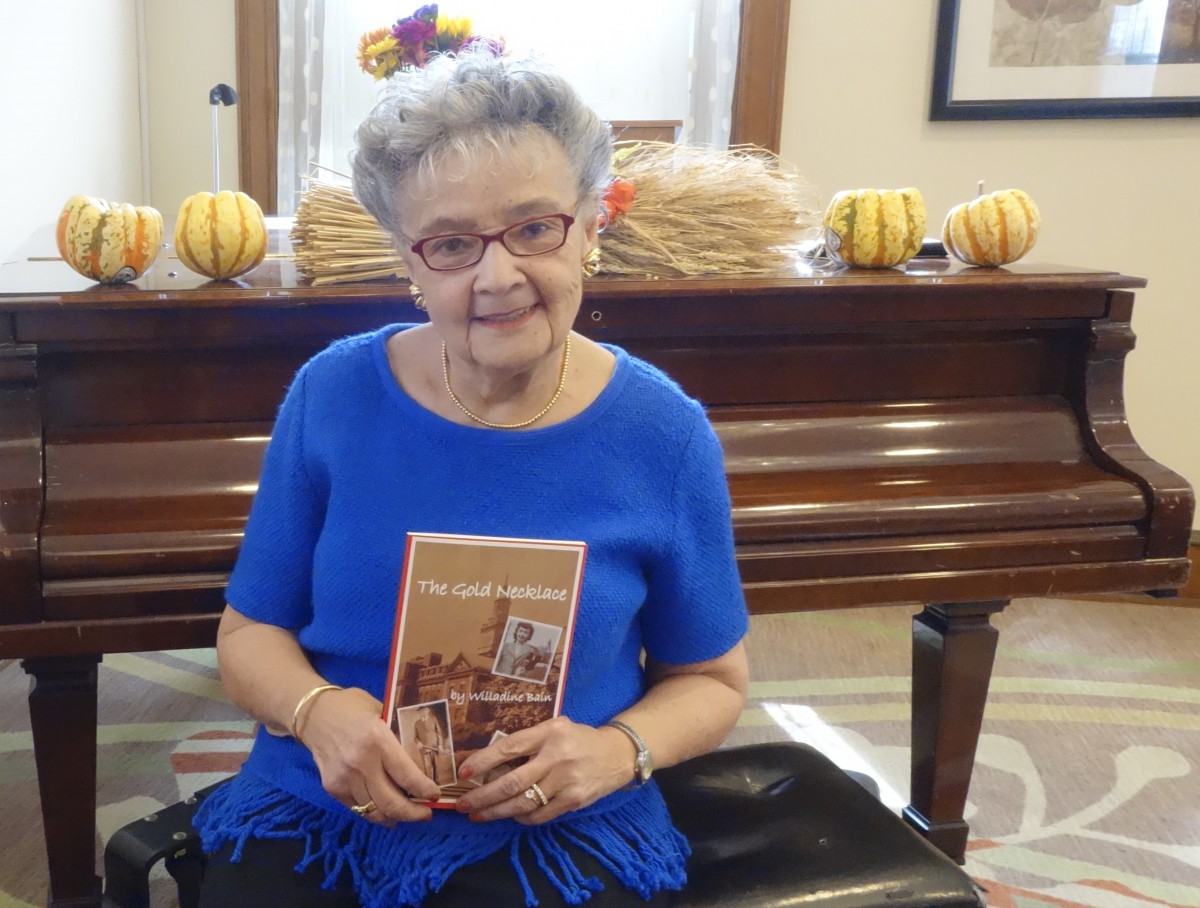 By Barbara Sherf
Philadelphian and first-time author Willadine Bain, 93, beamed with pride as she discussed her family's storied history at a recent book signing and reading for her newly published book, "The Gold Necklace."
"It's been two years in the making," Bain said of the work detailing her life and those of her slave ancestors. "I wanted to publish it to mark the 400th anniversary [in 2019] of the first people surviving the Middle Passage to land on the shores of America to be sold as slaves. These stories were passed down to me from my ancestors, and I felt strongly that they not be lost."
In "The Gold Necklace," which is available on Amazon.com, Bain shares a host of stories from her great-grandmother and grandparents that otherwise may have been forgotten. Including one about the book's title, a beaded gold necklace purchased by her grandmother whose first husband died in a duel.
"The necklace has been worn by four generations of women, all educators, who all have their own stories," said Bain, a graduate of Howard University and resident of Germantown.
She also details the story of her grandfather, Franklin "Captain" Jones, a slave who was beaten and ran away from a Georgia plantation only to meet up with Union Army soldiers in the forest. At the age of 14, he joined them and fought in the Civil War. After the war, with hard work, determination and a bit of luck, Jones became one of Savannah's first black millionaires.
"I feel that people who might not know about slavery might be interested to know that slaves, once freed, did become affluent citizens," Bain noted.
She fondly remembers her grandfather, as she wrote:
"When grandfather first came to our house at 23rd and Christian streets in South Philadelphia, I had to look way up at him. He must have been over 6-feet tall. I remember he wore a gray suit and a wide, flat gray hat. His skin was smooth and brown and when he looked at me and smiled, his eyes twinkled. From the start, I knew we were going to be great friends!"
The reader is then charmed by the story of her other grandfather, Willard Grinnage, who slept under the bed of his best friend at Howard University in order to get an education. When he was discovered, Grinnage talked his way into a scholarship by playing for the varsity football team and earning the role of Team Captain.
The reaction to Bain's book from her family, friends and the community at Wesley Enhanced Living at Stapely, where she lives, has been extremely enthusiastic.
"It's funny how you walk by people every day and you don't know their story," said Troy Jackson, an employee at the retirement community. "I'm super excited. I never knew she was writing a book. I've read a lot of books, but this will be the first in which I know the actual author."
Bain worked as a teacher for the School District of Philadelphia for 33 years, then received promotions to the positions of curriculum specialist and assistant director. She was also the first African American to appear in a host of televised educational shows in Philadelphia
"I wasn't surprised by writing it, but it was a surprise to bear the burden of rewriting it and the burden of my own criticism," Bain said. "I thought it would be fun for relatives to read, I didn't know it would go beyond the family to a wider audience."
Her daughter, Coralie Barksdale, who followed in the footsteps of four generations of women educators, proudly wears the gold-balled necklace that has been passed down through the family.
"I'm very proud of my mother for publishing this book during this chapter of her life," said Barksdale, who sat in on most of the weekly sessions with a personal historian and helped edit the book, select photos and serves as a spokesperson for her mother. "It truly was a labor of love, and I am proud to have played a role in seeing the project to completion."
Bain offers this advice for any potential author: "It might be best to dictate your story to someone, unless you had a career as a writer. You really must be fully committed to the process." When asked if she will write a sequel to her book, she chuckled and said, "I'm taking a break and just getting back to my varied activities."
***
Author and speaker Barbara Sherf captures the stories of businesses and individuals.