The doctor will see you now: Remotely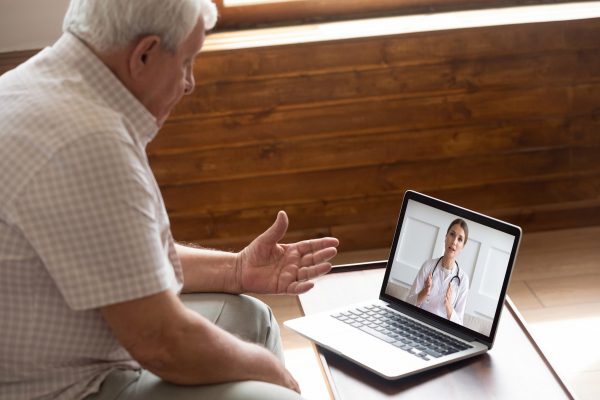 By Jay Nachman
Prior to COVID-19, telemedicine had received spotty reception from health insurers and providers. But the pandemic has vastly increased the use and effectiveness of telemedicine.
According to Dr. Andrew E. Chapman, co-director of the Senior Adult Oncology Center at the Sidney Kimmel Cancer Center at Jefferson Health, the hospital began ramping up its use of telemedicine about five years ago after concluding that it would be an essential element in the future of health care delivery.
Chapman said that telemedicine proved to be a good way for patients to "visit" in between chemotherapy appointments, which take place every three or four weeks. "We could have a check-in with them to ensure sure they were tolerating things well," Chapman said. "It was more than just a phone call. This enabled us to actually have a visit with the patient where we could do an exam and physically see them."
The Sidney Kimmel Cancer Center recognized that because of time constraints, distance or other issues, some older adults would have difficulty coming into Center City for a two-hour Geriatric Oncology Assessment. "We started doing telehealth, multi-disciplinary evaluations for these patients so that they could get this highly specialized care that they wouldn't otherwise have access to," he said.
Because of its ongoing experience with telehealth, Jefferson Health was able to flip virtually overnight from office visits to telehealth visits. To facilitate that switch, task force members reached out to patients and caregivers prior to a visit to make sure they had adequate equipment. Social workers in the department went so far as finding funding to provide smartphones for patients who did not have them.
"We know that older adults can certainly participate in telehealth visits," Chapman said. "We've learned that they ike doing telehealth visits when appropriate. If there's any reason or issue why they can't get into the office, they're very accepting of this. Many older adults are actually quite digitally literate."
Currently, the telehealth physical exam is visual and auditory. "You can hear someone's breathing, and you can see various things," Chapman said. "But you can't feel things. There are some limitations in the exam."
A lot of the physical examination information can still be gathered during a telehealth visit. According to Chapman, they've taught patients how to take their own vital signs, count their respirations and check their pulse.
"It's not perfect yet, but it's continuing to improve," Chapman said.
At MossRehab, the telehealth unit was set up when the pandemic hit. Now, the hospital has an organized system in place. Telehealth lends itself "quite nicely" to the work Dr. Chris Plastaras does as MossRehab's clinical director of musculoskeletal spine and sports rehabilitation medicine.
"Most of my physical examination is watching how people move, how they compensate for a particular joint problem, an observational functional assessment," Plastaras said. "As long as I can see
the patient and have them follow commands and move around and do things, than we can get a lot of information in the musculoskeletal health realm. So this is particularly helpful for neck, low back pain and hip pain."
The initial telehealth challenge was getting people on their devices with the apps up and running. Once connected, Plastaras said he has been able to direct patients through exercises on the first visit.
Plastaras asks his patients to place the camera on the ground "We want proper distance from the camera, so I can see their whole body but they also can still hear my instructions," he said.
"For people who are not tech savvy or people are just not comfortable with the fancy phones, it can be scary," Plastaras said. "What it comes down to is patience. Once they get set up, they become very comfortable and they're like, 'I can't wait to talk to you next week.' I have many people in their 70s and 80s doing this and doing it quite well."
Looking to the future, a lot of post-surgical care can be augmented by telehealth visits. It can also be used by other health care providers, besides physicians. MossRehab is exploring ways to conduct telehealth visits with a physical therapist, speech pathologist, nutritionist or psychologist, Plastaras said. "There's a lot of different ways to use this technology."
***
Jay Nachman is a freelance writer in Philadelphia who tells stories for a variety of clients.