Stitching artful embroidery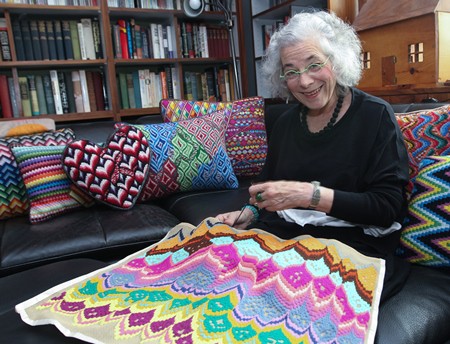 By Constance Garcia-Barrio
If the colors and patterns in Nancy Lisagor's embroidered pillows came with sound effects, you might hear popping firecrackers or the wild conclusion of Ravel's "Bolero" upon seeing them.
Lisagor, 68, creates precise needlepoint designs consisting of upright stitches laid in a mathematical pattern. This method, known as bargello, was developed in Italy and Hungary centuries ago. The name originates from a series of chairs found in the Bargello palace in Florence that have a flame stitch pattern. Other classic bargello shapes include diamonds and medallions, but patterns can vary depending on the arrangement of the vertical stitches. Lisagor often gives the shapes a twist and selects hues that almost cry aloud.
Lisagor's chosen art medium, which she discovered in 2012, is an outgrowth of her roots. "I grew up in Elgin, Illinois, a small town outside of Chicago where all the ladies used to knit a lot," she says. "I learned to knit when I was in fourth grade."
Her schooling and career put her artistic passion on hold for almost 30 years. As a young woman, Lisagor came to Philadelphia to pursue her graduate studies. She earned a master's degree in criminology and a Ph.D. in sociology, both from the University of Pennsylvania. She met her husband, native Philadelphian Frank Lipsius, while living in the city.
When her two sons – now 29 and 32 – were small, Lisagor had to hunt for family events in Philadelphia. "There was a big information gap," she said. That need led her in 1989 to launch MetroKids, a monthly magazine that provides a resource for parents about family activities in the Delaware Valley. Lisagor recently stepped back from the production and editorial side of the publication and now oversees MetroKids as the president.
The new role gives her more free time, and she has circled back to the needlework arts that are reminiscent of her childhood. "When people ask me what I'm doing these days, I tell them about my bargello pillows," said Lisagor, who has lived in Rittenhouse Square for 30 years. But the pillows provide much more than a ready response to questions about her life. They've become a font of creativity. "It's like painting with yarn," Lisagor says. "I find interesting designs in pattern books, and then I choose the colors for each project."
She finds inspiration not only in books but through experience. "I had the pleasure of seeing amazing aboriginal art when my husband and I traveled to Australia," Lisagor says. "I saw such extraordinary patterns. It struck me that I could do something similar with yarn." She has also developed patterns from Amish quilts and Mexican textiles.
Sometimes Lisagor chooses colors depending on the design, or she may have a person's background and preferences in mind. Sometimes patterns and colors simply provide a point of departure. "There's a certain amount of serendipity," she says.
"I may vary the size of the stitch or the color to produce a different shape or impression. For instance, I can create a 3-D effect using certain colors and stitches." As for mistakes, she simply incorporates them into the design. It takes about three to four weeks to complete a design, since she is only able to work on a piece in her free time. "It's relaxing, sort of like meditating," Lisagor says. "I listen to books while doing it."
Lisagor's pillows have gone far beyond her family circle. In 2014, they were exhibited at the Stadler-Kahn Gallery, 1724 Sansom St. Decorators have also purchased her pillows for their clients. "I can make pillows with a certain color scheme," Lisagor says, explaining that bargello can also serve as covers for chair cushions or for piano benches. "They can cost upwards of $300."
Lisagor has high hopes for her art. "I'm waiting to be discovered by more decorators and fans," she said. She may be well on the way. The April issue of House Beautiful featured a room whose sofa has her pillows covering it.
To view Nancy Lisagor's bargello work, visit her Instagram page at @NancyLisagor.
CAPTION: Nancy Lisagor stitches bargello patterns, which are precise needlepoint designs, on an embroidery cloth.  (Paola Nogueras)