School library volunteer shares her time and knowledge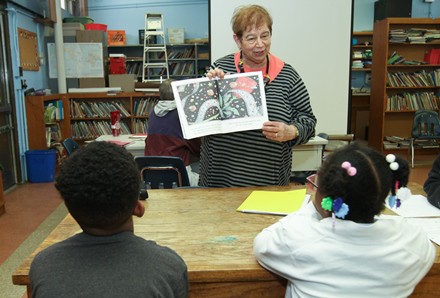 By Constance Garcia-Barrio
It's said that every life is a work of art. If that's true, then serving children of different creeds and colors has helped to make Elayne Blender's days a brilliant creation.
Blender, 70, volunteers three half-days a week at Mount Airy's Henry Houston Elementary School, tutoring mostly African-American students in literacy and math and coordinating the school's 12 other volunteers in the school library.
The tutoring takes place in the library, thanks to Chestnut Hill resident Barbara Bloom, who began the volunteer program 15 years ago. Tutors, most of them retirees, assist a total of 30 students a year, working one-on-one.
The tutors receive training from professionals during the year to improve their skills.
"We also meet together weekly to critique and support each other, sometimes over snacks or coffee," said Blender, a native Philadelphian who has a Bachelor of Science in psychology from the University of Pittsburgh and a Master of Education in rehabilitation counseling from New York University.
Four years ago, along with a cadre of other volunteers and the Home and School Association, Blender cleaned out the school's moldy old books and then planned a library program. Individuals and other schools generously donated new books and computers. Now classes come to the library regularly, have stories read to them by the "library ladies" and borrow books. Blender and the other volunteers help to bridge the gaps in school services. Lots of research, including a study published in 2013 in School Library Journal, shows that students who attend schools with libraries fare better academically, but the cash-strapped School District of Philadelphia has cut more that 80 percent of its librarians in the past two decades.
"We see a lot of kids with significant needs," said Blender, who was a program supervisor at Philadelphia Intellectual disAbility Services for 20 years before retiring eight years ago. According to Blender, large classes often hamper teachers' ability to attend to such students or even to enjoy moments when children grasp a concept. "I worked with a boy who suddenly understood multiplication. He said, 'Multiplication is like addition, only faster,' and his face lit up," she said.
Blender  finds that the students keep her on her toes.
"One little boy, a charmer with beautiful eyes, asked if he could have an extra reward one day," she said. "It was hard to say 'No,' but I had to be fair. The kids don't automatically respect you because you're an adult. You have to earn it by your commitment to the child."
The companionship of volunteering goes beyond the school. "We go out to lunch, we talk, we get into each other's business," she laughed. Tutors also help one another in other ways. When Blender had knee surgery in 2016, she received cards, visits and treats from fellow volunteers to lift her spirits.
Besides tutoring, Blender is busy on an education committee of POWER, an interfaith social justice group; as a member of Northwest Village Network, a group focused on helping seniors age in place; and as the coordinator of Wissahickon Village Cohousing, a group working to create an intentional residential community.
Blender's volunteer work keeps her eager to go out and help in her community. She wants to keep learning so she can give more to the students. "We retired people can use our skills to volunteer in our neighborhoods," she said. "We give our time and knowledge and get a lot in return."
CAPTION: Volunteer Elayne Blender reads to children at Henry Houston Elementary School in Mount Airy.  (Photo by Paola Nogueras)