Safety tips to make your home more age-friendly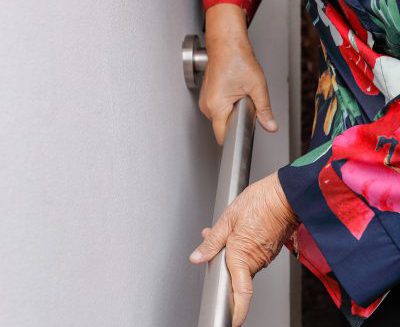 Adapting your home to accommodate aging in place is a step many need to consider sooner rather than later.
"We're hearing more from caregivers who are modifying their homes so their older relative can move in with them," says Sandy Markwood, chief executive officer of the National Association of Area Agencies on Aging (n4a).
As the region's largest AAA, Philadelphia Corporation for Aging (PCA) can provide in-home assessments and make minor modifications to the homes of older Philadelphians for safety and comfort. These modifications can include installing exterior and interior railings, bathroom grab bars, stair lifts, and intercom systems. For more information, call the PCA Helpline at 215-765-9040 or go to the website  pcaCares.org/housing.
Safety modifications
In addition to services from PCA, there are many small changes that homeowners may be able to make themselves. Some of these safety modifications include:
Adding textured, non-slip strips in the bathtub and shower.
Appling non-slip wax on floors.
Placing a waterproof seat or chair in the shower.
Adhering non-skid treads on steps.
Removing throw rugs and any obstacles in walkways.
Removing wheels on chairs.
Replacing standard round doorknobs with lever handles.
Installing a raised or high-profile toilet.
Using rubber-backed bathmats.
Installing adequate lighting in all commonly used areas of the home. Inexpensive plug-in sensor lights can be added to enhance lighting in hallways and other dark areas.
For people who use a wheelchair or have mobility issues, more extensive modifications by a professional contractor may be needed to achieve accessible living. Some of these changes include:
Altering the shower for walk-in use, rather than step-over entry.
Creating zero-threshold entryways, where the exterior is level with the interior of the home.
Moving light switches down for easy reach from a wheelchair or bed. • Widening doorways and hallways.
Avoid falls
A huge area of concern for seniors is obstructions on the floor. Even a slight change in the elevation of floor surfaces – tile to wood or wood to carpet – can create potential dangers, especially around doorways. One recommendation is to use brightly colored tape on the floor to alert older adults of a flooring seam. Additionally, throw rugs and electrical cords are generally a hazard for older adults, especially people who use wheelchairs or walkers. It's best to remove any unnecessary rugs and make sure cords or other obstructions aren't located in walkways.
For additional home safety tips for older adults from the American Geriatrics Society, Click Here>>
---
Source: AARP