Retired lawyer, social worker advocates for social justice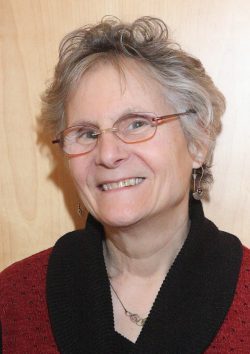 By Constance Garcia-Barrio
At 13, Judi Bernstein-Baker first took to the streets for a demonstration for racial equality. "A group of us from New York City high schools would picket the Woolworth's [Department Store] on 34th Street, right across from Macy's, every weekend," she said. "It was a way to pressure Woolworth's to end segregation at its lunch counters at stores in the South."
Six decades and two hip replacements later, Bernstein-Baker, still hits the road for social justice. At 74, her travels may take her to canvass her Mt. Airy neighbors about voting for independent candidates or all the way to the U.S.-Mexico border to help immigrant families. "These families are fleeing violence, persecution, human trafficking, and poverty," said the lawyer and social worker. "There's no one to speak for them."
Bernstein-Baker mapped out much of her unusual life herself. "I helped design my program of study for a master's degree in social work at [University of Pennsylvania]," said Bernstein-Baker, who moved Philadelphia in 1972 with her husband, Karl Baker, when he was admitted to Rutgers Law School. "My practice placement emphasized community organizing."
A stint as community organizer at Community Legal Services, which provides free legal assistance to low-income Philadelphians, convinced Bernstein-Baker that a law degree would be a valuable tool. She had a daughter and a son, 7 and 3 respectively, when she began studying at Temple University Beasley School of Law and graduated in three years.
In 1990, Bernstein-Baker landed work at Penn Law School, where she created a program for law students to do public service as part of their degree requirement. "At Penn, I became aware of the need for pro bono help in immigration," she said. In 1998, when she became executive director of HIAS Pa. (Hebrew Immigrant Aid Society, Pennsylvania), a nonprofit that helps immigrants, she delved more deeply into the issues. The position also resonated with her in another way. "National HIAS brought my mother [to the United States] from Poland in 1921," Bernstein-Baker said.
At HIAS Pa., she increased the diversity of the refugees served and expanded social and educational services to support them. She retired in 2016, soon after hip-replacement surgery. During rehab, she got her second wind. "Now, I take pro bono cases for the most vulnerable people, especially unaccompanied youth and those pcafacing deportation," she said. "I've been to [U.S.-Mexico] border twice."
She's been taking Spanish lessons because many of her clients are from Guatemala, Honduras and El Salvador. "I get referrals of cases from nonprofit organizations, particularly HIAS Pa, and community members," Bernstein-Baker said." I also occasionally cover cases for Immigration Law Options, a law firm."
In February 2019, Bernstein-Baker represented a 20-year-old woman from Honduras, who is developmentally delayed and functions at a 13-year-old-level. "She was [young woman] was sent to a detention center in Battle Creek, Michigan, while her mother and sister went to relatives in Kentucky." Bernstein-Baker represented her in a hearing via TV and obtained her a reprieve. "She speaks no English and couldn't navigate the airports alone. I [traveled to Michigan and] picked her up from jail. We spent the night in a hotel – she loved [watching] Spanish cooking shows on TV – and flew to Kentucky the next day. Her [reunion] with her mother was moving."
In another recent case, Bernstein-Baker represented a young man from Honduras. "He's a wonderful young person, a student activist and future leader," she said. "He had a strong case, but there were no immigration lawyers available in rural Louisiana where he was detained." Bernstein-Baker traveled to Louisiana twice and won the case. Immigration rights supporters raised funds for her airfare and an interpreter.
Immigration cases absorb much of Bernstein-Baker's energy, but she finds time for gardening, birding and quilting. She also teaches law for paralegals at the Community College of Philadelphia and lectures about immigration at the Osher Life Long Learning Institute. "We seniors have a lot to give," said Bernstein-Baker. "The [most important] thing is to use our extra time to do something valuable in the world. We can make a difference."
***
Native Philadelphian Constance Garcia-Barrio writes about many topics, including black history