Recipe Box: Festive dishes for any holiday celebration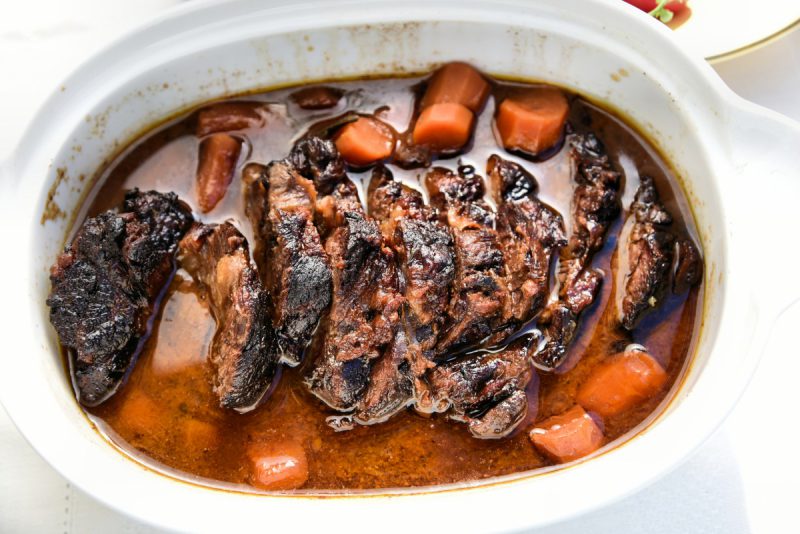 As we move into December, families all over are gearing up for the holiday season. While the holidays may look a little different this year, celebrations will continue, either in a physical or digital space, along with holiday dinners. December features a host of holidays, including Hanukkah, Kwanzaa and Christmas. In observance of this festive season, this month's Recipe Box includes savory dishes for every celebration.
---
Slow-Cooker Brisket
Ingredients:
1 beef brisket (about 4 lbs.), trimmed
1 can (14 oz.) crushed tomatoes
3 cloves garlic, crushed
1 medium red onion, sliced
1 medium yellow onion, sliced
1 tbsp. olive oil
¾ tsp. salt and paper
Finely chopped parsley, for garnish
Directions:
Season brisket with salt and pepper; add to large slow-cooker along with crushed tomatoes and garlic. Cover and cook on low 10 hours, or until very tender.
About 25 minutes before meat is ready, toss red and yellow onion with olive oil and ¼ teaspoon salt on large-rimmed baking sheet. Roast onions at 425° for 20 minutes or until browned. Top brisket with roasted onions and finely chopped parsley.
(Source: Good Housekeeping)

---
Potato Latkes
Ingredients: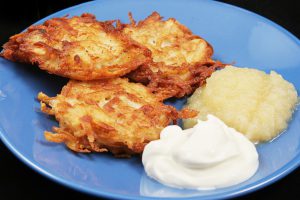 1½ lbs. russet potatoes, peeled
¼ cup shallot, finely chopped
2 large eggs, lightly beaten
2 tbsp. flour or matzo meal (during Passover)
1½ tsp. salt and freshly ground black pepper
Vegetable oil for frying
Directions:
In a food processor, grate the potatoes. Line a strainer with cheesecloth and transfer potatoes. Set strainer over a bowl, twist cheesecloth into a pouch, squeezing out some liquid. Let mixture drain for 15 minutes. After 15 minutes, pour off liquid from the bowl but leave the white potato starch that settles to the bottom.
To the starch, add shallots, eggs, flour, salt and freshly ground pepper. Return drained potatoes to this mixture and toss to combine.
Preheat oven to 200°. Line a baking pan with paper towels. When you are ready to eat, in a large skillet heat ¼-inch of oil over medium-high heat until hot. Drop a heaping tablespoonful of potato mixture and cook for 3 to 4 minutes a side; latkes should be golden and crisp on both sides. Eat right away or keep warm in oven. Serve with applesauce, sour cream or cottage cheese mixed with sour cream.
(Source: Food Network)
---
West African Chicken Yassa
Ingredients: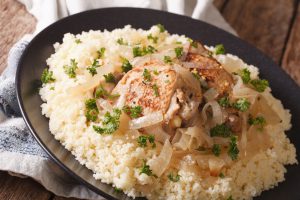 4 chicken breasts, with skin
2 garlic cloves, finely chopped
1 fresh chili pepper, mild, chopped
2 tbsp. vegetable oil
2 large Vidalia onions
½ tsp. thyme, chopped
3 lemons
12.5 fluid ozs. chicken stock
Salt & freshly ground black pepper
Directions:
Place the chicken in a bowl and squeeze in the juice of 1½ lemons. Add garlic and chili. Mix to coat the chicken well and leave to marinate in the refrigerator for at least 1 hour.
Preheat a barbecue, grill, griddle or dry frying pan.
Remove the chicken from the marinade and brush it with oil.
Place the chicken, skin-side down, on the barbecue, grill, griddle or pan; cook for about 4-5 minutes on each side, until well-colored and cooked through. Be careful not to let the meat dry out.
While the chicken cooks, cut the onions into medium-thin slices. Heat a few drops of oil in a deep frying pan and fry the onions with the thyme for about 5-8 minutes until nice and brown, allowing their sweetness to come out.
Remove the onions from the pan and set aside on a warm plate. Pour the juice of 1 lemon and the chicken stock into the pan, bring to the boil and season with salt and pepper to taste. Allow the liquid to reduce slightly, stirring and scraping the bottom of the pan.
Arrange the chicken on a plate, top with onions and pour the lemon sauce over it. Garnish with the remaining lemon half and serve.

(Source: Food.com)
---