Putting Penn to paper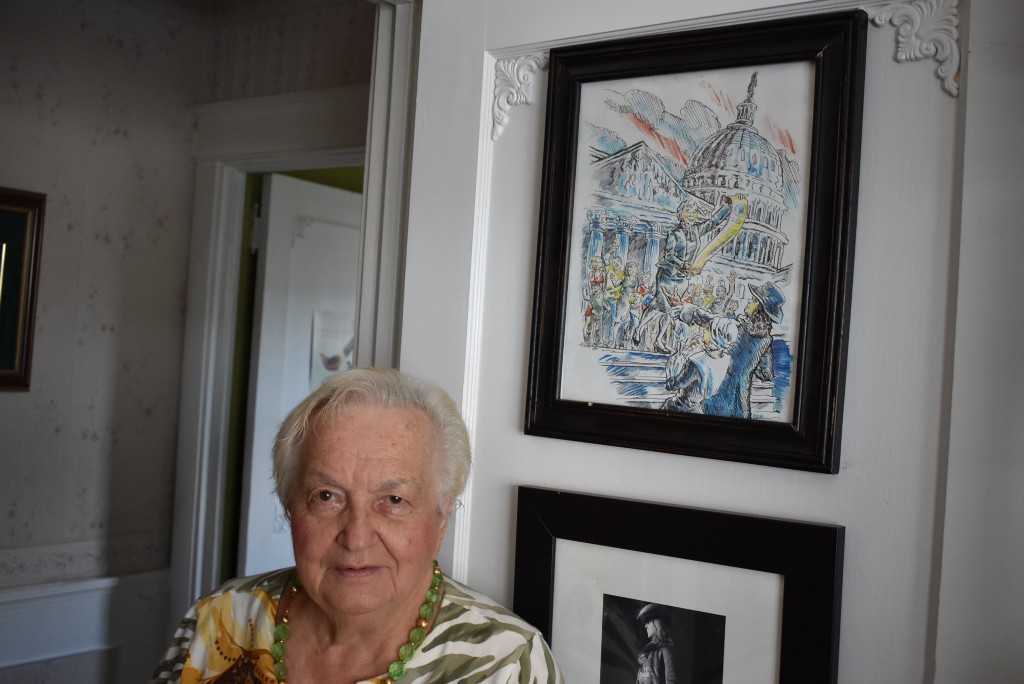 By Dorothy Stanaitis
It started, as many battles do, as a tax protest. In the early 1970s, Elaine Peden was running her parents Philadelphia tavern and joined a group of other tavern owners on a trip to City Hall to protest what they thought was unfair taxation. While she was there, Peden decided to go up to the tower at City Hall and view the city from the 37-foot-tall statue of William Penn, the first proprietor of Pennsylvania.
Due to the gentleman's agreement of the time, no building in the city could rise taller than the brim of Penn's hat, so it would be quite a view.
The elevator to the tower carried just six to eight adults at a time, so until her turn; Peden took a seat in the waiting room and looked around. She didn't like what she saw. The small room was not clean and the plain brick walls were marred by graffiti.
Visitors looked bored.
In what Peden would describe as a mystical experience, she suddenly knew what was needed and also knew just how to provide it. She contacted Philadelphia's Public Property Department to ask for cleaning, decorating and informational material to be provided. The department had the room cleaned and the graffiti removed but had no funds for anything further. So using her own funding, Peden purchased a large American flag and stand and installed it in the waiting room. It helped, but she knew that to fulfill her vision, more would be needed.
After consulting the Philadelphia Art Commission, she submitted a formal proposal to have the waiting room decorated at her own expense, with Billy Penn-related material. Her proposal was accepted.
Starting an annual art competition for local high school students provided many outstanding art pieces which Peden then had matted, framed and hung among other Penn-related objects she had collected including post cards and a restaurant menu with a picture of William Penn signing a friendship treaty with Native Americans.
But the most unusual item was a small flower pot containing a piece of sod. That sod had arrived from the English grave of William Penn. Her interest in Penn had led to a visit to Jordan's Friends Meeting in Buckinghamshire, England, about 25 miles from London, to visit Penn's gravesite. Peden carried flowers and an American flag, but as she bent to place them on Penn's resting place, she was abruptly stopped.
"Suddenly, out of nowhere, this guy comes running up with a shovel and told me I couldn't put a flag on Penn's grave, [as] Quakers don't pledge allegiance to the flag," Peden recalled.
Seeing her disappointment, the man dug a bit of sod from the grave for Peden to take home to the city Penn loved. Then he made a remark that would cause Peden to begin a battle that would take 10 years of her life and $10,000 of her own money.
He said, "If you ever make him an Honorary Citizen, we'll consider it."
Returning Stateside, Peden contacted her congressman who explained how very difficult that quest would be.
"In 300 years, [there have only been] two." Peden said, "British Prime Minister Winston Churchill and the Swedish diplomat, Raoul Wallenberg, who rescued Jews from the Holocaust, and I wanted two more."
However, Peden was determined to include Penn's wife, Hannah Callowhill, an incredible woman who laid the ground for the women who came after her.
After a stroke impaired Penn in 1712, Callowhill, who was unable even to vote, took over proprietor's duties for her husband and successfully ran Pennsylvania. Among many other difficulties, Callowhill had to fend off the attempt of Lord Baltimore to claim the eastern part of Pennsylvania, which included Philadelphia.
She was successful in locating the original deed that denied his claim. When William Penn died in 1718, Callowhill continued her role as Governor until her death in 1726.
Despite the worthiness of the honor, Peden had to fight through three sessions of Congress until at last in 1984; President Ronald Reagan signed the proclamation that made William Penn and Hannah Callowhill Honorary Citizens of the United States with Callowhill as the first woman to receive that honor given now to a total of eight. Mother Theresa is the only other woman in the group.
Sadly, Peden was not invited to the signing ceremony. "I didn't even get a signing pen." she remarked.
However, when the elevator waiting room was again redecorated, she was given the proclamation which she added to the room in her house that holds over 400 pieces of William Penn memorabilia.
Through the years of her quest, it's not surprising that Peden, now a vibrant 90-year-old woman, Peden still continues promoting the Penn family.
So, what's Peden's next mission in honoring Penn? Having a mural of both Penn and Callowhill, created along Callowhill Street. Knowing Peden, she'll probably get it done.
***
Dorothy Stanaitis, a certified Philadelphia Tour Guide, writes about history and culture.