Program makes seniors' homes safer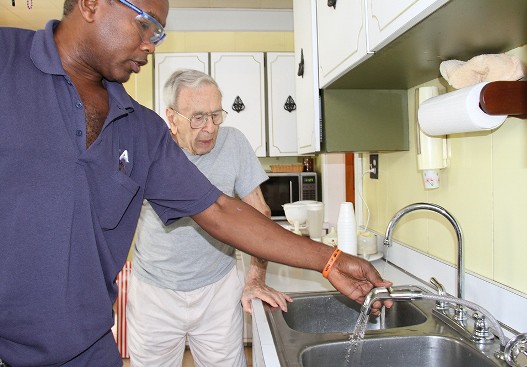 PCA's Senior Housing Assistance Repair Program (SHARP) helps to mprove the safety, security and energy efficiency of seniors' homes. Through this, and other programs, PCA arranges for repairs and modifications to the homes of more than 1,000 low-income elderly Philadelphia homeowners each year. There is now a reduced waiting list for the program, so referrals are encouraged.
"Even though the repairs and modifications we provide are considered 'minor,' the impact of these services for seniors is immeasurable," said Rich Klimek, PCA housing supervisor.  "A simple wrought iron railing allows a frail senior to leave home more safely,"
Modifications are made following consultation with an occupational therapist. These can include installation of grab bars; provision of durable medical equipment, such as tub chairs and toilet safety frames; and installation and repair of wrought iron rails, both interior and exterior.
Minor home repairs done through SHARP constitute replacement or repair of exterior and interior doors; plumbing fixtures, such as faucets, toilets and drains; electrical parts, such as light fixtures, outlets or switches; sink bases; and even basement steps.
"Because the Housing Department makes a physical change to an older person's environment, enhancing their independence and safety, it is very easy to see the difference we make in people's lives every day," said Klimek. "It is even more rewarding to receive positive feedback from satisfaction surveys. Housing staff often receive voicemails thanking them for their service or beautiful thank you cards in the mail."
Housing services allow seniors and people with disabilities to more easily access all areas of their homes. One participant wrote, "I can move around my house so much better because of what you did here, especially adding an extra rail to the second floor." Another noted that the quality of repairs, modifications and customer service far exceeded his expectations. "The work completed has positively affected the quality of living in my home in terms of safety, comfort and security. All staff from the first telephone contact to post inspection well represented your organization," said this SHARP recipient.
To qualify for SHARP, the senior must be a Philadelphia homeowner age 60 or older, whose home is structurally sound and where all utilities, including the central heating system, are functioning. SHARP services are free to those who meet guidelines of having household income which is at or below 200 percent of the federal poverty level. (Income eligibility as of 2017 is $2,010 per month or $24,120 a year for one person, and $2,707 a month or $32,484 a year for a two-person household.) Those whose household income is above this range may be eligible to have repairs and modifications made on a cost-sharing basis.
In addition to SHARP, which provides services to seniors in the community who are not served by other PCA programs, "Other Housing Services" (OHS) assists individuals served through PCA's long-term care programs. Service coordinators from these programs can make requests for major modifications, such as bath or shower modifications; and installation of interior and exterior stair glides, wheelchair lifts, half bathrooms, window air conditioners, and wrought iron rails.   Participants in PCA's long-term care programs may also make requests for minor modifications, such as grab bars. Approximately 350 jobs are completed annually, some of which cost upwards of $25,000.
"One case in particular that stands out was a participant who had a wheelchair lift that malfunctioned after years of service," Klimek said. "She was trapped in her home, finding it extremely difficult to get to vital doctor appointments. Through the work of her service coordinator and OHS staff, this older woman received a new wheelchair lift with accompanying modifications to the entrance areas. She was so grateful to everyone involved for giving her the ability to safely exit and enter her home again."
The Housing Department also has contracts with managed Medicare providers, such as Bravo/Health Springs and Health Partners Plans, to provide minor home bathroom modifications.
At times, specialized funding becomes available, and the Housing Department is able to undertake major repairs such as replacing roofs, rebuilding steps, replacing sewer stacks, or repairing door frames. "These individuals are identified through SHARP inspections and are completely thrilled and relieved that PCA was able to solve major housing problems," Klimek said. "One senior who received a stair glide through these special major repairs and modifications continues to call the Housing Department a few times throughout the year to express her gratitude for her newfound independence of moving around in her home," said Klimek.
For information or to apply for services provided by the Housing Department, seniors may call the PCA Helpline at 215-765-9040.
CAPTION: Minor repairs, such as repairing leaky faucets or installing railings, can make a big difference to an older adult who is living alone. (Photo by Evangelina Iavarone)