Photographer's starry career capturing musicians, celebrities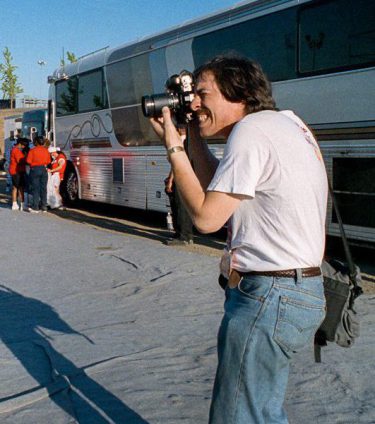 By Jay Nachman
During Scott Weiner's last semester at Temple University in 1976, he decided to write a paper on concert photography for his final exam and to try to get a picture published in The Philadelphia Inquirer.
So, Weiner headed down to the Spectrum and took photographs of musician Leon Russell, who was performing that night with his wife Mary, in his dressing room.
He can't remember how it happened (who can blame him, it was more than 40 years ago), but the photograph was published in the Inquirer the next day. The other photographs  were bought by Russell's label, A & M Records, for $25 each. "I thought I was collecting gold nuggets," Weiner said.
That was the serendipitous start to a photography career that has seen Weiner, now 69, take pictures of musicians from Aerosmith to ZZ Top, and just about everyone in between. His career has also encompassed shooting scores of actors, authors, presidents and even a pope.

It's led to all kinds of weird and wonderful encounters for Weiner, who was the staff photographer for Philadelphia's Live 8 concert in July 2005 and for Friday Morning Quarterback, the so-called bible of the music industry. He's asked Ozzy Osbourne to chew on a rubber bat for a photograph; discussed Fiats with Darryl Hall (of Hall & Oates) after discovering they had each recently bought one; and called out for President Jimmy Carter to give him a peace sign for a picture. The former president complied with the request. He has plenty of other stories from the sex, drugs and rock 'n' roll era that are not fit to print.
And, he has Tina Turner to thank for his fondness for arugula and goat cheese salad. At lunch together while she was doing a record promotion tour in the city, Turner ordered it and Weiner had no idea what it was. So, she insisted that he order the same thing. "She said I would love it and I did," he recalled. "I eat it to this very day."
He's also had a few exhibitions of his work, including one at Philadelphia International Airport, tilted "I'm in Philly." For 10 years, in secret, after an assignment, Weiner asked the celebrities he was photographing to hold up a handmade sign that read: "I'm in Philly." In all, there were about 50 portraits in the exhibition.
According to Weiner, one way in which the industry has changed, and not for the better, is the limited access to musicians that photographers now have. When The Who played at JFK Stadium in 1981, he climbed up on top of the scaffolding without anyone stopping him and photographed the concert from up high.
When he began his career, Weiner said, he used to be able to roam backstage before a show and then take as many photographs as he wanted from the front of the audience. Now, photographers are only able to photograph two, maybe three, of the first songs by a band from the front. Major stars only allow photographers to take a few pictures from the back of the room.
"I used to love that last shot when the band would gather at the front of the stage and hold their hands up in celebration," he said.
He still loves his job, though "I love the art of it," Weiner said. "I just don't take a picture with the artist. I try and make my pictures stand out in a lineup."
***
Jay Nachman is a freelance writer in Philadelphia who tells stories for a variety of clients.

PHOTO CAPTION: Photographer Scott Weiner, pictured at top in 1993 at the Lollapalooza Festival in South Philadelphia, has photographed hundreds of celebrities, including (above, left to right) Sylvester Stallone, President Jimmy Carter, Jon Bon Jovi and Ozzy Osbourne. [Top photo by Roger Barone. Photos above by Scott Weiner.]