PEER ombudsmen provide volunteer advocacy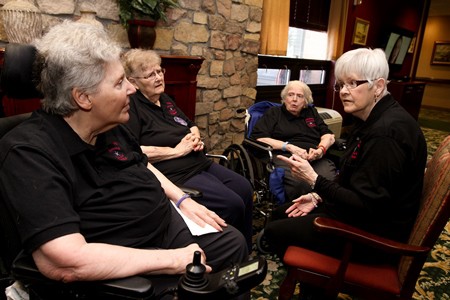 By Marcia Z. Siegal
Darlene Sauer frequently walks the halls on her floor at the Immaculate Mary Center for Rehabilitation and Healthcare in Northeast Philadelphia to check on fellow residents. "I try to solve problems and, if I can't, I report them to people who can," said Sauer, who is one of the Pennsylvania Empowered Expert Resident (PEER) ombudsmen at the skilled nursing facility.
Recently, she heard a female resident calling for help. The woman wanted to take a shower and needed aides to help her into the Hoyer lift, a specialized mechanical sling for people with limited mobility that allows them to be lifted and transferred. Sauer went to a nursing supervisor to report that the resident needed assistance. "Then I went back to her room and waited with her until the aides arrived," she said.
"When I first came to the center, I was at death's door with lung and bowel cancer. I had been given two months to live. That was five and a half years ago. I'm now a cancer survivor. I feel God put me here at the center for a reason – to help who I can help," Sauer said.
Resident advocates  
The word "ombudsman" is derived from a Swedish word meaning advocate or people's representative. Long-term care ombudsmen, including PEERS, address issues that range from residents' finances, such as access to personal funds, to quality of life, such as concerns about food or social activities; professional care, such as medication and nursing care; and residents' rights, such as residents' dignity and facilities' transfer and discharge policies.
Sauer is among four PEERs at the center, located at 2990 Holme Ave. She and fellow residents Johanna Blodgett, Elizabeth Tyre and Carol Whatley advocate for residents and work with staff in their long-term care facility to maintain and enhance the quality of care and quality of life of all who live there. They help to resolve residents' complaints and ensure that residents are treated with dignity and respect.
Pennsylvania's Long-Term Care (LTC) Ombudsman Program
The PEER initiative is part of Pennsylvania's Long-Term Care (LTC) Ombudsman Program, an effort of Pennsylvania's Department of Aging (PDA) that comprises professional and volunteer ombudsmen. The ombudsman program covers LTC residents in nursing facilities, domiciliary care and personal care homes, and assisted living facilities, as well as those receiving adult day services in a facility and LTC services at home. "All [ombudsmen, whether paid or volunteer] are united through an impassioned commitment to listen, educate, investigate, mediate and empower through a visible presence," notes the PDA on its website.
Philadelphia Corporation for Aging (PCA) oversees the LTC Ombudsman Program in Philadelphia. The state expanded its community-based volunteer ombudsman program in 2002 when it implemented the PEER program for LTC facility residents. PEERs complete a six week training program to learn how to work with facility staff to mediate and resolve problems and to empower themselves and fellow residents to maximize their health, comfort and happiness. After certification, volunteers receive ongoing training and support, such as by participating in monthly conference calls in which they can share issues and problem solving strategies with fellow PEERs statewide. Professional LTC ombudsman make regular visits to the facilities where PEERs live and are available to support PEERs with their advocacy efforts and address concerns.
Proactive efforts
PEERs at Immaculate Mary are especially alert to issues that affect the quality of life and care of the people they live with and are often proactive in addressing matters of concern.
Like her fellow resident ombudsmen at the center, Elizabeth Tyre has a sign outside her room identifying as a PEER who is available to help with residents' concerns. In addition, she is proactive about reaching out to those who might need information and assistance.
Recently, when conversing with a new resident, Tyre discovered that the woman was unaware of the scope of social and recreational happenings in her new home. "I let her know that there are a lot of activities available," Tyre said. "She could put herself on a list for going out to dinner. She could come to bingo, play Trivial Pursuit games and come to musical programs … I encouraged her to get involved and do things she enjoys."
Before moving into the facility, PEER Johanna Blodgett had volunteered for many years at its former gift shop. Now, as a resident, she has a much different perspective. "I see what it's like when you can't do for yourself," Blodgett said. "You've got to fight to keep yourself going. I think the PEER program is a wonderful thing. You learn a lot of things that can allow you to help yourself and others."
Carol Whatley became trained as a PEER soon after she moved to the center a year ago. "I felt it was important to be able to get involved on behalf of the people right around me and to have an impact on the system here," Whatley said. The center serves as a voting station in its neighborhood, and she is well known for encouraging others to vote as a way for them to make a difference.
When Tyre was in isolation due to a medical issue, she was confined to a private room and unable to have visitors. "Carol would poke her head in the door to say 'Hello' and ask how I was and if I needed anything," said Tyre, who resides on the same floor as Whatley.
Loneliness can be a major issue for people in long-term care, these PEERS said. Many residents may not have family nearby or rarely receive outside visitors. "Sometimes I hear that someone is very ill and not going to make it. I'll go and sit with them. I'll hold their hand and pray with them while they are dying or after they pass, and I'll stay until the family comes," Sauer said.
"We all care for one another," Tyre said.
"We look out for each other," said Sauer.
"There is love here," Tyre added.
In Philadelphia, there are currently four long-term care facilities involved with the PEER ombudsman program and a total of 23 PEER volunteers, according to Lynda Pickett, PCA assistant director of in-home support, ombudsman and volunteer services.
PDA allocates funds to PCA for the LTC Ombudsman Program in Philadelphia. PCA subcontracts with two organizations to provide ombudsman services in Philadelphia. For more information on the PEER and other LTC ombudsman programs or to request ombudsman services for your or a loved one's facility, contact the program appropriate to your geographic area:
South, West or North Philadelphia: Center for Advocacy for the Rights and Interests of the Elderly (CARIE): 100 S. Broad St., Suite 1500; 215-545-5728 or toll-free: 1-800-356-3606; carie.org
Northeast or Northwest Philadelphia: Center in the Park: 5818 Germantown Ave.; 215-844-1829; centerinthepark.org
CAPTION:  Resident ombudsmen (clockwise, from bottom left) Carol Whatley, Johanna Blodgett, Elizabeth Tyre and Darlene Sauer,  discuss residents' issues at Immaculate Mary Center for Rehabilitation and Healthcare in Northeast Philadelphia. (Photo by Paola Nogueras)