PCA joins Home for the Holidays Campaign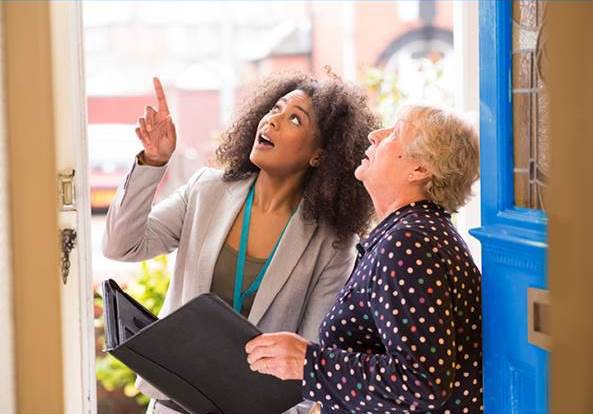 By Shannon Reyes
For many, the holiday season signifies a time of togetherness, where families unite to celebrate and carry out time-honored traditions. They are a time to reconnect with families and aging loved ones.
In partnership with the Eldercare Locator and the U.S. Administration for Community Living, the National Association of Area Agencies on Aging (n4a) has launched its Home for the Holidays campaign. This annual campaign encourages families of older adults to take advantage of the holiday season, using that time to talk to their older loved ones about services or supports they may need.
This year's Home for the Holidays theme is Modify Your Home for Healthy Aging, which spotlights home modification and repair services available to older adults through their local Area Agency on Aging (AAA). Philadelphia's AAA, Philadelphia Corporation for Aging (PCA), offers these services for older adults in the city through its Senior Housing Assistance Repair Program (SHARP). These services include home assessments, minor repairs and home modifications.
"The SHARP program provides repairs and home modifications which help older adults remain in their homes safely, so they do not need to seek out alternative housing options," says Mark Myers, PCA director of facility operations and housing programs.
Myers encourages families to talk to aging loved ones sooner, rather than later as houses tend to fall in disrepair quickly when there is a leaky roof or other issues affecting the home. The harsh winter months can be exceptionally taxing on a home as cold weather can cause water pipes to burst and heating systems to fail.
Home modifications are also offered through PCA for older adults with accessibility barriers in their homes, including difficulty climbing stairs or getting in and out of the shower or bath. PCA staff members are able to install handrails, intercoms, bathtub grab bars, hand-held showers, tub benches and other home modifications.
"Catching a problem early is very important," says Myers. "A well-maintained and safe home leads to good health and stability."
If a loved one does identify an issue with an older family member's home, he or she can refer to PCA for the SHARP Program for a home assessment.
Similar home repair and modification programs are available through most AAAs throughout the country. To find the closest AAA, individuals can use the Eldercare Locator at eldercare.acl.gov. The Eldercare Locator is a public service of the Administration on Aging (AoA), an agency of the U.S. Administration for Community Living. More information about n4a and AAAs can be found at n4a.org.