PCA applauds seasoned artists with virtual festival

By Snannon Reyes

Each year, artists who make up the bright and vibrant older adult artistic community from all over Philadelphia and South Jersey, both professional and amateur, send Philadelphia Corporation for Aging (PCA) original artwork of all subjects to be displayed at locations throughout the city.
Artists are still creating wonderful work that will be on display, even though the medium for this year's annual festival is going to look a little different.
While this event is typically held in May, the physical art exhibits and artists receptions had to be canceled this year. However, PCA is pleased to announce the first virtual Celebrate Arts & Aging showcase at pcaCares.org/CelebrateArts.
The virtual art exhibit will be featured on pcaCares.org/CelebrateArts, as well as on senior center and sponsor websites. All artwork submitted was photographed and assembled in a slideshow.
This year, 98 pieces of art featuring diverse subject matter were submitted by senior artists.
Digging the Beach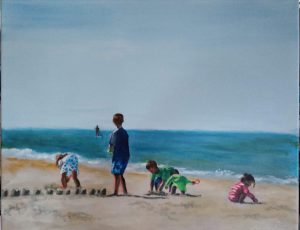 Lolly Grilli retired from a 30-year career with the federal government in 2005 and dedicated her free time to rediscovering her passion for art.
"Back in high school, I always was an artist," said Grilli, 70. "I always thought of myself as an artist but didn't know if I could really do it again, after all these years."
Grilli took an evening art class at a local high school and from there developed a love for oil pastels. After some time working with pastels, she then tried her hand at acrylic paints and fell in love with that medium. She prefers acrylic paint due to its minimal mess and low odor, which is important since most of her artwork happens at either the island in her kitchen or in her living room.
Grilli's painting, titled "Digging the Beach," is a recreation of a photo she captured on a beach in Naples, Florida – a place where Grilli and her sister vacation to each year. "Digging the Beach" is one in a series of four beach-inspired paintings. Grilli also frequents the beaches of Nags Head, North Carolina and Ocean City, New Jersey, where she is a member of the Ocean City Fine Arts League. She loves using beaches as inspiration for her art, so she never forgets to pack her Kindle and camera on a trip to those sandy shores.
"I found my old passion – art – and combined it with my passion for the beach," she said.
A South African Diptych
Lee Arnold, 60, is a newcomer to the festival after he submitted one of his acrylic paintings into this year's festival after reading the call for submissions in Milestones newspaper. Arnold is a self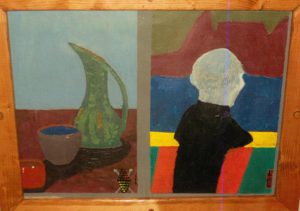 taught artist, who largely draws his inspiration from South Africa.
His passion for the region began while completing his doctorate studies in archival science at the University of South Africa. While Arnold studied remotely, he was able to attend his graduation ceremony in Pretoria and spent two weeks touring South Africa alongside his husband. Today, Arnold channels his experiences in South Africa into his artwork.
"I'm always remembering the beautiful setting in South Africa," said Arnold.
His submission, "A South African Diptych," is one in a series of paintings Arnold created while taking an art class at the Philadelphia Art Center in Queen's Village. The piece features mid-century South African pottery and a traditional Zulu shield on one side of the diptych and a portrait of what Arnold described as his imagination of Jan Christian Smuts, prime minister of South Africa from 1939-1948, taking a ferry back to Cape Town to see the positive progression the city has made.
As Chief Operations Officer and Senior Director of Library & Collections at the Historical Society of Pennsylvania, Arnold is a librarian and archivist by trade. He enjoys the relaxing effects he has found in painting, especially during the pandemic. Arnold also takes great pride in completing new art pieces and is currently working on a new series of paintings titled, "Pussycats and Pachyderms."
"It brings me joy to look at [my paintings] and say, 'I really like these. I think they're quite good,'" Arnold said.
---
Shannon Reyes is public relations specialist at Philadelphia Corporation for Aging