Older workers face opportunities, challenges after retirement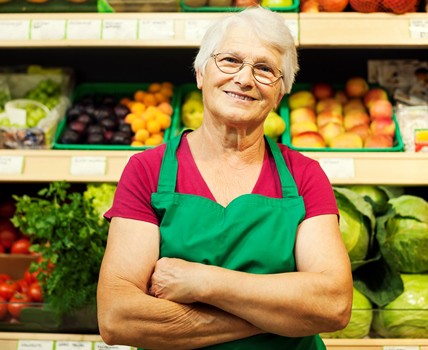 By Michael Hanisco
Whether it's needed to pay the bills, a way to earn extra pocket money, or simply a strategy to stay engaged with others, many people end up returning to the workplace after retirement. According to the U.S. Bureau of Labor Statistics, between 1977 and 2007, the employment rate for workers 65 and older rose by 101 percent. While there are benefits to both retirees who return to work and their employers, there are also challenges that older workers may need to overcome when re-entering the workforce.
It is important for job-seeking retirees to find work that fits both their skillset and their new lifestyle, according to Angela Foreshaw-Rouse, AARP Pennsylvania's manager of state operations and outreach, and a member of Philadelphia Corporation for Aging's (PCA's) Board of Directors.
"Many retirees may use skills they developed during their careers, while others explore opportunities in new fields," Foreshaw- Rouse said. "It's important to find something that feels more like fun than a grind."
Technology is increasingly making it easier for retirees to set their own schedules.
Many retirees opt to work from home, something that may have been impossible when they first entered the workforce. Meanwhile, ride-hailing and delivery companies like Uber and Lyft have exploded in popularity in recent years, offering flexible work hours outside of the home. Company surveys have shown that nearly 25 percent of Uber drivers are 50-plus.
Foreshaw-Rouse explained that retirees possess many of the skills employers are looking for in potential candidates. "Older workers are a great value to employers," she said. "Many employers are looking for people with soft skills, like being good with teamwork or collaboration or being able to write well. These are skills older workers have developed through their years of experience."
Still, there are challenges to going back to work, according to Foreshaw-Rouse. "With industry changes and new technologies constantly evolving, many older Americans may need to retrain before re-entering the workforce," she said.
She urged retirees who may be considering a return to work to be fully committed and open to new challenges. "Being curious and engaged, being passionate and eager to learn, these traits could certainly help anyone entering the workforce," she said.
Barriers to employment          
A major concern for retirees looking for work is age discrimination. An AARP survey showed that not getting hired was the most prevalent type of discrimination faced by older job-seekers. However, discrimination may not end after the hiring process. Another recent AARP study found that six out of 10 older workers have seen or experienced age discrimination on the job and 90 percent of those surveyed say it is common.
Foreshaw-Rouse urged seniors to be aware of their rights, both during the hiring process and in the workplace. "If you think you've been discriminated against, you can file a charge with the federal Equal Employment Opportunity Commission," she said. "You can also work with a lawyer to file a lawsuit. Know that filing a lawsuit can be expensive and there is no guarantee of victory. To help bolster your case, be sure to keep a careful record of all of the alleged discrimination."
Help for job seekers
There are plenty of resources available for job-seeking retirees, no matter where they are in the process. Whether you're mulling over the decision to go back to work, scheduling a job interview or looking to network with others, there is information available to help you along.
Philadelphia Corporation for Aging (PCA) funds two employment programs that help seniors find work: The Senior Community Service Employment Program (SCSEP) and the JEVS Career Solutions for 55+ Program. "The goal of both programs is to help older adults, aged 55 and over, obtain the skills, training and support needed to re-enter the workforce," said Mattie Kersey, program manager at PCA, who oversees the agency's employment programs. These programs serve both seniors who are retired and want to begin working again and those who are unemployed for other reasons.
SCSEP is a federal community service and job training program that provides training for income-eligible, unemployed adults 55 or older. Through the U.S. Department of Labor and Pennsylvania Department of Aging, SCSEP provides paid training opportunities that help eligible seniors to enter or re-enter the workforce. PCA subcontracts with the Mayor's Commission on Aging (MCOA) to administer SCSEP services in Philadelphia.
JEVS Career Solutions for 55+ assists unemployed seniors of all income levels who are out of work. JEVS' services include referrals to full- and part-time jobs, assistance with resume writing, help finding training opportunities, career and job search counseling, computer training, and seminars on networking and interviewing.
Resources offered online and through local workshops also help older Americans who are thinking about returning to work.
"From updating your resume to tips on how to network to pointers on how to prepare for a job interview, AARP is providing advice for job seekers to help them be more successful in their job search," Foreshaw-Rouse said.
Employment resources for seniors
The Senior Community Service Employment Program (SCSEP) serves income-eligible older adults. The program is operated in Philadelphia by the Mayor's Commission on Aging. For information call, 215-686-8450.
The JEVS Career Solutions for 55+ serves older workers of all ages. For information, call JEVS at 267-647-7137.
AARP offers information about its employment programs online at aarp.org/work/working-at-50-plus. AARP's 7 Smart Strategies for 50+ Jobseekers Guide is available for free by calling 1-855-850-2525.
For information on additional employment resources for older adults, call the PCA Helpline at 215-765-9040 or go to pcaCares.org. Click on "Services for Seniors" and then click on "Employment."
Photo: Thinkstock Photos