October is National Residents' Rights Month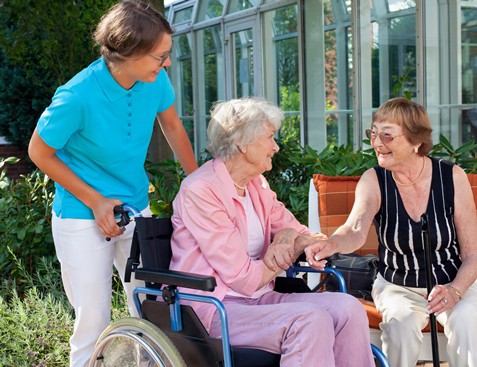 October is National Residents' Rights Month. It focuses on the rights and quality of life of residents in long-term care facilities – nursing facilities, assisted living, personal care homes, domiciliary care homes, and those who attend older adult daily living centers. The theme for this year's National Residents' Rights Month, "It's all about me: My life, my care, my choices," focuses on the respect and dignity of every resident. In Philadelphia, advocating for residents' rights goes on year-round through the Ombudsmen program managed by Philadelphia Corporation for Aging (PCA).
PCA's  professional and volunteer ombudsmen program serves more than 14,300 residents from 323 facilities in Philadelphia. Ombudsmen respond to concerns/ complaints made by residents and family members; make quality assurance visits to long-term care facilities and consult with individuals, family members and care providers. Ombudsman work with resident and family council groups and provide education about resident's rights to facility staff.
During the last fiscal year, ombudsman in the program made 1,273 visits to long-term care facilities, provided information and consultation to 987 individuals and providers and received 275 complaints.
Issues addressed
Ombudsmen may address issues related to:
Residents' finances: Access to personal funds, Medicare and Medicaid benefits, charges, and billing
Quality of life: Concerns about food, the physical environment, and social activities
Professional care: Issues concerning medications, nursing care, physician and rehabilitative services and the use of restraints
Residents' rights: Practices and policies that maintain the resident's dignity; as well as policies regarding admission, transfer and discharge
Information and education: Referrals to long-term care programs; assistance in making informed decisions about long term care providers and education about residents' rights in various long term care settings
Click here for a fact sheet about federally mandated nursing home residents' rights.
Two organizations are subcontracted by PCA to provide ombudsman services in Philadelphia, based on geographic areas of the city. For information on  ombudsman assistance:
South, West or North Philadelphia
Center for Advocacy for the Rights and Interests of the Elderly (CARIE): 215-545-5724;  1-800-356-3606 (toll-free) or online at www.carie.org
1500 JFK Blvd., Suite 1500, Phila. 19102
Northeast or Northwest Philadelphia
Center in the Park: 215-844-1829; www.centerinthepark.org
5818 Germantown Ave., Phila. 19144
Become a volunteer ombudsman
Sixty percent of consumers residing in long term care facilities never receive a visitor.
Often, residents in long-term care facilities are unable to advocate for themselves. Volunteer ombudsmen visit long-term care facilities with the goal of helping to impact the quality of life for residents.  If you enjoy visiting with older adults, learning new skills, and encouraging families and residents to find solutions, consider becoming a volunteer ombudsman.
To find out more, call the PCA Helpline at 215-765-9040.
CAPTION: Philadelphia Corporation for Aging's Ombudsman program helps advocate for residents in long-term care. (ThinkStock)