Not even the clothes on their backs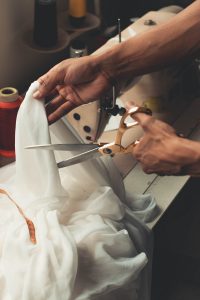 By Dorothy Stanaitis
On a sunny Philadel­phia afternoon in 1762, Mary Smith and Sarah Milton smiled at each other across the lovely tea table. They had good reason to smile. The plans that they had worked on for such a long time had finally come to fruition, and they were ready to open their new business.
As sisters-in-law, they had both lived under the constrictions of couverture, a principle of common law developed in the Middle Ages, still followed in the colony, based in the legal fiction that hus­band and wife were one and that one was represented by the husband. As married women, or "femes covert," they were un­able to swear in court, write a will, sign a contract, control any wages they might earn or own any property at all — not even the clothes on their backs. A wom­an's husband was the ruler and custodian of her property.
After Smith and Milton both became widows, they were free of couverture, which only applied to married women. It was possible for them to own property and earn their own living, and they had an idea for the perfect venture.
Women's fashions were changing, and the style of whalebone corsets was on the way out. The difficult job of inserting the boning required the strength of men. But the new fashions featured mantuas, a more loosely draped style of gown that didn't need a man's strength. The two la­dies were accomplished seamstresses and decided to open a dressmaking shop.
The location of Philadelphia's Elfreth's Alley, the nation's oldest residential street, was convenient. So, the women bought a house, #126, in the middle of the block for 300 pounds – about $390 U.S. dollars today. They set up the front room as their showroom, a place where they could consult with the wealthy cus­tomers they hoped to attract.
Women of limited means could also use a dressmaker. Since all clothing was made by hand and cloth was quite expensive, one slip of the scissors could ruin an entire garment. Those women could have their dresses cut and pinned, then they would take them home and do the sewing themselves. They wouldn't be entertained with tea served in china cups, but they wouldn't run the risk of ruining a dress, either.
The two industrious widows ran a very successful dressmaking business, unbur­dened by the constriction of couverture. But sadly, married women in the United States had to wait more than 200 years for that same freedom. It wasn't until the late 19th century that there was any sub­stantial modification to couverture.
Up until 1966, a wife was even prevent­ed from incurring major financial obliga­tions for which her husband would be li­able. That year, the Supreme Court finally struck down couverture, stating that "the institution of control is obsolete." At that time, couverture had still existed in 11 states. Then, in 1979, Louisiana was the last state to strike down the "Head and Master" laws that permitted a husband to have final say regarding all jointly owned property.
***
Mary Smith and Sarah Milton's former dress shop is now part of the Elfreth's Alley Museum, 124-126 Elfreth's Alley, which is open for tours, April through October, Friday through Sunday from noon to 5 p.m. Examples of mantuas and other period clothing are on display, as well the women's bedrooms and kitchen. For more information, call 215-574-0560 or go to ElfrethsAlley.org.
Dorothy Stanaitis, a certified Philadelphia Tour Guide, writes about history and culture.