Nostalgia: Christmas cards from the stars

By Dorothy Stanaitis

In 1955, Philadelphia was among the leading markets on the pop music scene. Philadelphia radio stations featured some of America's finest and most influential disc jockeys, and the major recording companies knew it.
When a major recording star cut a new "platter," he or she would be taken on a promotional tour to chat with the local radio station program directors and shake hands with the disc jockeys. Luncheons, dinners and gala parties were hosted as promotional copies of the latest recordings were distributed. At Christmas, an avalanche of gifts was also distributed, and it was whispered that perhaps those gifts led to more air time than the recording star's talent did.
However, none of that mattered to the teenage girls who enjoyed the music and admired, and in some cases, even idolized the singers. I was one of them. Like most of my friends, I listened to the pop stations, bought the fan magazines and song sheets with the words of the latest hit songs. And although I never joined any particular fan club, I was a great fan of most of the singing stars and knew that I wanted to work at a radio station and be part of the excitement of the musical world. So, as soon as I graduated from high school, I enrolled in Columbia Institute's Radio Broadcasting School in Philadelphia. Among the many talented teachers were some guest appearances by local disc jockeys who helped with our classes in voice, writing and acting.
At the beginning of our first semester, we each recorded a commercial that was played for us at the semester's end. We were all thrilled at the great improvement our training had created. We were beginning to sound very professional.
But even the most talented among us found it impossible as beginners with no experience to break into the fabulous Philadelphia broadcasting empire, so we scattered through the region to smaller stations in Reading, Allentown and Altoona. I was fortunate to fill a spot in Camden, New Jersey's WKDN, an all-music station with a license to broadcast from sunrise to sunset. As a writer of commercials, at last I had my foot in the door.
The station was so small that I had to use a corner in the program director's office. From my little desk, I was able to learn the business by watching a real pro. But even bette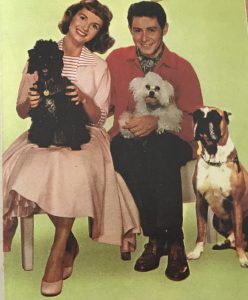 r than that, I got to meet all of the singing stars who visited him on their promotional tours. It was a dream come true. Since Philadelphia was such an important market, the biggest stars always visited there, and then crossed the river to Camden and little WKDN, which was right on their way back to New York.
I met them all: Vaughn Monroe, Patti Page, Pat Boone and so many others. They were invariably kind to the star-struck girl in the office. On a few special occasions, I was even invited to join the group for lunch. I thought nothing could be better than that until the day I was invited to bring a guest and join the program director and the disc jockeys at a promotional party in Philadelphia to celebrate Eddie Fisher's latest recording, "Oh, My Papa." This event was too special to invite a casual date to join me, so I asked my best girl friend who would understand the importance of this event.
Since ours was the smallest station at the party, our table was the one in the corner under the artificial palm trees decorating the room, but we were thrilled just to be there. Eddie Fisher was a gracious guest of honor and visited every table to say hello. I was almost too tongue-tied to speak during our brief moment of glory. How I wanted to ask for an autograph, but thought it would be utterly gauche at such a sophisticated event.
In the weeks to come, Christmas gifts and cards began arriving at the station for the program director and the disc jockeys. I was thrilled and surprised when some were addressed to me. I truly believed in Santa Claus when I opened one envelope and found the autograph that I had wished for – on a Christmas card from Eddie Fisher.
---
Would you like to share a bit of nostalgia? Email your story MilestonesNews@pcaCares.org.
---
Dorothy Stanaitis, a certified Philadelphia tour guide, writes about history and culture.