Mother-daughter storytelling duo publishes children's books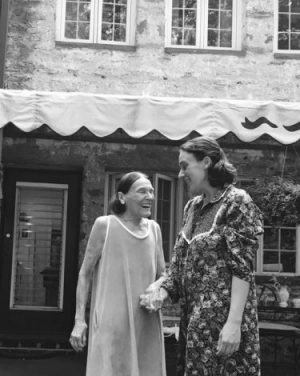 By Constance Garcia-Barrio
Once upon a time, a stone house in Glenside overflowed with the love of three generations of women. This love led one of them to write an unusual chil­dren's story.
"Me and my daughter, Alyssa, were both raised in that house," said Cynthia Kreilick, 59, owner of Morning Circle Media, which publishes bilingual and multicultural children's books. "We were both very attached to it."
The family sold the house last year, af­ter Kreilick's mother, Charlotte Rafetto, 93, left to reside in a retirement commu­nity where she receives care for demen­tia. The move saddened all three women, but inspired Kreilick to write, "The Rise and Fall of Sandcastle Town," a book on which she collaborated with Alyssa, 31, who is an artist.
Set in Scotland, "Sandcastle Town" tells the story of an elegant old woman with dementia. One night, she takes off her night gown, dons all her jewelry and, naked, goes down to the beach near her home. The old woman, accompanied by her dog, builds an elaborate village of sand on the seashore. At the end of the story, she and her faithful dog watch the sea wash it away.
The book will be published in English and Scottish Gaelic, a language that's enjoying resurgence now, according to Kreilick. Alyssa, a graduate of the Penn­sylvania Academy of Fine Arts, will pro­vide illustrations.
"In March and April 2018, I traveled throughout the Scottish Hebrides and Western Isles to do research for 'The Rise and Fall of Sandcastle Town,'" Alyssa said. "My work was comprised of mak­ing drawings, recording observations of weather phenomena, and the use of Scots and Scots Gaelic languages."
"Sandcastle Town" is just the latest, and possibly the most poignant, mother-daughter enterprise. Kreilick and Alyssa worked together on "Lola and Lucha," a story about two women, who both lead apparently full lives but still feel some­thing is missing. "They decide to buy a motorcycle and travel through Mexico," said Alyssa, who drew the pictures for the book while Kreilick wrote the text.
The duo's storytelling collaborative be­gan long before they ever worked on a book together. "Alyssa was a quiet, obser­vant child," Kreilick said. "We'd be walk­ing or driving somewhere together, and we'd see something unusual. I would make up a story about it and Alyssa would draw the pictures."
According to Kreilick, Morning Circle Media is staffed with other talented peo­ple who share her vision of connecting generations. "We're authors, illustrators and translators committed to broaden­ing the way children experience storytell­ing and culture," she said.
Other multicultural works by the pub­lishing company include "Let's Cook for Ramadan," in Arabic and English by writer and artist Mohammed Ahmed, and "The Whispering Bench," a love story in English and Haitian-Creole, by Frito Bastien, who fled his native Haiti under death threats from Dictator Fran­cois 'Papa Doc' Duvalier.
Speaking other languages is an integral part of cultural emersion.
"In a way, speaking [only] English, the language so many people learn, puts us at a disadvantage," said the multi-lingual Kreilick, who speaks English, Spanish, French and Russian. "There's little incen­tive to study other languages. It's a cliché to say that learning other languages en­rich life, but it's true. Studies show that bilingual children are better problem solvers." Taking this research to heart, she raised her two children to be bilin­gual in English and Spanish.
Future projects for this mother-daugh­ter team aim to provide new adventures for some of their most-beloved charac­ters. "Grandparents, parents and chil­dren really like 'Lucha and Lola,'" Kreilick said. "Alyssa and I are working on ideas for another book that features them."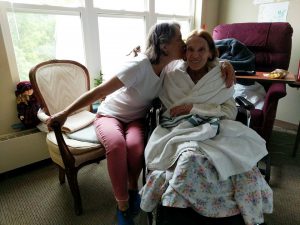 Author and owner of Morning Circle Media, Cynthia Kreilick (left), shares an embrace with her mother, Charlotte Rafetto, at Foulkeways retirement community in Gwynedd.
***
Native Philadelphian Constance Garcia-Barrio writes about many topics, including black history.
Photos: Courtesy of Cynthia Kreilick.  Top photo caption: Alyssa Kreilick (right) with her grandmother Charlotte Rafetto at her childhood home in Glenside in 2017.