More millennials caring for elders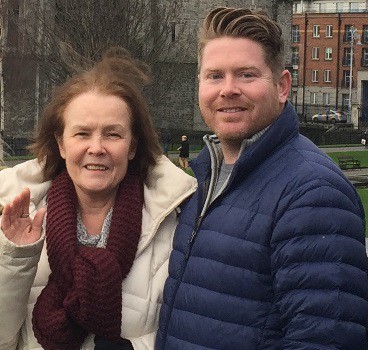 While most people think of family caregivers as middle-aged or older, one-quarter of those caring for family members are considerably younger. These millennial caregivers (born between 1980 and 1996) play a critical role in families by providing unpaid care to their chronically ill, disabled and aging parents, grandparents or other relatives. The number of millennial caregivers continues to expand as the baby boomer generation ages. Many are studying in college or beginning their careers, building their professional networks, and starting families. Elder caregiving is not something that people in their early 20s to late 30s typically anticipate.
Conlan Crosley attests to the shock of suddenly becoming a caregiver. He was 32 when his mother, Dorothy Roberts, was diagnosed with Alzheimer's disease in 2013, and he became her caregiver. The next five years proved to be a harrowing journey for both of them. A 2017 study by researchers at the University of Southern California reported that one in six millennial caregivers is providing care to a dementia patient. Around 40 percent of those millennials are the sole caregiver for their loved one, as was Crosley.
Changing plans
When symptoms of his mother's illness first became apparent, Crosley was an undergraduate at Temple University. He had previously supported himself as a union carpenter, but that work had dried up in 2008 during and following the Great Recession. To make ends meet, he was living at home with his mother. He  remembers his shock when one day he came home to find her sitting alone in the basement. The house was totally dark. None of the lights were working.
"I called up the electric company to find out what was going on, and it turned out that she had not paid her bills in months," Crosley said. "I started looking into all the bills. It was a mess." Soon after, a neurologist diagnosed Roberts with Alzheimer's disease.
At that time, she was on disability leave from her job as a Pennsylvania Turnpike toll collector due to knee surgery. After years of often desperate financial struggles, she had recently reached the point where was finally able to buy a car and move from her tiny apartment to a house. She was so proud of this, her son remembers: "She had worked for 25 years to get out of destitution and have some dignity." Roberts, then 66, had a plan for her future and was looking forward to a secure retirement at the time of her choosing.
That plan changed, and Roberts retired when her Alzheimer's worsened. Crosley's plans also changed as he focused on his mother's increasing medical and personal care needs.
While Alzheimer's progresses differently for each individual, in Roberts' case, significant points of decline occurred roughly every six months for a while and then precipitously. "The first six months after her diagnosis, she was about 93 percent," Crosley said. "She was still driving to do errands. Six months later, she was about 85 percent. Each time she got worse, I would get used to it and say, 'It's not so bad. I can deal with it.' Eventually, things got a lot worse. She became really incontinent. She was up at all hours of the night. After these incontinence incidents, I would have to dress her and shower her. She hated being in the shower. Sometimes she would escape out of the house."
Crosley connected with Philadelphia Corporation for Aging (PCA) several years after Roberts' diagnosis. PCA assessors evaluated his mother's level of care needs and eligibility for services. A PCA service coordinator arranged for Roberts to have four hours of personal care weekday afternoons. Crosley also hired personal care aides privately to help with his mom's morning and weekend care.
Altogether, he was paying nearly $3,000 a month for his mother's home care and medical costs that were not covered by insurance. He worked three part-time jobs to make ends meet. His fiancée, now wife, Seanna, worked out of town but helped whenever she could.
Financial burden
The burden of work and financial obligations often compound the stress of millennial caregivers. A recent AARP Public Policy Institute report, "Millennials: The Emerging Generation of Family Caregivers," found that "73 percent of millennial caregivers are employed, more than any other generation of caregivers and … they spend an average of 21 hours a week caring for loved ones – the equivalent of a part-time job. About one-fifth of millennial caregivers devote 40 hours a week or more to such service, which amounts to a full-time job."
Crosley's jobs included working for the Philadelphia Department of Licenses and Inspections as a building inspector, and as a pizza delivery man. He also operated his own rug-cleaning business. Each job gave him the flexibility to check in on his mom and attend to the crises that frequently occurred. "I had to come home almost every day to 'put out fires,' like if she was fighting with her aide or wandered outside with the dog and was trying to give the dog away," he said.
Typically, the caregiver's relationship to the care recipient will determine how the caregiver responds to caregiving and the stress it brings, according to Fredericka E. Waugh, associate director of diversity and inclusion for the Alzheimer's Association Delaware Valley Chapter. For Crosley, taking on the responsibility of caring for his mother was something he did lovingly. "She worked and sacrificed so much for me when I was growing up," he said. "Becoming a caregiver at 32 was not how my life was supposed to go, but I did what it took. The experience taught me empathy; it taught me patience."
Difficult choices
In January, after seven years of being an in-home caregiver, Crosley placed his mother in an assisted living facility that also provided dementia care. She had forgotten how to eat and had become increasingly resistant and belligerent to her caregivers. Her wandering had increased, despite the extensive physical barriers Crosley had put up at home and the fact that she was never alone there. At one point, after she had escaped and police had found her, she was dehydrated and had to be hospitalized. Crosley stayed in the hospital with her.
He outfitted Roberts' room at the assisted living facility with furniture from home to ease her transition, but she did not adjust well, he said. She was temporarily placed in the psychiatric unit of another local hospital, where she was heavily medicated. Following that hospitalization, she returned to the assisted living facility. "But she no longer had that spark of my mom," Crosley said. "She just shut down and died."
Roberts passed away in March. "I wish things could have been different," he said. "I wish she did not get sick. I did everything I possibly could and that was a heck of a lot, but I still wish I could have done more."
Crosley is now in graduate school studying labor relations. He and Seanna, whom he married in 2017, have established the DMR Foundation in memory of his mother. The foundation's goal is to raise enough money to fund eight hours of caregiving a week for one caregiver each year. A portion of the funds raised through a golf tournament and other endeavors also will help fund Alzheimer's research.
As someone who has been there, Crosley hopes to provide advice and support to other Alzheimer's caregivers through his local Alzheimer's Association chapter. "I know what it is to walk down this path," he said. "It is not for the faint of heart."
CAPTION: Pictured here are millennial caregiver Conlan Crosley and his late mother, Dorothy Roberts, for whom he was caregiver. (Photo courtesy of Conlan Crosley)