Malnutrition: Recognizing this silent threat to the aging community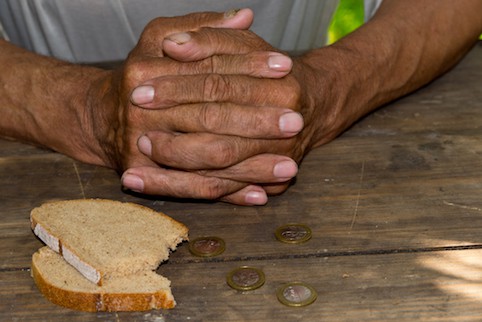 By Shannon Reyes
The lack of proper nutrition can take a harmful toll on one's health. Known as malnutrition, this condition is especially concerning since fewer physical attributes are linked to it, making diagnosis particularly difficult. Vulnerable populations, including older adults, are often more susceptible to malnutrition. According to Defeat Malnutrition Today (DMT), a national coalition dedicated to the eradication of malnutrition in America, one in two older adults is at risk for malnutrition.
Furthermore, older adults with poor nutrition experience a 300% increase in health care costs and stay four to six days longer when admitted to the hospital. Nationally, $51.3 billion in costs are attributed to diseases associated with malnutrition in older adults each year.
In Philadelphia, malnutrition is just as much a looming threat to older adults, especially as poverty rates for older adults continue to rise. According to Philadelphia Public Health Management Corporation's 2018 Household Health Survey, 6,000 more seniors were living in poverty than the previous year. In the same survey, nearly 38,000 adults 60-plus reported skipping a meal due to a lack of money, and 83% reported having fewer than four servings of fruits and vegetables per day. However, poverty is not the only factor that is putting so many older adults at risk of malnutrition.
"Factors, other than having enough food, that can contribute to a lack of proper nutrition include difficulty chewing, taking multiple medications, taking medications that impact food intake, being isolated, and not having access to nutritious foods," said Amy Goldstein, nutrition manager for Philadelphia Corporation for Aging (PCA), who holds a master's degree in public health and is a registered and licensed dietitian/nutritionist.
Even with so many factors that can put seniors at risk, malnutrition among the older adult population is still an under-recognized issue, according to Goldstein.
"Older adults are often not the center of campaigns for hunger and malnutrition, which tend to focus on other age groups," Goldstein said. "Being malnourished for older adults is a serious condition that requires attention and nearly half of older adults are at risk for being malnourished."
In the spring, PCA formed the DMT: Philadelphia Coalition. The coalition has brought together organizations around the city in an effort to raise awareness and to address the issue of malnutrition in Philadelphia.
Recently, the Philadelphia coalition joined the American Society for Parenteral and Enteral Nutrition in its annual observance of Malnutrition Awareness Week, which also falls on the same week of PCA's Regional Conference on Aging. The conference, which will be held from Wednesday, Sept. 25 to Friday, Sept. 27, will devote a day-long workshop to the DMT: Philadelphia Coalition to raise awareness about malnutrition on a local level.
The workshop is aimed at discussing efforts to reduce hunger and malnutrition through advocacy, resource sharing and collaboration with health care providers. The workshop will also feature a "Food for a Week" interactive hunger simulation where participants will navigate government programs and resources, including SNAP and food pantries, in an attempt to obtain sufficient food for a week.
PCA will also sponsor a food drive to benefit Philabundance, Philadelphia's largest hunger-relief organization, during the regional conference and Malnutrition Awareness Week. Other DMT: Philadelphia Coalition organizations will also hold food drives in unity with PCA at that time. All participants are encouraged to bring a nonperishable food item to donate at the conference.
"Eradicating malnutrition in our city does not begin and end with one organization," said Louis Colbert, PCA's vice president of operations. "It is going to take all of us, collaborating and pulling resources, to truly inspire the change we wish to see."
Colbert stresses the importance of looking out for those who may be susceptible to malnutrition, including an elderly neighbor who lives alone or someone who may be experiencing financial hardship. If someone suspects a loved one or friend of being malnourished, there are a number of resources in the Philadelphia area that can provide assistance.
For example, PCA serves meals at 27 senior centers and satellite meal sites, provides its own home-delivered meal service and distributes produce vouchers to 37,000 income-eligible seniors each year through the Senior Farmer's Market Nutrition Program (SFMNP). More information about PCA services, the DMT: Philadelphia Coalition and PCA's 2019 Regional Conference on Aging is available through the PCA Helpline at 215- 765-9040.
Other hunger-relief resources in Philadelphia include: