Latest technology brings families together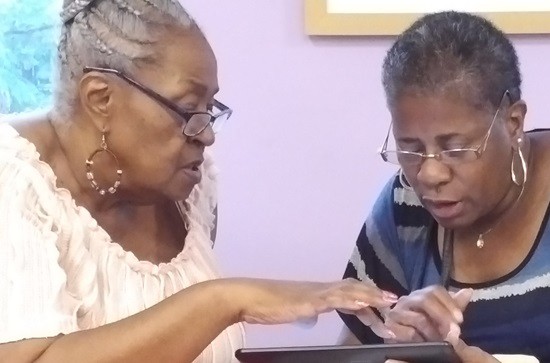 By Mary Anna Rodabaugh
Smartphones, computer tablets and even "smart" speakers make it easier than ever to connect "face-to-face" with loved ones across the country and the world. Technology can bring generations together in surprising ways. By learning how to operate tablets and smart devices, seniors can connect with younger people who might intuitively use the technology.
Computer instructor Bill Thompson helps seniors connect by teaching software training workshops at senior community centers throughout Philadelphia. His workshops explore the advantages and shortcomings of desktop computers, laptops, tablets and smartphones. He also provides lessons on cyber scams and cyber security. "What we're doing here is bridging the gap between the old and the young," he said.
Smart technology         
Smart technology has led to the development of interactive devices to assist people with a variety of tasks such as searching the internet, checking email, and sending and receiving photos or videos. Today, there are a number of devices that will allow you to see people while you are talking to them. This is called video conferencing or video chat.
Many seniors use instant messaging, which is like sending a text message to another user over the internet. Some rely on video chats to feel close to loved ones who live far away. Free video conferencing applications, or apps, such as Facebook Messenger, WhatsApp, Facetime and Skype, allow you to see and speak with a person using most smart devices or computers. All you need is an internet connection and a forward-facing camera, which is standard on most smartphones and tablets. These apps, which are free of charge, can be downloaded onto your device. People you wish to call must have the same app to connect to your video conference. If you do not own a smart device, you can use Skype on a desktop computer that has a web camera.
"One of my students is an immigrant and stays in touch with his family in his home country using Facetime and Skype," Thompson said.
New devices
The smart technology world has seen a lot of new devices enter the market in recent years. In early 2017, Amazon released the first generation of its Amazon Echo Show, a smart speaker with a 7-inch touch screen color display. The device, which resembles a small computer tablet, responds to voice commands to display the weather, relay the news, play videos or conduct video chats with other Echo users. A second-generation Echo was released in October. The new device has a 10-inch high-definition screen for more lifelike videos. Users still can make video calls only with other Echo users. Many features associated with the Echo are programmed using the free Amazon Alexa app on a smartphone or tablet. Therefore, users will need to own a smart device and have an internet connection to use the Echo.
The JBL Link View is another smart device. It has an 8-inch color touch screen and runs the Google Assistant application. To keep in touch with loved ones, the View has Google Duo, a video calling app. Users create an address book of individuals who use Google Duo. This allows them to make a video call to other Google Duo users. Once the video call is initiated, both users can see each other live on their screens. Much like the Echo, the View responds to voice commands and requires an internet connection to function. It is set up through the free Google Home app on a smartphone or tablet. The device can also play music, video and display recipes using a downloaded app – all things that can be shared among users.
Navigating the smart device world
If smartphones and tablets are unfamiliar territory and you would like some help bridging the digital divide, Generations on Line (GoL) has a free app called Easy Tablet Help for Seniors, which guides users through the basics of tablet function, from how to zoom to how to conduct a video call. The app is available for free in the Apple App Store for Apple iPads and in Google Play for android and Kindle Fire devices. While it will work on a smartphone, the screen is too small to be practical. For more information about GoL, call 215-222-6400, email KBurke.GoL@comcast.net or go to generationsonline.org.
Carolyn Ruff, 65, of Germantown takes advantage of Center in the Park senior center's weekly "Sip and Swipe" technology classes taught by volunteer instructor Debra Karlan. Participants follow the prompts on the GoL app and can ask Karlan questions.
"I've seen a range of technology proficiencies in my short time coaching the program, but they're so thrilled to learn this stuff," Karlan said of her students.
So whether you use a smart speaker to keep in touch with family members who live across the county, make a video call on your smartphone or simply impress your family with your technological know-how, computer technology can bring you and your loved ones together.
Caption: Linda Gray (left) and Linda Wilson participate in a Sip & Swipe Café computer "tablet" training sessions at Joseph J. Hill Ralston Mercy Douglas House. (Courtesy of Ralston Center)