How the Spanish flu saved my grandfather's life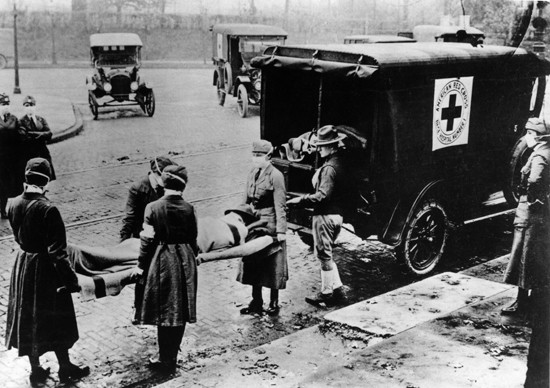 By Dorothy Stanaitis

Monday, April 10, 1917 was brisk and cold in Philadelphia. The remnants of a late spring snowstorm were visible on the banks of the Delaware River, although the city streets were dry.
Eight-year-old George Saik, his brother and two sisters were eating oatmeal sprinkled with brown sugar in the kitchen. Their father, David (Daoud in Lebanese), was upstairs getting ready to go to work at the Remington Arms Munitions Plant in nearby Eddystone, Pennsylvania. He worked in Building F, where 7-inch shrapnel shells were filled with black explosive powder.
The job was as dangerous as it was important, since the U.S. had declared war on Germany earlier that week. And, David was glad to have steady work to support his family.
The family's breakfast chatter was suddenly interrupted by the startling sound of a crash and several loud thumps. David had fallen down the stairs. Everyone was in a state of confusion. The little girls cried, mother screamed and George was terrified.
David collapsed because he was very sick – with the dreaded Spanish flu. This was the first wave of the illness, a year before the full impact of the epidemic hit Philadelphia. Eventually, it
would kill more than 16,000 Philadelphians, one in every four who contracted it.
George understood that the flu was serious. So, when his mother sent him to get the doctor, he ran faster than he ever had his life. The doctor sped back to George's house, which proved the situation was serious. David was put on bed rest and isolated from thE family to prevent spreading the infection.
In addition to worrying about David's recovery, there would be lost wages and the possibility that he could lose his job if the illness lasted long, as it so often did.
It was a bad day for the Saik family. Then, at 9:55 a.m., it became a bad day for the entire nation. A series of three explosions tore through Building F at the Remington Arms Munitions Company, killing 139 people and injuring 130 others. Everyone who worked with David died instantly. By keeping him home that morning, the dreaded flu actually saved his life.
Later that deadly day, about 10 miles from Eddystone, in Lansdowne, 8-year-old Mary Gilroy went to the store with her sister. The shop keeper invited the girls to go upstairs and see the Remington Arms fire from a bedroom window. Even from that distance, the sight of smoke and flames was frightening. It would be many years before Mary could bear to even think of it again.
The next few days were rife with rumors of sabotage. Some blamed the Germans for the explosions. Others accused the Russians. Many Russians worked at the plant and the revolutionary Leon Trotsky was implicated by some. After much investigation, no conclusion was reached.
Attention soon switched from the possibility of sabotage to community anguish, as grief-stricken families buried their loved ones. On April 13, a cold, rainy day, 12,000 people stood silently under a sea of black umbrellas as 52 unidentified victims were laid to rest. Each casket was covered by an American flag and a wreath of flowers. A granite monument was placed over the graves.
But there was little time for mourning. Shrapnel shells were needed for the war. So, in a few days, the Remington Arms plant was up and running again.
Twenty-five years later, during World War II, Mary Gilroy was now married with several children and living in Philadelphia. One evening, there was, again, talk of sabotage on the radio. It reminded Mary of what happened at the Remington Arms plant when she was a little girl. She started to tell her children, including Milestones writer Dorothy Stanaitis, about that terrible time. Her husband, George Saik, abruptly interrupted her. He had never heard her tell that story before, and it riveted his attention!
As a little boy, George's father was spared death in the explosions at Remington Arms Munitions Company because of a bad case of the Spanish flu.
---
Dorothy Stanaitis, a certified Philadelphia Tour Guide, writes about history and culture.
CAPTION: American Red Cross volunteers carry a Spanish flu victim in 1919. The pandemic killed more than 50 million people worldwide, more than double the number killed in World War I