Free produce vouchers available for eligible Philadelphia seniors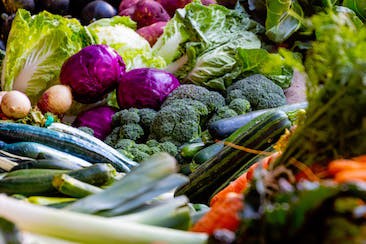 Philadelphia Corporation for Aging (PCA) began distributing Senior Farmers' Market Nutrition Program (SFMNP) produce vouchers Monday, June 24, as part of an annual program to encourage seniors to eat more fresh fruits and vegetables. Eligible Philadelphia seniors can receive $20 worth of vouchers (four vouchers, each valued at $5) that can be used to purchase fresh Pennsylvania-grown produce sold at certified farmers' markets throughout Philadelphia and the surrounding area.
Income-eligible Philadelphia residents who will be 60 or older by December 31 of this year, may receive the vouchers at PCA, 642 North Broad Street in Philadelphia (weekdays, 9 a.m. to 4 p.m.) and at other designated sites. A popular distribution location where the vouchers can be spent on-site is the Reading Terminal Market, Rick Nichols Room, at 12th and Arch streets. Vouchers will be distributed there July 17 from 10 a.m. to 2 p.m.
"The Senior Farmer's Market Nutrition Program is a two-prong program," said Amy Goldstein, nutrition manager at PCA. "Not only does it benefit seniors throughout the Philadelphia community, but it also benefits local Pennsylvania farmers. This program reconnects our seniors to resources that are available in their neighborhoods and helps to reshape the idea of where healthful, delicious fresh produce can be accessed."
Proof of age and Philadelphia residency must be presented to receive vouchers. Acceptable forms of identification include Pennsylvania driver's license or non-driver's ID and other forms of ID that include age and residency. Seniors must sign in person (or through a proxy) and may receive the vouchers only once per year.
To receive the vouchers, 2018 household income must not exceed the following guidelines:
1 person: $23,107
2 people: $31,284
3 people: $39,461
4 people: $47,638
Links to relevant information regarding the 2019 SFMNP are below:
2019 Brochure: Chinese | English | Korean | Russian | Spanish
Frequently Asked Questions for Participants
Proxy form
Rights and Responsibilities
Philadelphia Voucher Distribution Sites
Philadelphia Market List
For questions about eligibility and more information, including voucher distribution sites, call the PCA Helpline at 215-765-9040.
The vouchers, made available through funds from the U.S. Department of Agriculture and the Pennsylvania Department of Agriculture, will be distributed on a first-come, first-served basis and must be used by November 30, 2019.