For these PCA professionals, a career in social work is passion, labor of love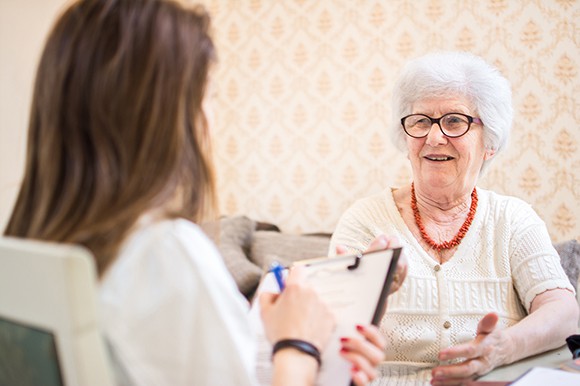 By Marcia Z. Siegal
March is National Professional Social Work Month. It honors the invaluable contributions of the professionals who help people solve and cope with problems in their everyday lives. This month, Milestones showcases three of Philadelphia Corporation for Aging's (PCA's) dedicated social work professionals. While their roles vary, they all have a passion for the work they do to help older adults age with optimal quality of life.
Assessing needs
"The desire to help people has been ingrained in me for as long as I can remember," said Jennifer Bolin, an assessment worker supervisor at PCA. "Both my parents spent their entire careers working in the human services field. I grew up spending time with them at their jobs, visiting consumers, and seeing the pride they took in their work. I wanted a career that I could be proud of and that fulfilled me."
Bolin has worked in PCA's Long Term Care Assessment (LTCA) department for 12 years. She started her PCA career as an assessment worker trainee and for the past two years has been in her current position, overseeing a team of eight social workers. LTCA's staff of 63 assessors provides more than 35,000 level-of-care assessments annually for Philadelphians 18 and older. Assessors evaluate an individual's need and eligibility for long-term services and supports (LTSS), including home- and community- based services and Medical Assistance paid nursing home care.
During a face-to-face meeting with the participant (and family as appropriate), assessors review the individual's medical history, financial resources, support systems, cognitive functioning, home environment and ability to carry out activities of daily living. "When we meet with people for the first time, we have to remember that often, this process is new to them," Bolin said. "Establishing a rapport can be difficult in the short amount of time we have, but it makes all the difference."
She advises the assessors she supervises to "treat every consumer with the same respect and dignity with which you would want someone to treat your loved one. Be open and empathetic – but don't be afraid to ask the difficult questions."
Building relationships
In the continuum of long-term care, service coordinators like Mark Kendrick step in after the level-of-care assessment is complete and the medical and financial eligibility for services has been determined. Kendrick is among 145 service coordinators at PCA who work with participants to help create, implement and monitor a comprehensive individual care plan. "I consider social work to be a personal calling, one that impacts positively on society," he said. "This work provides me with the opportunity to build fulfilling relationships."
Kendrick is a service coordinator for Options, one of the Pennsylvania programs serving frail older adults needing home- and community-based long-term care. Through Options, which PCA administers in Philadelphia, a wide variety of services may be provided, depending on need, such as personal care, home-delivered meals and transportation assistance. Kendrick helps facilitate these services by letting participants know what is available, then arranging to implement the services through the providers they choose. He makes periodic home visits and phone calls to help ensure participants' well-being.
"My greatest satisfaction is connecting people to programs and services they need and seeing their joy when they are able to manage their daily lives better," he said.
Investigating elder abuse
As an investigator for PCA's Older Adult Protective Services (OAPS), Tia Kelly exemplifies a key facet of social work: responding to crisis or imminent danger. PCA's 30 OAPS investigators are responsible to investigate reports of abuse, neglect and exploitation for people 60 and older in Philadelphia and to help to reduce any and all risks.
PCA's Helpline – 215-765-9040 – takes reports 24/7 of any form of elder abuse –physical, emotional, sexual, financial, neglect and abandonment, or self-neglect. Kelly has responded to emergency cases at all hours of the night and on the weekends when she is on call.
"One of the hardest parts of my job is seeing the abuse that occurs in the elderly population," she said. When she is able to intervene to stop the abuse and provide much needed assistance to at-risk elders, the reward is worth the effort. On one occasion, she remembers helping an older man who was suddenly at risk of being homeless after his apartment building was condemned by Philadelphia's Department of Licenses and Inspections.
"I was able to locate his sister and convince her to allow him to stay with her until he found permanent housing," she said OAPS provided him with an air bed, blankets and a pillow so his sister could accommodate him. "Cases like this make my heart smile," Kelly said. Many other times, she has referred seniors to PCA's LTCA department for a level-of-care assessment and connection to services when they were unable to adequately care for themselves and didn't know where to turn.
In addition to holding the types of positions mentioned in this article, social workers who assist older adults also work in senior community centers, hospitals, nursing homes and rehab facilities; serve as program directors or counselors; and function in other capacities. Social work can also include policy- making and community planning; and clinical diagnosis and treatment of addictions and mental, behavioral and emotional disorders. If you have a passion to empower and advocate and a love for helping people, social work may be for you.
***
For more information on working at PCA, visit pcaCares.org/jobs