For Senior Companion volunteers, helping others yields great rewards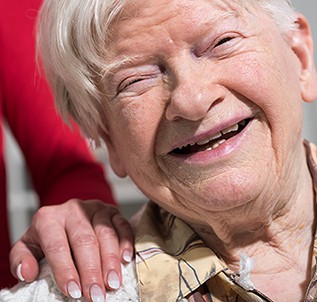 By Linda L. Riley
Dorothy Hembry is so warm and outgoing, it seems like just about anyone would feel comfortable talking with her. It's a quality that has served her well as a 17-year volunteer with the Senior Companion Program.
Managed by Philadelphia Corporation for Aging (PCA), the Senior Companion Program matches homebound elders with volunteers who visit with them, providing a much-needed social connection. Companions may also help with tasks such as light meal preparation, accompanying the person to medical appointments or doing small errands. In some cases, the seniors are isolated and have no family nearby; in others, the senior companion provides much-needed respite for a caregiver.
The benefits go both ways, according to the 84-year-old Hembry. "It makes me feel good to know that I'm needed and that they care for me," she says of the seniors she visits. "We get along great, and it's been that way with all of them." Over the years, she said she has been matched with four men and more than 10 women. "When I come to see them, they really are joyous. Some of them maybe don't have a family and some of them have families that are at a distance. I'm coming to visit them, and that means a lot to them."
Health benefits
A study recently released by the Corporation for National and Community Service (CNCS), which funds the Senior Companion Program, backs up Hembry's experience. The study found that volunteers with the program reported significantly higher self-rated health scores and lower depression compared to older adults who do not volunteer. In addition, the volunteers reported that their service provided opportunities for personal growth and a sense of accomplishment. The program is part of the federal Senior Corps program, which also includes RSVP, a volunteer program for people 55-plus.
Senior Companions is a "win-win," according to Lynda Pickett, PCA's assistant director of volunteer services. "Both parties benefit from the opportunity for socialization and engagement and remedy the negatives associated with isolation," she says. "Senior companions receive monthly in-service trainings where they are provided with information about healthy living and services that can benefit them and also be passed along to their participants."
Volunteer stations
Hembry first learned of the program through her aunt, who was also a Senior Companion. She is now connected through the West Philadelphia Senior Community Center, which is part of a citywide network of volunteer stations that includes senior centers, senior housing facilities and hospice programs. These volunteer stations identify individuals in need of a Senior Companion and also make matches and provide ongoing supervision for the companions.
When possible, matches are made between individuals who share common interests or hobbies. For example, knitters and board game enthusiasts have been matched with like-minded counterparts.
"Being the age I am and the age they are, I can relate to them and the things they've done in the past – how we were when we were young," Hembry says. When she first started out with the program, she was a companion to two or three people at a time, visiting them on alternate days. "I've gone all over the place, traveling on the bus," she says.
Currently, Hembry visits one 90-year-old woman for five hours a day, five days a week. "We just sit and talk," she says. "If there's something she might want, I pick it up when I go shopping for myself."
Low-income support
Senior Companions must be 55 or older and meet low-income guidelines to qualify. According to CNCS, this is because the program is specifically designed to enable low-income individuals to participate. To that end, the program provides a small hourly stipend; reimbursement; paid time off; and insurance. According to a CNCS press release, this financial support is "a key difference between Senior Companions and most other volunteering opportunities, which helps remove the financial barriers to volunteering that low-income individuals may encounter."
Currently there are 76 senior companions serving 141 consumers, according to Pickett. "We are actively recruiting volunteers," she says. Bilingual volunteers are much-needed, particularly those who speak Spanish or Korean. "Low-income seniors who have time and talents to share with homebound elders are invited to give the Senior Companion Program a try."
***
Information about the qualifications and process for becoming a Senior Companion can be found below. Homebound elders who would like to have a Senior Companion can call the PCA Helpline at 215-765-9040.
—
How to become a Senior Companion Program volunteer
Low-income older adults who have a caring heart and time to spare may be interested in becoming a volunteer with the Senior Companion Program. Volunteers must be 55 or older, meet the program's income-eligibility guideline of $1,961 per month or less, commit at least 20 hours a week to the program, and pass a criminal background check. Applicants are interviewed by Senior Companion Program staff at Philadelphia Corporation for Aging (PCA), which manages the program in Philadelphia.
Companions receive a small tax-free stipend, reimbursement for travel and meals, paid leave time, accident and liability insurance, paid training before beginning to serve, and four hours a month of continued training. During training, companions learn about topics such as how to detect telephone scams and tips to prevent falls; and have an opportunity to share experiences with other volunteers.
PCA partners with nonprofit organizations throughout the city that identify individuals in need of a companion. These organizations also serve as volunteer stations for the program, providing supervision and support for the senior companions. When a match is proposed, the volunteer station supervisor takes the applicant on an introductory visit to the homebound elder's home to check for compatibility and discuss a visiting schedule.
Once the match is in place, the volunteer station provides the senior companion with guidance and supervision; monitors the companion's volunteer time; and makes sure the match continues to be a good fit.
There will be a Senior Companion Open House on April 2 from 9:30 a.m. to 12:30 p.m. at Philadelphia Corporation for Aging, 642 N. Broad St., for anyone interested in volunteering with the program. To attend the open house or become a senior companion, call 215-422-4888 to be screened for eligibility. You will hear a brief message stating the program requirements, then be prompted to leave your information if you meet all qualifications.
For additional information, call the Senior Companion Program of ce at 215-765-9000, ext. 5122. Korean-speaking older adults interested in becoming Senior Companions or having a senior companion assigned to them can call Jaisohn Center, Social Services Department, at 215-224-9528.