Every Murder Is Real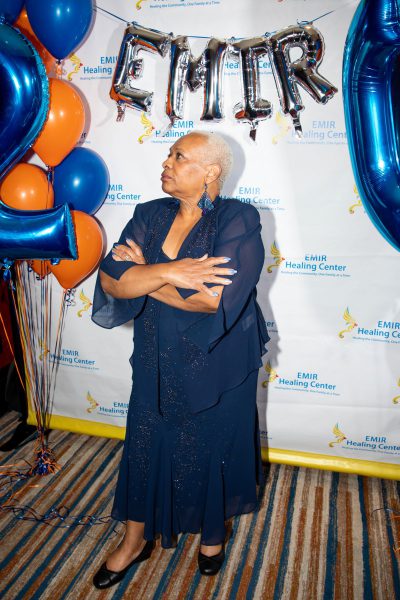 By Constance Garcia-Barrio
On the night of March 26, 1997, Victoria Greene learned that her 20-year-old son, Emir, had been shot. "The nurse in Einstein Hospital's Emergency Room didn't say 'killed,' but I knew he was gone," said Greene, now 71, of Germantown. "I could feel his spirit leaving."
Emir had been shot seven times in the back in a drug-related dispute. "I stayed in bed for a month after Emir was murdered," said Greene, a retired Philadelphia prison system social worker. "I didn't want to live."
Family and friends helped the divorced grieving mother of five take care of her two young children in those early months. Her two oldest daughters took care of her two youngest ones. "I felt alienated because some people who knew about the shooting avoided me," Greene said. "They didn't know what to say."
Yet, talking about her heartache proved crucial. "I attended a grief assistance group [which has since disbanded] in the Medical Examiner's Office," Greene said. "Sharing with people who'd had a murder in the family helped."
She poured her energy into gathering facts about the shooting to pass on to homicide detectives. The gunman was caught, tried in December 1997 and sentenced to life in prison.
But Greene felt called to do more. "The murder of a family member or close friend causes unbearable pain," she said. "You feel like you don't want to live. I want to help people decide to live again."
With support and courage, Greene turned Emir's death into a path to healing for hundreds of Philadelphians who've experienced a loved one's murder. In 1999, Greene founded Every Murder Is Real (EMIR, named for son) Healing Center, headquartered at 59 E. Haines St. in Germantown.
Her daughter Altovise wrote a proposal that netted funds to provide free emergency food for families of murder victims. "Every week, the police faxed us a list of homicides, then we would buy groceries and drop them off at those homes," she said. "We would go into a house, and the kids would be so happy because often they'd been fending for themselves."
Through word of mouth, police referrals and conferences about drug-related homicides, the organization gained prominence. In 2003, EMIR. gained 501c3 nonprofit
status and secured office space. "Those two steps gave us stability and credibility," she said.
EMIR now provides free grief counseling for families and friends of murder victims, as well as in-court advocacy and support, nutrition counseling, and help with victim compensation claims that reimburse funeral costs.
Grief counseling groups meet for eight weeks on Tuesdays. "First, we all have a meal together to build community," said Greene. "Afterward, support groups for men, women and children meet separately because each group has different needs. For example, children may not be able to express their feelings in words, so we use art and music. Kids often feel angry. When
the therapist asked one little boy to make a picture of how he felt, he drew an erupting volcano."
EMIR has kept professional storyteller Irma Gardner-Hammond, 74, going. "My son Eric, 27, was shot April 28, 2019, at an ATM," she said, "He died on May 5 [2019]. At EMIR, I can talk about all my feelings – even the crazy ones – and I know I won't be judged."
Greene has heard hundreds of murder stories over the years. "God gave me the ability to listen to them," she said. "The hardest part of my work is getting funding. Healing from murder isn't a cute or sexy topic, and women of color who head smaller organizations often struggle for funding. But there's a crying need for this work. By the third week in June, Philadelphia had had 187 homicides, 23% more than this time last year."
To learn more about EMIR Healing Center, call 215-848-4068, email info@emirphilly.org or go to emirphilly.org.
***
Native Philadelphian Constance Garcia-Barrio writes about many topics, including black history.