Enjoying good food, friends are prominent at Lutheran Settlement House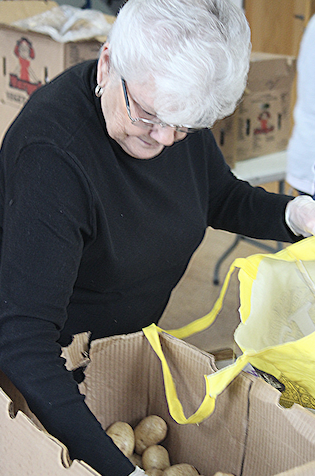 By Michael Hanisco
Located on a busy stretch of Frankford Avenue in the booming Fishtown section of Philadelphia, Lutheran Settlement House (LSH) has been serving food and friendship to children, adults and families in Philadelphia since 1902.The nonprofit organization houses a senior center that caters to the needs of older adults. Almost 50 older adults, many of them lifelong residents of the gentrifying neighborhood, attend the center daily.
"Our core mission is to empower individuals and families to achieve and maintain self-sufficiency," said Meg Finely, director of senior services at LSH. "We know that in order to make this possible and be successful in the other programming that we provide, meeting basic needs, such as access to healthy food, is key."
Nutrition is weaved into the fabric of LSH's senior center programming. Twice a week, fresh produce is distributed to members through a partnership with Philabundance. On a recent visit, volunteers stuffed members' bags with lettuce, cherry tomatoes, peppers and potatoes as members ate breakfast or played bingo in the next room.
The center also houses a food pantry open to all individuals in need. The pantry is stocked through community donations and food drives and partnerships with local organizations, including Share Food Program, the Archdiocese of Philadelphia, and Philabundance.
On the third Thursday of every month, LSH hosts a community meal that is open to all members of the community. Senior center volunteers usually prepare these monthly meals, but increasingly, local businesses and restaurants have been pitching in to provide food and drinks.
"By providing produce, dry goods, cooking classes and nutrition education to our members, we are empowering [them] to take control of their own health and focus on other areas of their lives, such as living an active lifestyle, learning new skills or building healthy relationships," said Finley.
Those relationships are what make LSH truly important to members like Anna Antczak. Taking a break from sharing silly YouTube videos with her friends, Antczak explained what keeps her coming back to LSH.
"If you're depressed or disgusted, you come in here," she said. "You forget. You laugh and carry on. I had high blood pressure. When I started coming here, my blood pressure went down and now I don't have to take pills for it."
Antczak, who often urges other seniors in the community to visit LSH, describes herself as the center's designated hugger. "You give hugs in the morning and they give it back to you. If you forget [the hug], they let you know about it," she said.
She and her friend, Dorothy Brown, ride to the center every day with member Kathleen Cram, a resident of Fishtown for more than 20 years. Antczak and Cram discovered that they were close neighbors only after meeting and becoming friends at LSH, proving the senior center's power to bring the community closer together.
While putting the finishing touches on a bedazzled T-shirt – a gift she's making for a friend – member Theresa Venhaus explained that LSH has played a major role in her life since childhood. A lifelong resident of nearby Kensington, she used to come to LSH as a child while her mother ran errands in the neighborhood. Later, she enrolled in GED classes at the center. Now, like Antczak, she is a daily visitor to the senior center and an advocate for it among her peers.
During this particular day's visit, she brought an extra bag along to collect produce for a neighbor and said she's actively trying to recruit another friend to visit the center with her. She volunteers often during the monthly community meals, which allows her to meet new people in the neighborhood she's known her whole life.
Though she mostly enjoys crafting during the day, she is quick to point out the wide variety of programming at LSH and explains that there really is something for everyone.
"I start off by asking people what they like to do for fun," Venhaus said. "Bingo? We have that. You don't like Bingo? We do sewing, quilting, needlepoint, arts and crafts, fabric painting, chair yoga, and all kinds of classes. Come whenever you're ready to try something."
***
Lutheran Settlement House Senior Center, located at 1340 Frankford Ave. in the Fishtown section of North Central Philadelphia, is open weekdays from 8:30 a.m. to 4:30 p.m.  For more information, call 215-426-9610 or go to lutheransettlement.org/senior-services.