Educating younger generations about the Holocaust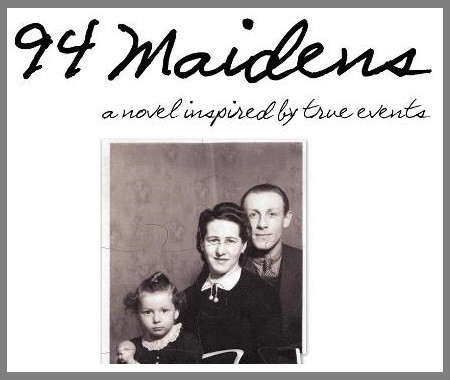 By Barbara Sherf
Rhonda Fink-Whitman, author of the book "94 Maidens," is working to raise awareness of the Holocaust among younger generations at a time when many are uninformed about this historic tragedy and when anti-Semitism in the United States is rising at an alarming rate.
The Anti-Defamation League reports that anti-Semitic incidents in the U.S. surged 57 percent in 2017, the largest yearly increase since the Jewish civil rights group began collecting data in 1979. In addition, a poll by the Conference on Jewish Material Claims Against Germany found that two-thirds of American Millennials ages 18-34 could not identify Auschwitz, a network of concentration and extermination camps built and operated by Nazi Germany in occupied Poland during World War II.
Raising Holocaust awareness is deeply personal for Fink-Whitman, 54, a longtime educator of Jewish history and culture, who is the daughter of a Holocaust survivor. Knowing that her aging mother was still suffering scars left by the Holocaust some 70 years later, she decided to go to Germany to visit the concentration camps in 2007 with her family. While there, she started journaling and made her way inside the world's largest Nazi archive in an attempt to discover the truth about what happened to her mother during WWII.
Following a long day at Auschwitz, Fink-Whitman and her family went back to the hotel room but were too depressed to eat. Everyone but Fink-Whitman fell asleep.
"I sat down and started writing in my journal about how Auschwitz made me feel," she said. "I used my journal to pen my first screenplay, which I then shopped around Hollywood, and it did well in screenplay competitions. But … no studio picked it up." Fink-Whitman, a veteran TV and radio personality, then decided to turn that screenplay into a novel, titled "94 Maidens," based on her mother's and other Jews' experiences in Nazi Germany.
"It wasn't my choice to write this story …it was my responsibility," Fink-Whitman said.
"My daughter had said 'Mom, don't call it educational; if you call it educational nobody will want to read it.' But even people who have studied the Holocaust say, 'Wow, I knew this, but didn't know that!' It reads like a novel, and there is certainly something to be learned for everyone."
When Fink-Whitman heard about a bill lingering in Pennsylvania's legislature in 2013 that would include Holocaust and genocide education as part of the state's school curriculum, she was shocked to learn that these topics weren't already required learning. Concerned by reports of young peoples' lack of knowledge about the Holocaust, Fink-Whitman set out to visit a handful of college campuses, armed with a video camera, microphone and list of questions.
She asked students on the campuses of Drexel University, Temple University, Penn State University and the University of Pennsylvania, "What was the Holocaust?" "Can you name a concentration camp?" "What country was Hitler the leader of?" "What is genocide?" Much of the resulting video features students stumbling over their words.
Fink-Whitman used the footage to create "The Mandate Video," which she used to prove her point that mandatory Holocaust education was necessary in Pennsylvania. She worked tirelessly with area legislators until the formerly stalled bill passed unanimously in 2014. The Pennsylvania Board of Education has reported that 93 percent of schools now provide age-appropriate education about the Holocaust and have promised to work with the other seven percent to get them on board as well.
Fink-Whitman has also helped Michigan, Rhode Island and Kentucky to pass similar education bills. Only nine states have such legislation in place, and her mission is to seek more co-sponsors for House Resolution 276, a Congressional resolution encouraging all 50 states to mandate Holocaust education.
Her book, "94 Maidens,"  is now used in schools around the country and is recommended for use in curricula by both the Pennsylvania and New Jersey departments of education.
"I met with Bensalem High School students who read the book for class and shared with me how they saw themselves in the characters and how the story related to their lives in terms of bullying issues and becoming more tolerant," Fink-Whitman said. "They said that it inspired them to be 'upstanders' instead of 'bystanders.' I want to be an example for them, that one person can make a difference."
To view "The Mandate Video," purchase or read an excerpt from "94 Maidens," view Fink-Whitman's speaking schedule, or download a free teacher's guide, go to 94Maidens.com.
Photo: Rhonda Fink-Whitman's novel, "94 Maidens"  is based on her mother's and other Jews' experiences in Nazi Germany. (Courtesy Rhonda Fink-Whitman)