Funding crisis is looming for PCA's Emergency Fund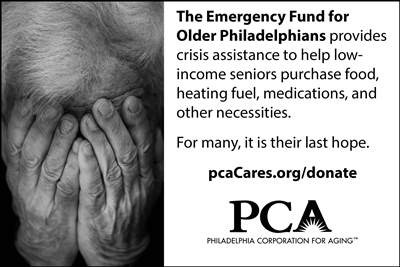 Philadelphia Corporation for Aging's (PCA's) Emergency Fund for Older Philadelphians, which provides crisis assistance to help low-income seniors to purchase food, fuel, medications and other necessities, is itself in crisis and may have to shut down soon if it doesn't receive additional donations. Its balance is less than half of what is was last year at this time, according to Chris Gallagher, director of PCA's Helpline call center, who oversees fund distribution.
 "We saw the amount disbursed this past year jump by 18 percent over the year before," Gallagher said.  The fund provided a total of $184,023 in emergency assistance, up nearly $28,000 from the previous year.  These numbers reflect a 26 percent increase in referrals for fuel oil assistance and a 51 percent increase in the total dollars spent on oil expenditures, among other factors.
"PCA has always placed the highest priority on caring for the most vulnerable older Philadelphians. The Emergency Fund does just that – helping impoverished seniors in crisis pay for critical needs when they have nowhere else to turn," said Holly Lange, the agency's president and CEO.  "Philadelphia has the second highest percentage of people age 65 and over of the nation's 10 largest cities, and its elderly experience poverty at a rate that exceeds that of the state and the nation. It is vital to ensure that the fund remains open to help seniors keep warm this winter and to meet other critical needs. Every gift counts."
To learn how to donate to the Emergency Fund, or for more information, call the PCA Helpline at 215-765-9040; or visit pcaCares.org/emergencyfund.
The Emergency Fund was created in 1979 and has only had to close down due to lack of funds once, from April to December of 2005. During that period, oil prices spiked from an average of $1 to $2.16, driven in part by the impact of Hurricane Katrina. However, Gallagher said he is planning for the worst this year, with an extra-cold winter and increased fuel demand predicted and oil and other fuel costs likely to rise.
The Emergency Fund provides emergency support for eligible low-income older Philadelphians who have exhausted all other resources for assistance. Referrals are accepted only from recognized social service agencies and the clergy, and payments are made directly to the vendor. PCA administers the fund at no cost on behalf of the Emergency Fund Coalition for Older Philadelphians, ensuring that 100% of funds raised directly benefit low-income older people. The coalition is an alliance of more than 20 community-based social service organizations and service providers that coordinates fund-raising efforts for the Emergency Fund.
The Emergency Fund relies on corporate and foundation giving, donations from individuals, and funds raised by the agencies that are members of the Emergency Fund Coalition.  Fundraising goes on year-round. For information on corporate and foundation giving opportunities, call Joan Zaremba, PCA director of marketing and development, at 215-765-9000, ext. 5051 or email Joan.Zaremba@pcaCares.org.