COVID can't stop these older adults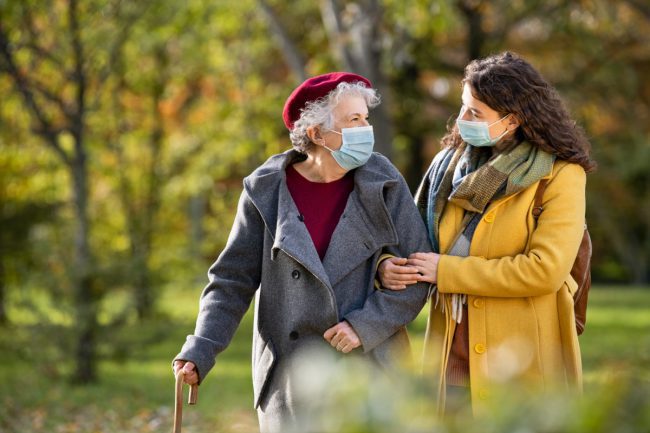 By Jay Nachman
---
Retired social worker Dennis Brunn was determined to stay active when he and his wife Linda moved to Cathedral Village, a continuing care retirement community in Philadelphia's Andorra section. He quickly became involved in various activities and committees at the community and even helped to plan its annual Black Arts Festival.
When COVID-19 hit, 77-year-old Brunn and other active residents continued to live full lives in the face of the pandemic. They simply modified their activities to meet safety recommendations.
Residents met outside in the summer and fall to host voter registration drives and joined about 25 other people on Friday nights to hold vigils for Black Lives Matter along Ridge Avenue.
Some artistically inclined residents created portraits of Cathedral Village's staff to thank them for their service and dedication. The portraits were hung in an area where they could be seen by all residents, staff and visitors. Brunn said being able to contribute pastel portraits of two staff members was gratifying.
When the weather turned cold, committees continued to meet via Zoom. "I think that there are so many social justice issues that need attention, and it's important to remain active," Brunn said.
Staying engaged in his community and maintaining socialization during the pandemic has many benefits. "It takes your mind off yourself. You don't have to worry so much (about) what you're going through and what you have to do … You can be engaging in certain activities in which you can help others and praying that you can be a blessing for other people."
Roland Lucas Jr. of Germantown relied on a positive mindset to keep the COVID blues away. "It's the desire to remain positive (that's kept me going)," Lucas said. It's important "not to revert, but (to) go forward; not to go inward and be sorry for yourself, saying 'I can't do this, I can't do that because of the virus or because I'm confined at home.' You have to have that desire to say, "Yes, I want to do this! I want to make that change and to move forward in a positive way.' And it can be done."
One change that allowed Lucas to stay connected at home was to learn about the video conferencing software Zoom. "This is an interesting way of being in touch with other people and not being so concerned about picking up the virus," said Lucas, a retired dialysis social worker who turns 67 next month.
Through Zoom, he was able to remain involved with Center in the Park, a senior center in Germantown, and teach Sunday school at Mount Zion Baptist Church of Holmesburg. Lucas has become so comfortable using technology that he has served as the church's Zoom administrator, putting up information for worshippers to read during the service.
Lucas also continues to bowl in a safe, socially distant bowling league.
Even COVID-19 wasn't going to stop the 91-year-old Callalily Cousar from helping her West Philadelphia neighbors. She has been president of the East Parkside Residents Association since 1996, has fostered more than 125 children over the years and remains active with her church.
Every week during the pandemic, she has coordinated food distribution in her community by receiving donations from various organizations and setting it all out on tables in front of her house – soups, dinners, fruits and vegetables, ham and cheese, milk, butter, and desserts.
"Quite a bit of things come through here, and we don't have any waste," said Cousar, who continued the food distribution on days when it was bitter cold.
Speaking for herself and the many other older adults who have carried on and stepped up to lend support to those in need during the pandemic, she said: "It makes me feel good knowing that I was able to help people."
---
Jay Nachman is a freelance writer in Philadelphia who tells stories for a variety of clients.