At 85, this great-grandmother is raising her great-grandson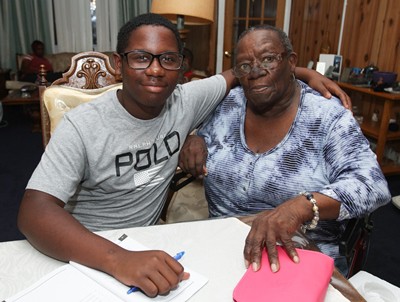 By Marcia Z. Siegal

Doris Roberts, 85, is among the thousands of older adults in Philadelphia who are raising grandchildren, great-grandchildren and other young relatives whose biological parents cannot care for them. "I raised six children; seven grandchildren, who are all adults now; and now I'm raising my great-grandson, Hydir," she said. Hydir, who is now 14, has been in Roberts' care since he was a baby.
"The way I see it, God gave me these kids," said Roberts, whose grandchildren and greatgrandchildren call her "G" or "G-G." "I've gotten a whole lot of satisfaction."
She also is getting help through a Philadelphia Corporation for Aging (PCA) program that supports grandparents and other older relative caregivers. PCA's Caregiver Support Program (CSP) provides assistance to people 55-plus who are caring for a relative under 18 who is not their biological child. The program helps older caregivers navigate educational, counseling, legal and other services to help them care for a child. In addition, it provides financial reimbursement for services such as day care or caregiver respite, tutoring, extracurricular activities, school supplies, counseling on benefits and entitlements for which caregivers and children may qualify, and caregiver education and training.
With funds from CSP, Roberts is able to access emotional support and help paying for child-rearing expenses. CSP pays for her to participate in a weekly telephone support group for older caregivers offered through SOWN.
Roberts has taken part in the support group for years and said it has been invaluable. "It's so nice to get on the phone and talk and reach out this way," she said. "We talk about the children, what the problems are… No matter what concerns people have, other people have ideas and suggestions."
She also receives help through CSP to pay for Hydir's school supplies and his weekly music lessons at Settlement Music School, where he studies percussion.
Roberts helps Hydir with his homework and attends parent-teacher conferences and other events at his school. Nonetheless, she said, "the main thing Hydir gets from me is love and attention."
She encourages him to confide in her. "Every morning I tell him, 'Have a good day,' and every day when he comes home, I ask him 'How was your day?'" Roberts said. "I tell Hydir there's nothing that's too bad or too good that we can't talk about it."
Hydir said that he and "G" have a strong, unbreakable bond. No matter what the issue, "she knows all the answers and is always coolheaded," Hydir said.
After raising many of her grandchildren and great-grandchildren, Roberts has created a family that now serves as a strong support system for her. One or more of the adult children she raised check in each morning and evening on her and Hydir. They help provide meals, assist with shopping and take Hydir on outings with relatives his age. Granddaughter Kiki helps Hydir with his math homework and attends his school events when G is unable to.
All the family's generations still seek Roberts' advice on matters big and small. "I just love them all," Roberts said of her 70 living descendants, including five children, 13 grandchildren, 50 great-grandchildren and two great-great-grandchildren.
"I've raised so many kids," Roberts said. She offers this perspective to a new grandparent, great-grandparent or other older relative who is taking on raising a child: "If I can do it, you can do it. Every day is not going to be sunny, but together, all the good days far outweigh the hard ones. We're all in this for the same reason – so we can help these children with what they need."
PCA's Caregiver Support Program
PCA supports adults who are caring for others. The Caregiver Support Program helps income-eligible caregivers who provide routine care for a senior or child. To qualify, caregivers must be 18-plus and care for a functionally impaired adult 60-plus, 55-plus and care for someone 19-59 with a disability or dementia, or 55-plus and care for a
Additional support for caregivers
In addition to caregiver support for grandparents and other older relative caregivers raising children, PCA's Caregiver Support Program serves caregivers 18-plus of functionally impaired adults 60 and older, as well as caregivers 55-plus of individuals 19-59 with a disability or dementia. The caregiver must provide and be responsible for the routine care of the individual and meet financial eligibility requirements.
Services and supports for these caregivers include:
•         Care management to evaluate caregiver's needs and goals, develop an individualized support plan, connect caregiver to services, and monitor progress
•         Financial assistance to reimburse for caregiving services and supplies, including medical supplies; home modifications; personal care; adult day care; and emotional, legal and financial counseling. Support is provided on a sliding-scale based on the income of the household where the care recipient resides.
•         Education and training to enhance caregiving skills while alleviating stress associated with caregiving
•         Information and referral to access caregiving services and supports, including adult day care centers and home health aide services
•         Benefits counseling for caregivers receiving support from income-based programs, including PACE pharmaceutical programs, Low-Income Home Energy Assistance Program (LIHEAP), and Pennsylvania Property Tax or Rent Rebate Program
For more information about any of PCA's programs to support caregivers, call the PCA Helpline at 215-765-9040 or go to pcaCares.org/caregivers.
CAPTION: Doris Roberts, 85, is the caregiver for her great-grandson, Hydir, 14. (Photo by Paola Nogueras)