At 102, she has plenty on her mind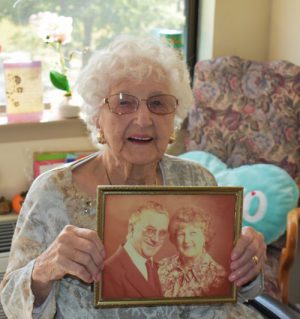 By Mary Anna Rodabaugh
At 102, Esther Kennedy has witnessed several wars, the Great Depression, assassinations and many other historic events that have shaped our world today. She remembers life before air conditioners, televisions, computers and cell phones. But if you ask Kennedy about her most memorable moments from the past century, she'll laugh and tell you about a chicken.
Kennedy was born on April 30, 1917. Her par­ents emigrated from Germany and settled in the Olney section of Philadelphia. The family lived in a twin home and raised chickens in the back­yard until the neighborhood began to urbanize.
"We had chicken dinners all the time after that," Kennedy says. "I'll never forget it. One day my father went to get a chicken. He cut the head off and it kept running before it fell. Poor chicken."
The image of that chicken has been etched in Kennedy's memory for decades.
Kennedy also remembers the joys of a simple life. Her mother would buy ice for a dime to put in their ice box since they did not have a refrigerator. All the neigh­borhood kids eagerly awaited the ice man's arrival. When he'd go into a house to deliver the ice, Kennedy and her friends would run to the back of the truck and snap off tiny chips of ice to enjoy.
"It was such a treat," Kennedy recalls. "Would the kids care for that kind of treat today?"
Probably not.
Kennedy believes today's youth are "wonderful," citing her 17 grandchildren and 19 great-grandchildren, ranging in age from 3 to 15, as examples.
However, she feels kids today might be more spoiled than they were back in her day.
Humble beginnings
Kennedy's family was poor. Her mother would heat up a large pot of hot water on a wood stove to pour in the tub for baths. Kennedy's father bathed first and then the four kids would take turns, all using the same water. There was an out­house in the backyard and a small potty inside the house for the children to use at night or when it got too cold.
The family was fortunate enough to have a car. Kennedy's mother, the first woman to drive in the neighborhood, had to crank the engine.
Kennedy attended Olney High School, but she and her sister dropped out to get jobs to support the family. Kennedy's first job was working at Artcraft Silk Hosiery Mills on Erie Avenue – for $10 a week.
Eventually, she got a job at Brewster's Navy Airfield in Warminster, installing radios on the planes. "The money was so good," Kennedy says. "I got $30 a week." At the time, it was not socially appropri­ate for women to wear slacks in public. But Kennedy could on the job, since she had to climb up and down the planes.
Kennedy's oldest brother Charles, who served overseas in the Navy during World War II, let her use his Chevy. Ken­nedy quickly learned to drive and only had one accident, when she tried to cross Olney Avenue and a trolley hit the front of the car, causing damage to the bumper.
"I had to fix it before my brothers re­turned from war," Kennedy says. "It was $33 to repair. That was so much money back then."
Then and now
Philadelphia has changed a lot since Kennedy moved from Olney to the Northeast around the mid-1960s. A few years ago, her family drove her through the old neighborhood. "All my children and grandchildren left Philadelphia," Kennedy says. "It has changed a lot."
Her family parish, Incarnation Church, sits shuttered on 5th Street. The shops she grew up with are no longer there and peo­ple don't have chickens or peach trees in their backyards anymore.
Today, Kennedy enjoys her friends at her retirement community, Holy Re­deemer Lafayette, in Northeast Philadel­phia. She has a cell phone and is thrilled her family can reach her any time, day or night. When asked what she misses about the "good old days," Kennedy has a simple answer. "I miss being able to run out and shop, cook, bake, and invite the whole family over for dinner," Kennedy says. "I always made birthday cakes for everyone." She credits her baking skills to the time spent with her mother in the kitchen. Her mother was known for her famous apple strudels, baked with a crust so thin you could read a newspa­per underneath. The secret to a long life, according to Kennedy, is happiness and vegetables.
Her father, who always made sure the family ate fresh fruits and vegetables, lived to 105. Kennedy's sister lived to 100 and her brothers to their mid-90s.
"I have a wonderful life, wonderful chil­dren and a wonderful family," she says.
***
Mary Anna Rodabaugh is a writer, editor and writing coach.
Photo Caption: Esther Kennedy, 102, proudly displays a photo of her and late husband, Bernie, whom she married in 1946.