Artist shares gift with nursing home residents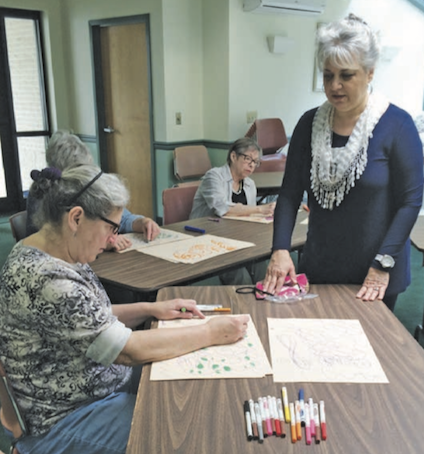 By Barbara Sherf
When Anthe Capitan-Valais was a little girl, she used to wait for the deliveries of her father's laundered shirts so she could draw pictures on the cardboard forms included with each fresh batch.
Her father wore a button-down shirt and tie every day for his job as a high school principal. Capitan-Valais looked forward to recovering and using the blank slates of cardboard. "I was given paint-by-numbers kits, but I really didn't like staying in the lines," says the Flourtown artist, now 65. "I liked to draw free-form and still do."
Capitan-Valais shares her affinity for free-form art with nursing home residents through The Arts 'n' Artists (AnA) Project, which she founded in 2013. The project gives seniors and people with disabilities the opportunity to experience free-form drawing while enjoying live music and dance performances.
"The AnA Project's mission is to bring the arts to people of all ages from all walks of life," says Capitan-Valais, who goes by the one-word name "Anthe."
"Although I work with all ages, I focus my time on spreading joy within senior centers and nursing homes, as so many [of the residents] are forgotten individuals."
Her brother, Perry Capitan, 63, has been in a full-care nursing facility since he was 22 due to mental illness. From the experience of having a family member in a nursing home, Capitan-Valais says she has seen that if a facility cares for the physical needs, there is usually little money for recreational and other activities.
One of the goals of The AnA Project is to team up talented artists with local facilities where they can conduct workshops or give performances. The idea is for the artists to make an impact within their community while building lasting relationships.
Capitan-Valais teaches individuals in her workshops how to create art by drawing what they see or hear. During music performances, workshop participants draw what they feel when listening to the music or the musicians as they perform. With workshops that involve dance, participants' creative expression is influenced by the music that they hear and the dancer that they are watching.
At a recent workshop Capitan-Valais' presented at Bethlehem Retirement Village in Flourtown, Sister Rita T. Kehoe, the facility's social concerns director, shared her thoughts regarding the experience.
"Anthe is energetic and brings that energy to any program that she has ever come to the Village to present," Kehoe said. "The melding of the art, the music, the movement—that's all kind of unique, and yet it allows people who would love to get up to dance, but who can't, to have that connection. When they do the drawings from the movement it gives have helped both the residents and the danc- ers connect through this important work."
At one time a professional dancer, Capitan-Valais found that art was her way of dealing with tragedy and pain. Growing up in Cleveland, Capitan-Valais was a member of the Hollywood and Company Dance Troupe, in which she performed Latin dance and disco on evenings and weekends. After moving to the Philadelphia area, she was searching for a new dance company when fate got in the way.
Capitan-Valais was 26 and on her way home from work when a drunk driver hit her car head-on. The injuries she sustained put an end to her dancing career. However, she continued to create art and graduated from the Pennsylvania Academy of the Fine Arts (PAFA) in Philadelphia in 1995 with degrees in painting and printmaking.
About 11 years ago, she had an "aha" moment while in Montreal, Canada at a performance of the Winnipeg Royal Ballet. In the darkness of the audience, Capitan-Valais pulled out her sketchbook and began to draw the dancers as they glided across the stage. Unable to see what she was drawing, she focused on the movement on stage and continued to draw.
When the lights came on, her new work was revealed. She was able to express the movements she had observed vividly on paper. After returning to the states, she began attending the ballet to recapture the feeling of drawing during live dance performances. She felt the need to share this joy with people of all ages, and so the idea for the AnA Project was born.
In her rst workshop in 2013, 38 residents of the Philadelphia Nursing Home on Girard Avenue participated in free-form drawing as a ballerina volunteered her time, dancing on a stage at the home, and Capitan-Valais taught Drawing from Dance.
One non-communicative resident who had been in the facility for many years was moved by the performance and proceeded to make a mark on the page. Her caregiver had a tear in her eye as she said, "I have cared for this woman for six years and never knew if there was anyone inside. She has never communicated with anyone in the time that I have cared for her."
It was at that moment that Capitan-Valais realized that even low-functioning participants could be helped to release their inner child and experience joy. This validated her choice to create The AnA Project and make it into a nonprofit organization.
"As a senior, I find connecting youth with their elders and vice versa using art as a conduit extremely fulfilling," she said.
—
For more information about The AnA Project, call 215-233-3916, visit anaprojectusa.org or email anaproject.usa@gmail.com.