Artist's new outlet is making 'malas' for meditation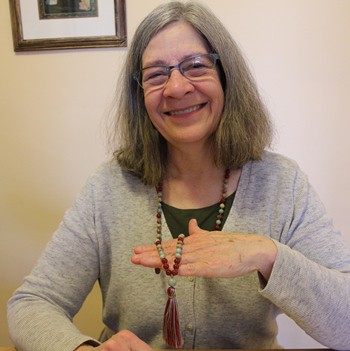 By Linda L. Riley
Tina Pritchard has felt compelled to create beauty, in one form or another, for as long as she can remember. In service of that drive, she has embarked on an eclectic variety of pursuits, from textile arts to baking to gardening, some income-producing, others not. Her most recent undertaking is making malas, strings of prayer beads used in meditation.
It's in the dining area that her creativity flourishes these days. There, a wooden table is centered on a colorful hooked rug she made. The design of bright blue, yellow, red and gold squares set off by black strips is reminiscent of stained glass windows. Sitting on a vintage wire chair, its back twisted into the shape of a heart, she ponders the pattern she is creating with blue and white beads in her latest creative endeavor: making malas, a string of beads used during meditation.
"The light blue is sodalite; the white/blue is chalcedony; the dark blue dumortierite," she says. "Mala," which comes from a Sanskrit word meaning "garland," refers to a string of beads – usually 108 – used by Hindus, Buddhists and others to keep count while meditatively repeating a mantra or prayer. The string is punctuated by a single large "guru" bead and tassel at the center.
Pritchard's mala-making grew out of both the seasonal nature of her gardening hobby –  "I have a lot of free time over the winter" – and her other vocation, as a yoga therapist. That career began with her use of yoga to manage stress during a difficult period in her life and blossomed into a full-fledged practice, teaching a class at Soji Zen Center in Lansdowne and working with private clients.
"I was really drawn to how yoga can affect you emotionally and can help with emotional regulation," she says. "Where I specialize is, I work with anxiety and depression, and people who've experienced trauma and addiction and grief." Yoga poses, breathing techniques and meditation are among the tools she uses to help people learn to calm themselves.
"For the longest time, I did not use a mala in my meditation practice," Pritchard says. "Then I ordered one and when it came, I thought , 'It's really beautiful, but why did I buy this when I could make it?'"
Except for the guru bead, her malas are made with 8-milimeter beads because they are large enough to feel their individuality when fingering them one at a time; the uniformity means there's no distraction. "The beads really run the gamut," she says. Jade, jasper, carnelian, bronzite and garnet are just a few of the gemstones she uses in the malas, which she sells to her students, clients and friends.
The guru beads are the only ones that are not necessarily gemstones. "Finding the guru beads is challenging," she says. She has used a seed from a Bodhi tree carved into a lotus, a tiny wooden elephant, and a shiny stone, among others. Some have come from bead stores; others are thrift store finds – necklaces that she can take apart to harvest the individual treasures.
Bending her head, closing her eyes and fingering a mala, she demonstrates how the beads slide between her fingers, one by one. "Using mantras that have different qualities to them, you start with focusing on the breath," she says. " 'So-hum' is one of the really basic ones. One translation is 'I am that.' But it also mimics the breath – 'so' on the inhale, 'hum' on the exhale."
Pritchard said that she appreciates both the limitations of the art form and the creative freedom it offers. "Working with malas, I have certain parameters – 108 beads, a tassel, a guru bead," she says, which she finds a welcome contrast to artistic pursuits that are more open-ended. At the same time, the mala offers ample opportunity for creativity in choosing from the wide variety of beads, combining colors and working out the design. "Once I've picked the beads, I can get lost in doing the design," she says.
With whatever she does, she says, it's all about the aesthetics: "It's just a matter of making things beautiful."
Caption: Yoga therapist Tina Pritchard creates malas, or strings of prayer bead, in her home.  (Photo by Linda L. Riley)                                .