Advocacy Alert: Vote on GOP tax bill expected early next week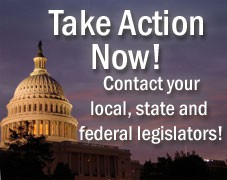 Congressional leaders are working quickly to finalize compromise legislation for floor votes next week in an all-out effort to provide themselves and President Donald Trump with a major policy victory before Christmas. Little is known about this amended tax bill, and the rushed vote leaves little time for vetting. However, tentative details are troubling, especially for seniors, people with disabilities and the poor. It is estimated that the bill would eliminate more than $200 billion in revenue over 10 years.
This legislation will put even greater funding pressure on social programs, many of which would have funding slashed or completely eliminated. The FY 2018 budget resolution, which passed by both chambers this fall and is the mechanism by which the tax cuts are moving so quickly, calls for more than $2.5 trillion in cuts to Medicaid, Medicare and other aging programs like the Older Americans Act — all in the name of deficit reduction. Republican leaders in Congress and the White House have indicated that making those cuts is a primary goal for 2018.
The National Association of Area Agencies of Aging (n4a), which includes PCA, believes we should be finding balanced, responsible solutions to our nation's long-term deficit issues that take into consideration the critical importance of Medicaid, Medicare and other programs that support older adults and caregivers. The tax measures currently speeding through Congress do not meet that standard.
Take action now! Tell your legislators to vote no on this tax bill compromise legislation. Contact your representatives and senators through calls, emails, and faxed and/or hand-delivered letters to their district offices — with a tweet at the member for good measure.
For more updates on the tax bill compromise legislation, click here.